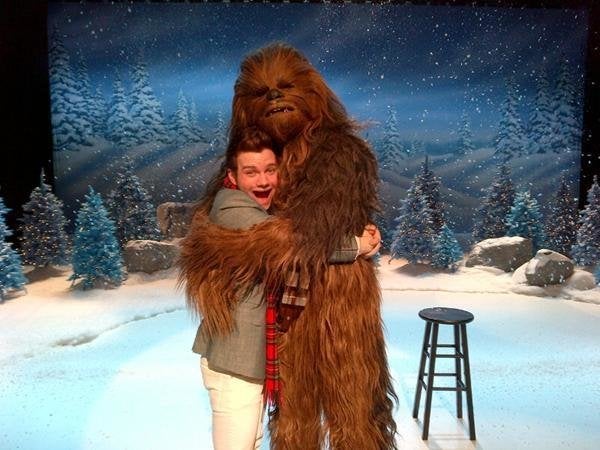 A long time ago, in a galaxy far, far away, there existed a bizarre parallel universe where normally morose high schoolers instead sang and danced, expressed their feelings with music and addressed drama head on, instead of the customary passive-aggressive way...
In one of the more bizarre mashups in the show's three year history, "Glee" will feature "Star Wars" icon Chewbacca as a guest star on its special Christmas episode, which will air next Tuesday. Star Matthew Morrison, he of much less hair than Chewy, confirmed the news recently on "Jimmy Kimmel Live," when he discussed his job directing the episode.
It will be a special episode-within-an-episode, as an homage to the "Star Wars" Christmas special from decades past, Morrison revealed.
"We called up George Lucas and he gave us Chewbacca. There is only one guy who can officially be Chewbaccca, and he lives in Northern California and they flew him in," Morrison said. "We had Chewbacca for the day, and it was just great, and we were all taking pictures with him. This is a guy who has been doing it for 12 years."