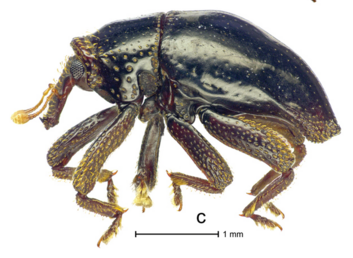 Han Solo's companion isn't as tall as we remember.
A newly discovered weevil beetle has been named after the 7-foot-6-inch Wookiee Chewbacca, according to a paper published Tuesday in the journal ZooKeys.
The Trigonopterus chewbacca was one of four new weevils identified in Papua New Guinea during a 10-day research expedition, according to the paper. For better or worse, the other weevils are not named after famous movie sidekicks.
Researchers said that they named the weevil after the Wookiee because of its dense scales on the head and legs, which "reminds the authors of Chewbacca's dense fur."
Not surprisingly, many scientists are nerdy people who love "Star Wars" and name their discoveries after characters from the movies. Discovery News notes several examples, including a Mexican moth called Wockia chewbacca, a wasp named Polemistus chewbacca, and an acorn worm that goes by Yoda purpurata.
Popular in the Community