Her second career (first was a child psychologist) was born from a passion for making food fun for her family and friends. After serving a Michelangelo-inspired dinner to a tableful of guests that included actor Mark Linn-Baker, he encouraged her to come up with a Shakespeare-themed feast while he was performing with Paltrow in As You Like It at Massachusetts' Williamstown Theater Festival.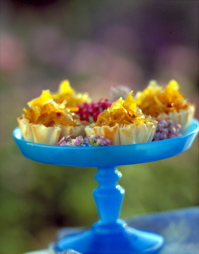 This sent Segan off to the New York Public Library where she began pouring over 16th century recipe books. Steeped in pastry-covered salmon and ingredients like sparrow's brains, she emerged with a menu that delighted the assembled Shakespeare buffs.
Then, somewhere a food fairy waved her magic spaghetti strand and Random House called three days after the dinner party asking about a book.
For April 23, the annual celebration of Shakespeare's birthday (actually St. George's Day, England's patron saint), some throwing about of brains (not from a sparrow) in the form of quotes, fun food facts and unusual flavor combinations is a great way to commemorate the Bard day. And Shakespeare's Kitchen is packed with all of 'em.
Elizabethans were primarily locavores -- very back in vogue these days.
Serving the upper crust: there was no oven regulation, so how to tell if the temperature was hot enough to bake? Put your hand in and count to 12, says Segan.
This imprecise method led to a lot of burned bread (and burned hands). Only the best people got the cut off the top. (New job opportunity: bread chipper (noted in Henry IV, Part II)).
New rule: No need to get your elbows of the table. That only came about because of unstable tables.
"Let the sky rain potatoes!" Also from Henry IV -- a great quote to yell at random intervals. A swell conversation starter.
"There shall be no more cakes and ale." From Twelfth Night; use only if you've run out of food. Or are on a diet.
In fact, Segan says witticisms were a common pastime at mealtimes and etiquette books of the time are filled of jokes to tell at the table; "they're actually funny," she insists.
To kick off your Bard's birthday meal, a kickshaw, or appetizer: Pear-shaped meatballs -- a cunning pairing of artistic & tasty. Segan says each course always had an element of surprise. The surprise here: the juicy-sweet pop of a grape hidden in the center of the savory. This is a far cry from Meatloaf surprise.
Meatball "Pears" -- The meatballs, with their sage leaf stems, resemble tiny speckled pears.
8 ounces ground pork or turkey
1/4 cup dried whole wheat bread crumbs
1 large egg
1 tablespoon finely chopped thyme
2 tablespoons finely chopped parsley
1/2 teaspoon salt
12 small green seedless grapes
12 sage leaves, with stems
1 1/2 quarts chicken broth, warm
Pinch of saffron threads
Combine the ground meat, breadcrumbs, egg, thyme, parsley, and salt in a bowl. Divide mixture into 12 equal portions. Wrap each portion of meat around a grape and form a pear shape. Refrigerate until ready to cook.
Preheat the broiler. Place "pears" upright on a well-greased pan. Broil 4 - 5 inches from the heat for 4 minutes, or until done. Using a toothpick, gently embed a sage leaf into the top of each pear. Serve warm.
The Elizabethans were culinary adventurers: not only did they create new creatures for the table such as a suckling pig crossed with a capon (reminiscent of the monster in The Tempest), their spice shelf was a study in curiosities: cubeb, grains of paradise, long pepper, etc.
A Segan secret: If you're expected to impress, fill spice grinders with cubeb and/or long pepper and sprinkle over a rotisserie chicken - instant historical gourmand.
I once decided to make an entire meal solely from Shakespeare's Kitchen and searched high and low for mace blades and verjuice. At Zabar's (a NYC foodie institution) they told me they were just out of it. A sudden run on vinegar made from green grapes mere minutes before I got there.
An aside: My advice is to avoid the King James Biscuits. They may have been what were in Virginia Woolf's pockets on her afternoon stroll, and she simply tripped. Actually, it was probably my own ineptitude that made them heavy as lead. What's light as air & twice as refreshing?
Citrus Tarts
"Here's the challenge, read it: I warrant there's vinegar and pepper in't." -- Twelfth Night
These refreshing tarts contain both pepper and vinegar (paging sweet/savory connoisseur chef Sam Mason). Peppercorns, popular since the days of ancient Greece and Rome, and traded as money in Medieval times, were often included in sweet dishes in Shakespeare's day.
4 large naval oranges
3 lemons
2 tablespoons butter
1/2 teaspoon freshly ground 5-color peppercorns
3 teaspoons fresh ginger, minced
3 tablespoons sugar
1/2 cup white wine
2 tablespoons verjus (or white wine vinegar)
1 tablespoon honey
15 ready-made tiny phyllo tart shells (1-inch diameter)
Use a vegetable peeler to cut the peel from the oranges and lemons, removing any white pith. Soak the peels for 10 minutes in cold water, then drain and coarsely chop.
Melt butter in a medium saucepan. Add peels, pepper, ginger, sugar, and wine -- bring to a boil. Reduce heat and simmer for 30 minutes. Cool mixture to room temperature, stir in verjuice and honey. Spoon the filling into the tart shells and serve.

Getting to know Shakespeare intimately requires chewing the language; chewing the food helps too -- it's a delicious way to celebrate the day.

For more historical hybrids and style perspectives, see Gerit Quealy's daily column on StyleGoesStrong.com
(Recipes adapted from ©Shakespeare's Kitchen: Renaissance Recipes for the Contemporary Cook (Random House) by Francine Segan, by permission. )