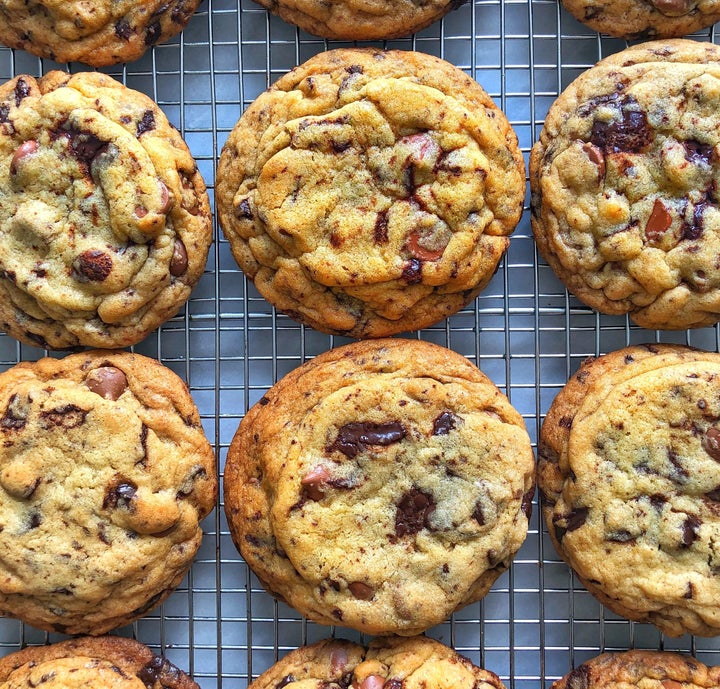 A good old chocolate chip cookie is my ultimate party trick. Last-minute dinner guests? No-brainer. Need to bring a dessert or thank-you gift to a party? A perfect choice. Late-night munchies? You bet your ass I'm making a batch.
These sweets are loved by all ages and composed of ingredients you probably already have in your fridge and pantry: flour, sugar, brown sugar, baking soda, salt, butter, eggs and vanilla. In the right proportions, this simple concoction will bring you more joy than that sad lattice pie you still haven't been able to master.
Now that we've established the beauty of this cookie, I'm just going to throw it out there that people who like crispy, crunchy cookies are probably fascists. Too far? OK, well, maybe that's a bit drastic, but I maintain it's a character flaw if you prefer a crispy cookie.
A soft and chewy cookie is the only way to go in my book, serving as an optimal vessel for rich chocolate, perfumed with notes of vanilla in the dough. Throw in a glass of cold milk and you may have just discovered sugary nirvana.
And I'm not saying the cookie should fall apart in your hands, but the lightly crisp, caramelized edges should yield to your teeth, revealing an almost molten texture.
So, how do you make this perfect cookie? My biggest pet peeve with a cookie is not having enough salt. Nobody blinks when a recipe calls for multiple cups of sugar, but 2 teaspoons of salt makes heads explode. Trust me: Salt makes these cookies sing, balancing the sweetness and pairing beautifully with the chocolate.
When it comes to chocolate, I'm all about balance. I love the toothsome richness of a milk chocolate chip, but I level the playing field by throwing in a finely chopped dark chocolate bar. This gives the cookies a punch of flavor while staying nice and melty when you serve them warm, unlike the chips. (Chocolate chips typically have stabilizers to help maintain their shape while baking.)
As for the texture, that requires a little bit of science. By creaming softened butter with sugar instead of stirring in melted butter, you're able to incorporate more air into the dough, which helps with rising and yields a softer, less dense product.
The balance of sugars is crucial. Brown sugar lends to a tall, chewy cookie, while white sugar results in a thinner, crisper cookie. By using a combination of the two, you're able to get those perfect edges with a soft and chewy center. (Note: If you want to play around with getting a cakier cookie, use more brown sugar and less granulated sugar, still adding up to a total of 1 1/3 cup between the two. The same goes if you adjust the recipe the other way around for a crisper, more spread-out cookie.)
This recipe will give you all the nostalgic feels of childhood, with the grown-up tweaks of dark chocolate specks and a healthy level of salt (feel free to add flake salt on top before you bake if you're a real salinity fiend like I am). If you're a true sugar devotee, feel free to keep a batch of this dough in the freezer, already scooped out into balls, ready to pop in the oven and satisfy any sweet tooth cravings.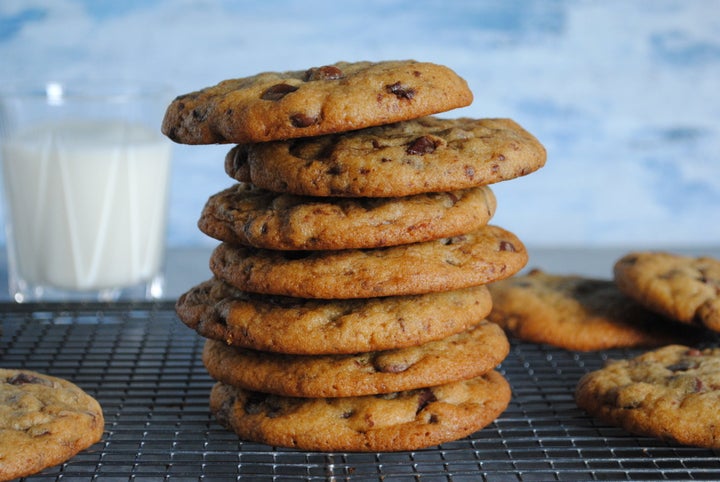 Chewy Chocolate Chip Cookies
Yield: 20 cookies
Prep Time: 25 minutes, plus chilling time
Cook Time: 35 minutes
Total Time: 1 hour, plus chilling time
Ingredients
2 cups all-purpose flour
2 teaspoons kosher salt
3/4 teaspoon baking soda
2 sticks (1 cup) unsalted butter, softened
2/3 cup light brown sugar
2/3 cup granulated sugar
2 eggs
2 teaspoons vanilla extract
2 cups milk chocolate chips
One 3-ounce bar dark chocolate, finely chopped
In a medium bowl, whisk together the flour, salt and baking soda.
In a stand mixer fitted with the paddle attachment, cream the butter with the sugars until light and fluffy, 2 minutes. With the motor running, add the eggs, one at a time, and scrape the sides of the bowl as needed. Add the vanilla and mix to incorporate.
Add the dry ingredients and mix slowly until a smooth dough forms. Remove the bowl from the mixer and fold in both chocolates with a spatula. Cover with plastic wrap and refrigerate for at least 2 hours and preferably overnight.
Preheat the oven to 350 degrees F and line two sheet pans with parchment paper. Scoop the cookie dough into twenty 1/4-cup balls. Working in two batches, bake the cookies, placing five cookies on each tray 2 inches apart from one another, until golden brown, about 14 minutes. Let cool slightly, then serve warm.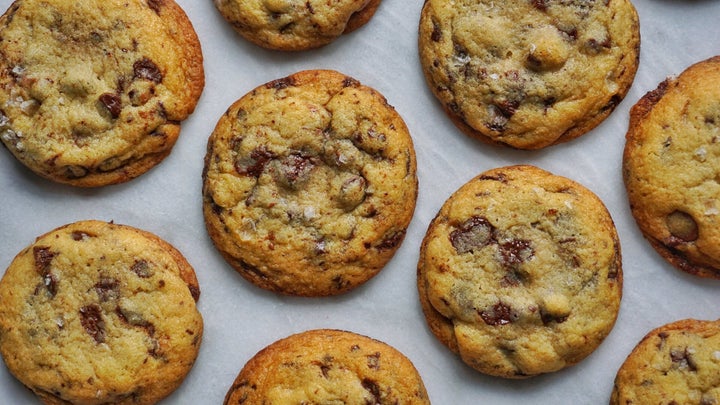 Support HuffPost
A No-B.S. Guide To Life
Before You Go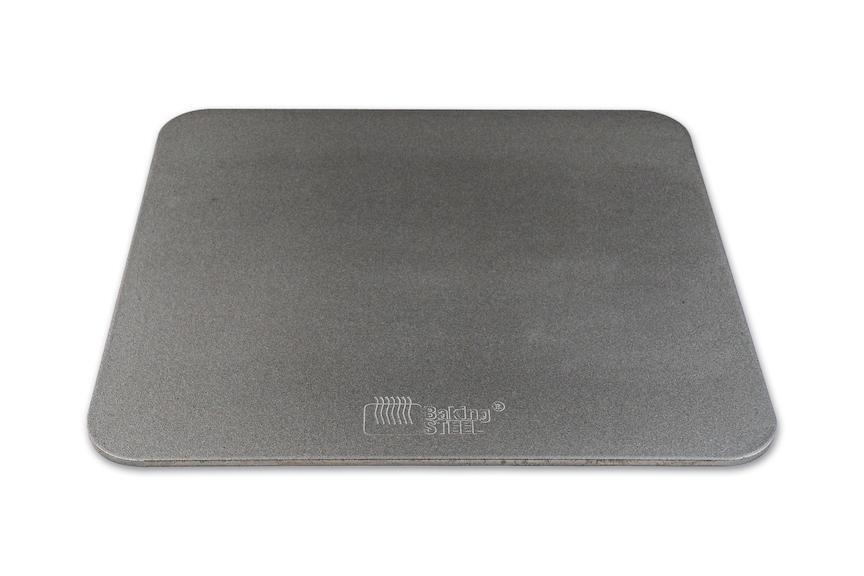 Baking Steels For Making The Perfect Pies
Popular in the Community