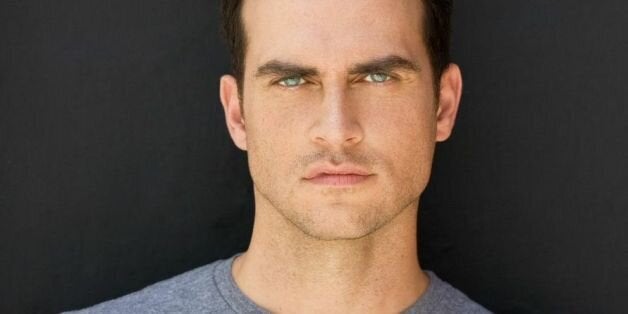 Over the past three years, Cheyenne Jackson has been the subject of intense media scrutiny for everything but the dynamite song-and-dance chops that made him a Broadway and television heartthrob.
It's a tumultuous, if ultimately joyous, period that the 39-year-old actor-singer plans to explore with candor in his new cabaret act, "Eyes Wide Open." The show, which opens Jan. 13 at New York's Café Carlyle, will take an honest and entertaining look at what Jackson describes as a journey of "loss, love, revelation and recovery."
"The past few years have been really, really important in my life. They've been really difficult and really wonderful -- up and down, and everything in between," Jackson, whose recent credits include the films "Behind The Candelabra" and "Six Dance Lessons in Six Weeks" as well as the City Center Encores! production of "The Most Happy Fella," told The Huffington Post in an interview. "I would be remiss if I didn't talk about [those experiences] and how those things have informed my art."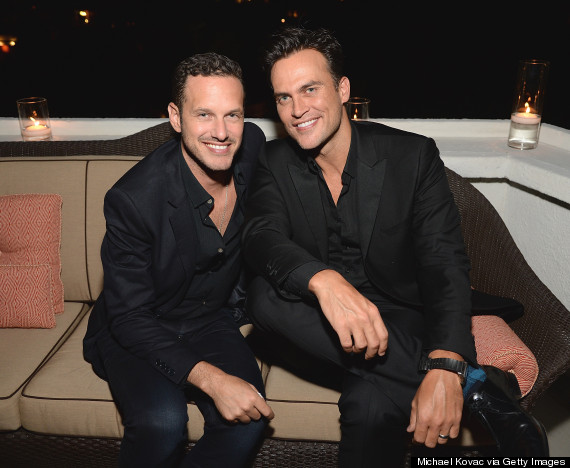 Jackson married Jason Landau (left) in September 2014.
Featuring tunes by Cole Porter, Louis Armstrong, Lady Gaga and Sam Smith, "Eyes Wide Open" could be Jackson's most intimate show yet. In keeping with the revelatory theme of his show, Jackson plans on breaking away from the tried-and-true cabaret mold of many of his musical theater peers by taking to the piano while singing during the performance.
"I've learned that if something scares you, then it means you have to do it. I write and play at home, but it's not something I've ever done in front of an audience," he said. "But [my musical director Willy Beaman] challenged me to do it. He dared me. So I thought, 'Why not do that for the first time at the most prestigious club in New York City?'"
Jackson's "go big or go home" mindset, of course, predates his Carlyle engagement. Throughout his career, the star has made no secret of his sexuality, and while he says he never expected to be a role model to lesbian, gay, bisexual and transgender (LGBT) youth, it's a position he now embraces and takes very seriously.
"If living my life openly, which I always have done, has an effect on people, then I am happy to be considered a role model," Jackson said. He went on to describe a time a young gay fan asked him for an autographed photo. Though it seemed like a perfectly simple request, Jackson couldn't have anticipated what happened after he'd responded.
"This [young man] wrote back to me and said, 'I just came out to my family, and the reason I asked for your picture is because I draw so much strength from the way you have always been so honest. I wanted to have your picture on the inside of my jacket when I talked to my parents, because I felt that it would make me stronger,'" Jackson recalled. The fan's letter, he said, "made my head explode. The fact that I gave him strength and he drew from that … I just thought that was the most beautiful thing."
He went on to note, "I'm proud that people can look to me. The blessings outweigh anything negative."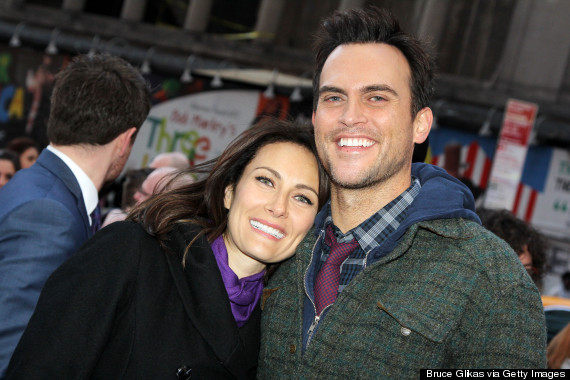 In April 2014, Jackson starred opposite Tony winner (and longtime pal) Laura Benanti in the City Center Encores! production of "The Most Happy Fella."
If he has his way, Jackson could prove to be even more prolific in the forthcoming year. While he's mum on details, he says he's just signed on for an all-new project that he describes as "a really, really big part" and "definitely the biggest thing" he's ever done.
Having recently relocated to Los Angeles after 12 years in New York, Jackson is hopeful he'll return to Broadway in the near future, but says he'll hold out for "the right show that's worth uprooting myself again for." Ideally, he hopes any eventual project will be "something that hasn't been written [or produced on Broadway] yet," or, at least, a collaboration with stage directors Casey Nicholaw and Christopher Ashley.
For now, however, Jackson is perfectly content to concentrate on his Carlyle stint, as well as a more personal milestone.
"The thing I'm most proud of is my sobriety. When I focus on that, everything else pretty much falls into line," Jackson said. As for the message of his new show, he noted, "I want my audience to feel inspired about the possibility of what they can do in their own lives and to not be afraid of change or of the unknown. I want my fans to feel that they can put themselves out there. That's what life's about."
Cheyenne Jackson performs at New York's Café Carlyle in "Eyes Wide Open" from Jan. 13--24. For tickets and more information, head here.
Calling all HuffPost superfans!
Sign up for membership to become a founding member and help shape HuffPost's next chapter
BEFORE YOU GO
PHOTO GALLERY
Cheyenne Jackson Through The Years