It was 2007, and a friend of mine had just interviewed Cheyenne Jackson, who was scoring rave reviews in the Broadway version of the 1980 cult movie Xanadu. The New York Times wrote Jackson "plays Sonny beautifully, as a big slab of prime beefcake in tube socks and denim cutoffs".
My friend was given two VIP tickets to the show, which entitled us to sit at the back of the stage with about twenty others, facing the audience. It additionally gave those of us upstage an unexpectedly closeup view of Jackson's well-toned derriere for two and a half hours, to the delight of most of the women and more than a few of the men.
While maintaining that enviable physique in the years since, Jackson has also established himself as one of the entertainment industry's most versatile talents. Along with Broadway, he's appeared in films, chalked up recurring roles on TV series such as Glee and 30 Rock, and he was featured on American Horror Story: Hotel, playing the husband of Lady Gaga's character.
Offscreen, Jackson was divorced from his first husband in 2013, and now lives with second husband Jason Landau, a branding/marketing entrepreneur, in Los Angeles. He's been touring the country over the past few years with a solo concert called Music of the "Mad Men" Era, which sparked a new album, Renaissance. In a dozen compelling, classic songs, Jackson's smooth voice bounces from one genre to another, including jazz, bolero, rockabilly and soul, all the while backed by a lush 22-piece orchestra.
The actor/singer/songwriter took a break from filming the upcoming sixth season of American Horror Story to talk about his remarkable journey from the rural Northwest to Broadway and Hollywood.
SN: I'd like to start out with my first exposure to you, so to speak, in the play Xanadu. When you were growing up in a tiny mill town on the Idaho-Washington State border, how often did you think that one day you'd be roller-skating across a Broadway stage in cut-off shorts?
CJ: Never in a million years. The first time I ever heard of Broadway was in the eighth grade. Our French teacher, who was the "culture lady" in our school because she'd been to Seattle, said "There's a show called Les Miserables coming to Spokane, and you all should go".
So we got permission slips from our parents, because there were prostitutes in the show, and went on a class trip. And that was the moment when I thought, "Hang on, you can do this for a living? You can travel around the country and have cool smudges on your cheeks and climb up on a barricade and sing pretty songs, and that's your job?" It really just exploded my reality and what I thought was possible for myself.
From that moment on, I could start imagining myself doing something on Broadway... although at that time I thought Broadway was one theater!
SN: You had a great decade on Broadway, starting in 2002, appearing in about ten shows. What prompted you to make the big move to New York and get into an incredibly challenging field like that?
CJ: I was 27, I lived in Seattle and worked at a magazine, with a nice car and apartment. I had gotten my Equity card doing local theater there, and people often told me I should move to New York. But I didn't have the guts, I didn't have the balls, and I hadn't gone to college. So I thought there was no way I could compete with these kids fresh out of Juilliard and Tisch.
And then, within the span of a year and a half, we had a horrible death in my family... my brother's little girl passed away... and then, 9/11. Both of those things were so life-shaking to me, that the idea of time ticking away, and regret, and "What if?", was too much to bear.
So I moved to New York in 2002. I knew one person there, Marc Kudisch, who I had understudied for in a local touring production, and it turned out he was a big Broadway star. He set me up in an audition with his agent, and I got hired for Thoroughly Modern Millie. It was the perfect part for me, and I knew at that moment this was where I needed to be, and this is why I'd waited until I was 27.
SN: I mentioned the small town where you grew up. What was it like for you?
CJ: We lived on 20 acres out in the woods, in a house that my dad built. For a five-year period, we had no running water, with an outhouse. We had chickens and goats and we grew potatoes. It seems so Little House On The Prairie, and that's really what it was.
SN: Tell me more about the goats.
CJ: I was allergic to cow's milk, and my mom heard that goat's milk would be better, so that's why we got them. There were two of them, named "Harmony" and "Melody".
SN: OK, this is a huge clue! I assume you grew up in a musical home.
CJ: Yes. My mom is a beautiful, self-taught singer, kind of in the vein of Joan Baez, Judy Collins, and Joni Mitchell. She taught me at a really early age how to sing harmony. We have tapes of me at age five or six holding my part, while my mom sings a third above, and pops to a fifth below. My love of music, and my exposure to all types of music, began because of my parents' love of music and my mom's musicality.
SN: I looked up some of the names on the Billboard charts in the mid-1980s, when you would have first been paying attention to popular music. They included Madonna, Phil Collins, Sting, Duran Duran. Who were you listening to?
CJ: I didn't listen to any of that stuff. I was listening to older music, first because I went to a private Christian school, and we weren't allowed to listen to secular music. The only pop music I was exposed to was Christian pop.
But I found an audio tape at a yard sale when I was 10 or 11, called The Leading Ladies of Jazz. On the cover it had Billie, Ella, Lena, and Sarah, and I'd never heard of any of them, or any of the American songbook standards. I listened to it until it practically wore out, and I thought, "Ooh, this is what I like". And I was embarrassed as a kid, going through puberty and knowing that I preferred the old-fashioned type of music, not what was on the radio. It took me many years to kind of own it.
SN: Well, you own it now in a big way. Would you say your new album Renaissance is directly connected to that?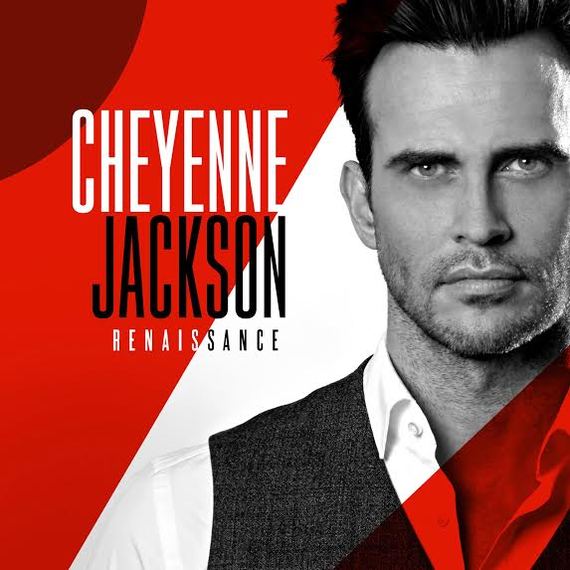 CJ: 100 percent. That's why this album is so special to me, because it's really my truest self. I'm proud of the pop album I put out a few years ago; it was an important album for me to write at the time, because I was going through some hard things personally. I wrote many of the songs with my friend Sia. But that's not the kind of music that represents who I really, truly am when I strip it all away.
In putting together this album, I thought, what is the music that moves me the most, that pops into my head when I get up in the morning? And it's these old-fashioned melodies, the songs I grew up with. I think it just took me a while to come out, as it were, and accept that this is what I really love to do, this is who I am, and I'm not going to look back.
I'm 40; I finally found my musical voice. I love singing other styles of music, and I can do it. But nothing moves me and connects to me more than this style of music.
SN: How daunting is it to reimagine a song such as I Who Have Nothing, made famous by both Shirley Bassey and Tom Jones?
CJ: It's daunting if you think of it that way. When I first sang that, it was so dramatic, and so out there... it doesn't get more desperate and James Bond-y... and I love the drama of it. Tom Jones has this giant voice and huge range, and Shirley Bassey, the same, but a dame. And I always kind of felt like a little bit of both of them!
SN: And you do A Change Is Gonna Come, the iconic Sam Cooke song.
CJ: I've done that for a decade, and I never get sick of it. Look at the world we're living in. Every day we wake up and there's something new to be mournful about, or hopeful about. I do believe a change is gonna come, so the gift of having music like that in my back pocket, which lets me express whatever I'm feeling, is priceless.
SN: What was the inspiration for the lovely song you co-wrote with Michael Feinstein, Red Wine Is Good For My Heart?
CJ: That's for my grandma. She passed away a couple of years ago of complications due to alcoholism. She was an alcoholic her entire life, and it was especially difficult the last few years. She'd always say, "Red wine is good for my heart; that's what my doctor says!" And we'd all kind of tease her and say "That doesn't mean you can have it for breakfast, lunch and dinner".
It was a sad thing. Also, with my own experience with alcoholism, and my own getting sober, I wanted to honor her, so Michael and I wrote the song.
SN: Speaking of getting sober: how tough was it for you a few years ago to have your personal life become a matter for public discussion, as it did?
CJ: It's difficult enough when you're going through life changes, and dealing with personal demons you've put off your whole life, and a marriage falling apart... a relationship of thirteen years... and the biggest things in life are crumbling and changing. So, yeah, to have things written, to have people give their opinions, to have the untruths, it was difficult at the time. Absolutely. But that's the way it goes; that's how life is.
I've been sober for over three years, and it's such a gift. Sia helped me get sober; she brought me to my first meeting. And I saw a future I'd never seen for myself. Once I started getting my head and my spirit in order, then I could really start creating the life I always dreamed of for myself.
SN: I have to ask you about the FX series American Horror Story: Hotel, where you play Lady Gaga's husband. What's it like working with her?
CJ: She's incredibly funny. Very tactile; very touchy. She's just fun to be around. Her first day shooting a scene with dialogue was also my first day, and we were both nervous. And John Travolta was on set, watching the scene. He was shooting the OJ series next door; that's what happens in Hollywood.
It was super stressful, and she and I kind of helped each other through that. Afterwards, she said to me, "I just want to be great. I want to be my best, and I want to learn from everybody". She's an open book, with a beautiful, almost childlike curiosity about art. To be around that is very inspiring.
SN: Is it more fun being married to Lady Gaga, or your real-life husband Jason?
CJ: My real-life husband Jason! He is the best. He is pure light. He walks into a room, and instantly, the temperature changes. It's warmer and happier. He's just amazing. We've been together three years now, and we're coming up on our second wedding anniversary. It's a beautiful thing.
SN: You've received lots of praise for all your diverse talents, and as you approach your 41st birthday, your fans even hope you'll be doing another nude scene next season on American Horror Story! Do you ever sit back and think, wow, I kinda hit the jackpot here?
CJ: I don't think of it like that. I am so grateful for the experiences I've had, and that I get to work in all the different arenas: that I get to be on TV and make movies and make albums and be on Broadway. But, I know that it is a gift, and I know that it's not freely given. I have to work very hard, and I have to earn it.
Calling all HuffPost superfans!
Sign up for membership to become a founding member and help shape HuffPost's next chapter