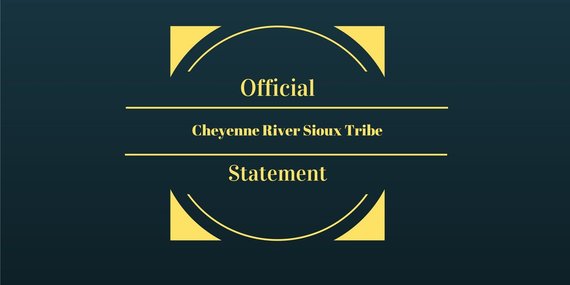 The leader of the Cheyenne River Sioux Tribe in South Dakota is asking the Army Corps of Engineers (USACE) to consider human rights violations against water protectors as it deliberates on the potential impact of the Dakota Access Pipeline. Cheyenne River Sioux Chairman, Harold Frazier, released a video statement and letter to Larry Roberts, Acting Assistant Secretary of the Department of the Interior for Indian Affairs, and Tracey Toulou of the Office of Tribal Justice to address abuses committed by the State of North Dakota and agents of the DAPL. The Texas company, Energy Transfer Partners, Inc., is the parent company of the pipeline.
Frazier notes that on November 20, 2016 members of the Cheyenne River Sioux Tribe were among those attacked with water cannons in sub-freezing temperatures, and shot with rubber bullets, bean-bags, tear gas canisters and concussion grenades. Independent journalists and tribal members have videos that corroborate these actions near the Standing Rock Sioux Reservation.

"It is hard for me to put into words how difficult it has been for me, as Chairman of the Cheyenne River Sioux Tribe, to watch as members of my Tribe have suffered humiliating and painful abuses, both physical and spiritual, at the hands of North Dakota and DAPL. I am the duly-elected leader of a sovereign nation, entrusted with protecting and providing for my people, and yet there appears to be nothing that I can do when private aggressors and agents of another government assault my people without any legal or moral justification. I have to stand back and watch it happen," Frazier said in a press statement.
Chairman Fraizier wants federal law enforcement, especially in the Bureau of Indian Affairs and the Federal Bureau of Investigation to investigate all of the abuses committed during the November 20 event and "refer potential defendants for charges to be filed by the appropriate authorities."
On November 28, the Water Protectors Legal Collective (WPLC) filed a class action lawsuit against Morton County, the Morton County Sheriff and other law enforcement agencies for use of excessive force against Water Protectors. Dundon v. Kirchmeier seeks damages and injunctive relief for injuries and curtailment of First and Fourth Amendment rights.The case will resume hearings on January 13,2017 in the U.S.District Court of North Dakota, with Judge Charles S. Miller, Jr presiding.
Chairman Frazier's complete statement and letter can be accessed here.
Popular in the Community