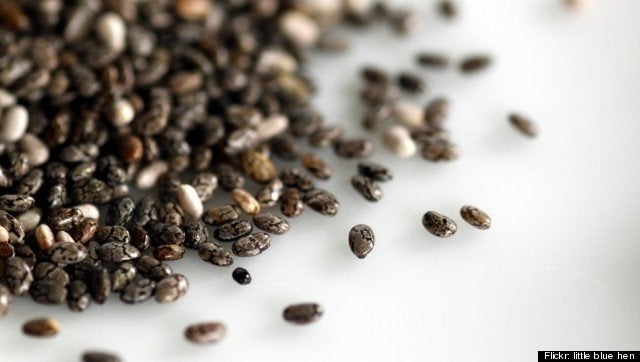 Most people hear the word chia and have flashbacks of cheesy '90s infomercials and bad Christmas gifts. Yes, chia can be used in lieu of a pet, but there is so much more that you can do with this spectacular seed!
Let's start off with a little Chia 101. Typically seen in seed form, the plant originated from Mexico and Guatemala. The word chia is derived from the word chian, which translates to the word oily, and is one of the main reasons there are so many health benefits. This gluten-free wonder can be eaten in raw seed form, ground into a fine powder or pressed into oil.
Change up your morning routine and turn breakfast into your most powerful meal of the day. Mix two tablespoons of raw chia seeds into a 0 percent Greek yogurt to add four grams of fiber to your meal. Read about the amazing benefits of fiber in my previous post. You'll also up your protein intake by five grams. That's approximately 15 grams in total!
Next time you're craving some greens, switch up the olive oil for chia seed oil. It's loaded with omega-3 fatty acids, which play an important role in the prevention of heart disease, hypertension, stroke and depression. For an innovative twist on your standard green salad, mix 1/2 cup cooked quinoa with some parsley, green onion, basil and a squeeze of lemon juice. Drizzle with a 1/2 tablespoon chia seed oil for a salad that's sure to please inside and out! Another option is to use chia as a micro green and add the sprouts to a traditional salad. It's an effortless way to boost your protein, fiber and calcium intake!
CocoChia Living Fuel Snack Mix
A satisfying blend of coconut and chia seeds, this snack mix is an ideal option when searching for a snack on the go. Filled with antioxidants, one single-serve packet contributes to 20 percent of your daily fiber intake yet comes in under 150 calories. Opt for a pack instead of conventional, high calorie trail mix, or try swirling it into your morning oatmeal.
Put a little pizazz into your next smoothie and switch out conventional protein powder for chia seed powder. Start with ice, 1 cup of almond milk and 1 cup of non-fat Greek yogurt. Add in 1/2 cup raspberries,1/2 banana and 1/2 cup blueberries. Blend well and toss in three tablespoons of chia seed powder. The result? A delish summer refresher that packs in a whopping 10 grams of protein and fiber! It's the perfect treat to recharge after a workout.
Related