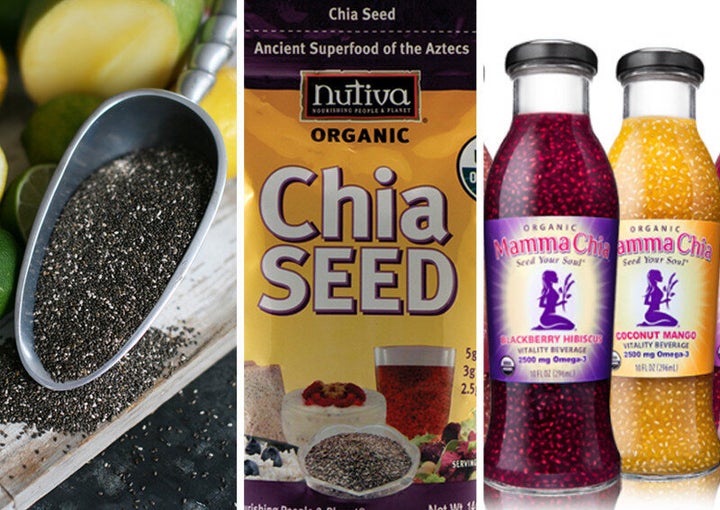 Five years ago, the word "chia" made most Americans think of one thing: Chia Pets.
The association lingers. But today, chia seeds are beginning to gain recognition as one of the world's healthiest foods. The seeds, which are completely tasteless, are high in protein and fiber and contain incredibly high levels of Omega-3 fatty acids, which have been shown to protect function of the heart and other vital organs. The shelves of Whole Foods are brimming with chia-packed products, from juices to energy bars. You can buy four one-pound bags of raw chia seed at Walmart for $37.56.
"Chia could be the next big superfood," John Roulac, CEO of Nutiva Foods, the leading brand of organic chia, told The Huffington Post. "The growth in demand for chia is almost like a hurricane, it's so intense."
What makes that transformation so remarkable is that for centuries, almost no one was even aware that chia seeds were edible.
Chia had been the third-most important crop for the Aztec empire, after corn and beans. But because it was used in Aztec religious ceremonies, conquistadors suppressed its cultivation by all but a few remote tribes for 500 years.
Wayne Coates, an ultramarathon-running professor of agricultural engineering at the University of Arizona, entered the picture in 1991. He was trying to find a profitable crop that could be grown in northwest Argentina, as part of a project he was working on with Argentinian farmers. Someone -- he said he doesn't remember who -- suggested chia. He found that it was easy to grow, so he started to investigate its potential uses.
What he found astounded him.
"Chia is the highest plant source of Omega-3s. It has tons of fiber, and even a lot of antioxidants and minerals. It's 20 percent protein -- which is, compared to wheat, or even soy, incredibly high," Coates told The Huffington Post.
Further analysis convinced him chia had vast potential. Initially, he thought it might work well in livestock feed, to increase the amount of Omega-3s that made it into eggs and milk. That worked, but the relatively high price of chia kept farmers away. So Coates started to think about selling chia directly to consumers instead.
He began visiting trade fairs, hoping to find a company that would include chia seeds in its products, but he said no one wanted to be the first to bet on an unproven ingredient. In 2005, Coates published a book on the topic entitled "Chia: Redisovering A Forgotten Crop Of The Aztecs," but it attracted little notice outside of his native Arizona.
But in the late 2000s, two high-profile supporters emerged.
Dr. Mehmet Oz started promoting chia as a "superfood" on "Oprah." He showed fans how to incorporate chia into their diets by adding it to smoothies and to muffins. His endorsement encouraged health-food early adopters -- who were eager for a new fad after tiring of acai and pomegranate -- to seek out chia seeds.
Then chia was featured in Christopher McDougall's "Born To Run," a best-selling inspirational tract for runners. McDougall profiled a legendary long-distance runner named Micah True, who learned about chia from the Tarahumara tribe of native Mexicans. The book increased awareness of chia in the athletic community.
Chia sales skyrocketed, and Coates quickly found that its popularity had ballooned far beyond what he had imagined. (His second chia-related book, "Chia: The Complete Guide To The Ultimate Superfood," comes complete with recipes and will be released on May 1.) New companies, including Nutiva, began producing it, as many others in the food industry began to realize that the seeds' blandness gave them a wide range of potential applications.
One such person is Janie Hoffman, a self-declared health food nut from Southern California and the founder of beverage company Mamma Chia. She started adding chia to juice after realizing that it worked to reduce symptoms of an autoimmune disorder she'd faced for decades. Hoffman said her friends were so enthusiastic that she decided to sell the juices commercially in 2010. Mamma Chia is now available in 2000 stores, including most Whole Foods locations.
As the chia market became more competitive, people began to make bold claims about the seeds' benefits. Many -- including Coates -- started to say that chia seeds help people lose weight, that chia seeds increase energy and that they lower peoples' cholesterol.
The problem was that controlled studies had continually failed to bear those claims out.
"The people who are involved in the chia seed world are almost like a cult," said David Nieman, a doctor who has conducted numerous studies on chia seeds. "They just think it's god's gift to mankind, that it can do all sorts of magical things. But it's not true."
The cautionary tale in this arena is that of the acai berry. It, too, was a newly-introduced food from South America that was often billed as a "superfood." And it, too, started to attract unsupportable claims, which ultimately sullied its image in the eyes of many consumers.
For that reason, those who market chia seeds have shifted their focus away from specific health claims and toward simple statements about the uncontroversial nutritiousness of the chia seed.
April Helliwell, head of marketing for Australia's The Chia Company, which now grows nearly half the world's chia, explained, "The last thing we do is to market chia as a fad."
In Australia, the seeds' appeal stretches far beyond health food nuts and athletes. They're included in foods as pedestrian as mass-market white bread. But before that can happen in the U.S., many argue that the supply of chia -- currently dominated by The Chia Company and small farms in Latin America -- needs to become more reliable.
Enter Kentucky Chia, founded by a group of business students at the University of Louisville with the goal of making chia into a commodity crop. The company holds the patent for a new strain of chia that can be grown in the U.S., which was developed using a process that accelerates genetic mutation using gamma rays. (The technique does not technically qualify as genetic modification, but it's close enough to unnerve traditional chia fans like Coates and Roulac.) Kentucky Chia hopes to start selling its chia as horse feed in 2013. But CEO Zack Pennington says that's only the beginning.
"Right now, we mostly eat chia raw, by itself, but I think its ultimate trajectory is as an ingredient," he told The Huffington Post. "Sometime soon, I think we'll see chia added to everything: Vitamin Water with chia, Kashi cereal with chia, chia-seed bread at Subway."
Is he worried, though, that chia might just be a temporary fad -- as its terra cotta brethren turned out to be?
"As long as people recognize not only how good it is, but also its limitations, it will last," he said. "iPods were a trend -- and now they're just part of your daily life. That's where we think chia seeds are headed."
Support HuffPost
A No-B.S. Guide To Life
Related
Popular in the Community