I'd spent a lot of time day dreaming about visiting Chiang Mai, Thailand, for the better part of my young adulthood. Luckily for me, in March 2016 I was afforded the opportunity to spend a few weeks in the region; a pipe dream I had no idea would ever actually come into fruition. My time in Chiang Mai was everything I'd expected it to be: refreshing, relaxing and enlightening. I learned how to cook local fare, conquered a fear of heights by ziplining in the jungle, met countless wonderful souls and made a series of incredible memories. I also realized there is a momentous global crisis taking place in the region that is generally overlooked by the masses.
My first impressions of the northern capital were a bit different than what I'd imagined. The enchanting, lush forests and blue skies I'd envisioned were actually blanketed with a thick, grey smog. In fact, I was unable to get a clear shot in most of my photos due to the murky haze nestled in the valleys.
While I'd initially written the dirty air off as stereotypical Asian smog, I couldn't have been farther from the truth.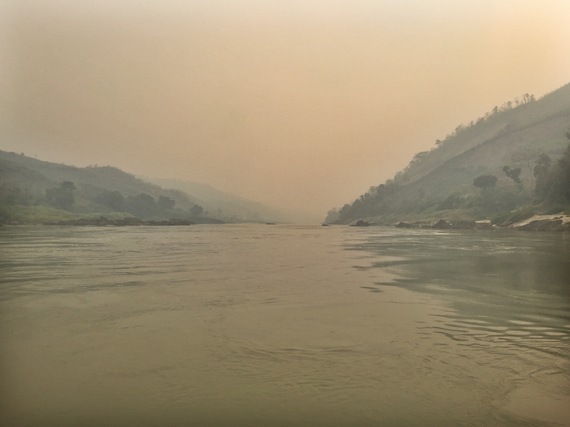 I discovered that each year between February and April, farmers throughout northern Thailand as well as the region's neighboring countries burn an incredible amount of vegetation with the hopes of better managing their agricultural waste and clearing up the ground for the next round of crops. While this may seem clever on a small-scale level, the practice has created widespread health problems and is harming the local environment at an alarming rate.
Slash and burn farming techniques have been used for centuries, but in recent years the approach has imposed critical devastation throughout the region. Not only are the damaging agricultural fires spreading into the fresh forests, they're contributing to the region's growing health issues and encroaching on local animal habitats as well.
During my time in Chiang Mai, I visited Flight of the Gibbon, a tourist attraction near a rural community Mae Kompong, which gives people a chance to zipline through the jungle alongside elusive gibbon monkeys.
Demis Galli, Conservation Director at Flight of the Gibbon, told me that there are as many as 11,000 forest fires in the four-month time span of crop burning. One of the biggest frustrations Galli has is that there are little to no regulations placed upon those who are committing these environmental crimes. Galli, who has been working in the environmental conservation industry for the past 16 years, has been doing everything in his power to ensure he and his team are doing what they can to bring some stability to regions affected.
In order to combat severe deforestation of native tree species in the region, Galli said that his team in Mae Kompong plants 5,000 new trees each year. In addition, the team also works together to clean up agricultural waste, create fire breaks, support local trade livelihood and are also currently working on a medicinal conservation project.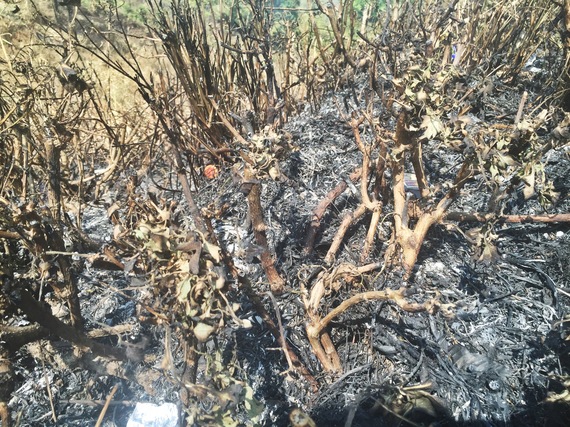 Despite these efforts, Galli worries that there isn't enough consistent media attention focused on the issue and finds it troubling that there aren't many serious regulations enforced upon the farmers committing the acts. If the issue isn't tackled, the residents, flora and fauna in the region will suffer dire consequences.
Galli mentioned that although it's safest to stay inside when the air quality is poor, he had done a few running workouts that week and as a result had been feeling a bit of tightness in his chest. On the morning we met, the air had a PM-10 of 229 micrograms per m3 and the city's PM 2.5 had about 134 micrograms per m3. To put it into perspective, a healthy PM-10 reading should be below 50 micrograms and a healthy PM 2.5 reading should be below 25 micrograms.
He wasn't alone in this, he said. Many of his fellow Chiang Mai residents have been suffering each year, too.
The most common health occurences in the north include, but are not limited to, cancer of the trachea, bronchus and lung - all of which health professionals suspect could be linked to annual and prolonged smog exposure. Despite this, The Pollution Control Department (PCD) continuously encourages the public to believe that the climbing smog levels have little effect on local citizen's health.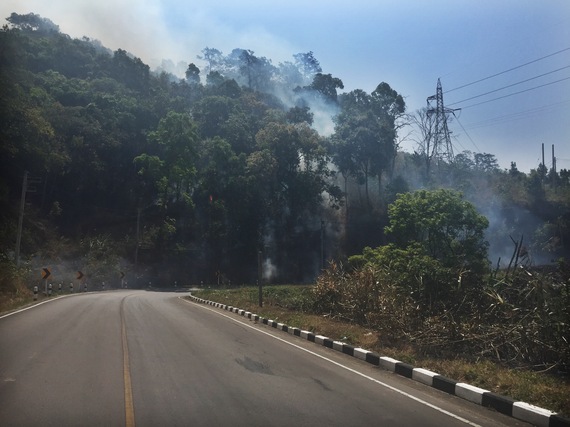 The issue also strikes me as a cultural phenomenon, though. During a trip to the Lod Caves located just outside of Thailand's Mae Hong Son Province, the driver of our vehicle made a few jokes about the multiple forest fires we encountered along the way.
"I don't have a lighter, but I wish I did so I could burn this part down," he said as he pointed at a lush section of forest. "It is very good for hunting pigs if there is no forest and I want to help my friends."
Hearing this comment made me realize this issue is far more extreme than any government regulation can ever control. It's a cultural belief; something that I don't feel comfortable criticizing. What I can say, however, is that I believe something needs to be done. Although trees play a crucial role in human civilization, I wonder if most of mankind is aware of the damage that has been done over the years.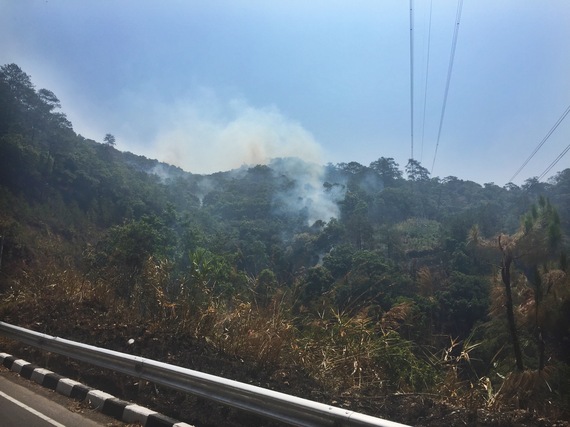 Humanity can predict what happens to this planet, but in order to do so, we have to work together. In honor of Earth Day 2016, I hope everyone can be affected by some of this information presented above in the same way that I am and do what you can to help in the most effective way possible. Most importantly, when traveling, please make sure you're doing so in a responsible manner and supporting those who are trying to bring forth a positive impact. After all, as Galli told me,
"If you want to claim ecotourism, you have to do your part."
If you're interested in reading more about Laura's travels throughout Southeast Asia, be sure to check out her website Willful and Wildhearted.