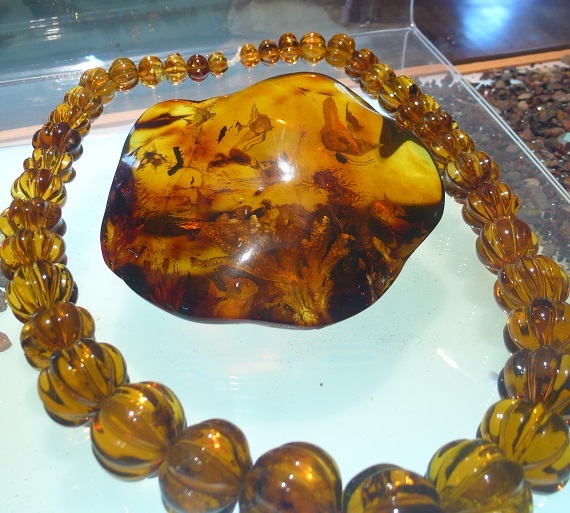 Pieces of Amber with trapped insects can sell for big bucks.

There was a time in the Dominican Republic when - for a flat $15 - you could stick your hand into a barrel full of amber and keep as many pieces as you could grab. Similar good deals on amber were offered in places around Mexico's southernmost state of Chiapas and northern Europe's Baltic Sea, among several other spots. A fossilized tree resin, amber is much more expensive today - especially if the likes of a prehistoric bug or a leaf was trapped in the resin. We're talking many hundreds of dollars, sometimes thousands depending on size, color and what's caught inside.
Chiapas is one of the world's main sources of the ancient gemstone, sold here principally in the 16th century colonial town of San Cristobal de las Casas. The latter city is just a 45-minute drive up in the mountains above the country's capital at Tuxtla Gutierrez.
Tours of the country tyically start with an arrival and overnight stay in Tuxtla Gutierrez, followed the next day by a short drive to the Grand Canyon-ish Sumidero Canyon. There, you'll take a two-hour boat ride through a winding river flanked by cliffs thousands of feet high. Then it's back to Tuxtla for dinner (ranging from hot menus to ones straight out of blast furnaces) and a little shopping - a sort of prelude to the big-time shopping coming up at the next overnight stop, San Cristobal de las Casas.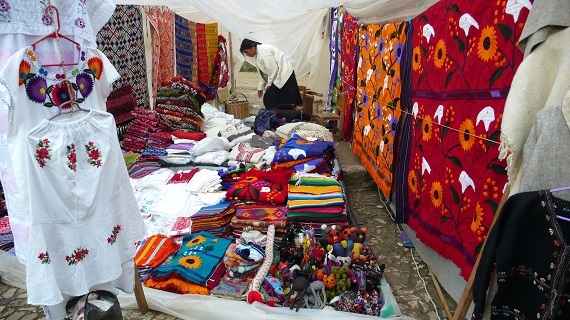 At San Cristobal you get the feeling you might be on another planet vs. Tuxtla. For one thing, unlike Tuxtla it's chilly up there. For another, many of the 130,000 "Coletos" as the locals are known dress like they did centuries ago when the Spanish conquistadores ruled these parts. What's more, at times the whole town looks like a stage for a giant handicrafts show.
One shopping area is a maze of hundreds of side-by-side tents surrounding San Cristobal's main cathedral. Browse around and you'll find stunningly gorgeous shawls, blouses, placemats, tablecloths, blankets and jewelry, all hand made, and all at bargain prices (and even lower depending on your haggling skills).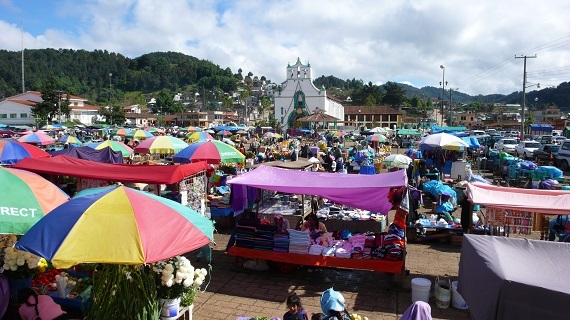 A must-see in the city is a cobbled, half-mile-long "tourist walkway" including virtually wall-to-wall-amber shops dotted here and there by restaurants, bakeries, bars, old-time government buildings and charming inns.
Be careful, there's a lot of phony amber floating around. Experts at the city's Amber Museum say you can use simple tests to tell the real thing. Is it light and warm? That's amber. Is it heavy and cold? That's just doctored up glass. Another test: Rub it, and if it smells like incense, it's probably genuine.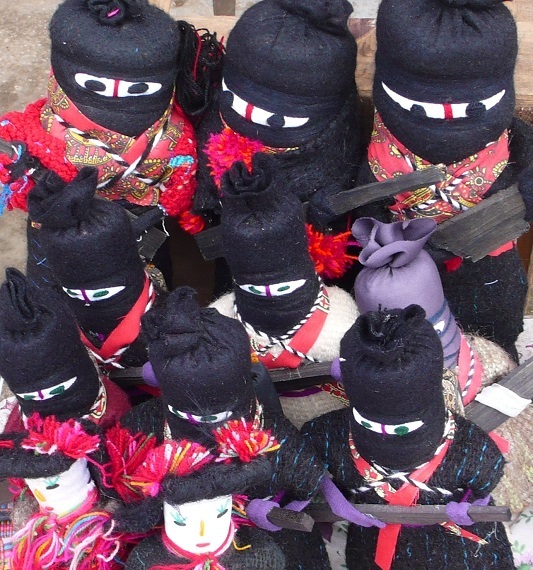 Look around, and chances are you'll run across hundreds of little hand-made souvenirs of a masked guy holding a piece of wood looking like an AK-47 rifle. The guy was Chiapas' more or less state hero, Subcomandante Marcos, the nom de guerre of the leader of what he named the Zapatista Army of National Revolution in the early 80s.
Besides putting Chiapas on the map (for a while, news coverage of the rebellion showed up almost nightly on TVs around the world) the event seems to have spawned a sort of cottage industry around the area - tee-shirts, dolls, keychains and other souvenirs bearing a likeness of the charismatic Marcos.
In 2014, he reportedly announced that Subcomandante Marcos "no longer exists."
The state offers a smorgasbord of other tours. For instance, one is a five-hour drive north of San Cristobal to Palenque, one of the most-visited sites of the whole Mayan empire. Here, tourists are awed by towering pyramids, the tombs of ancient kings and other spectacular monuments, more than 200 in all, in a city once home to 10,000 people.
Another runs south from Tuxtla to Chiapas' beach resorts along the Pacific. Some go east to other colonial cities such as Comitan de Dominguez and then on to the natural wonders of the 820,000-acre Montes Azules Biosphere Reserve.
Still others go on to archaeological sites, like the sprawling Mayan ruins at Yaxchilan and Bonampak at the eastern edge of the state bordering Guatemala.
Related