Way more than the bastardized burritos and nachos you pick up at window #2, Mexican food is such a big deal, the cuisine was named by UNESCO as an intangible cultural heritage of mankind. Suffice it to say, Mexicans don't fuck around when it comes to food. Spicy, tangy and full of rich soul, the Chiapas region is also the cheapest in all of Mexico, making all its edibles available to you at street food prices.
In Chiapas, it all starts with corn, a sacred crop deeply embedded in Mayan culture and considered a gift from the gods.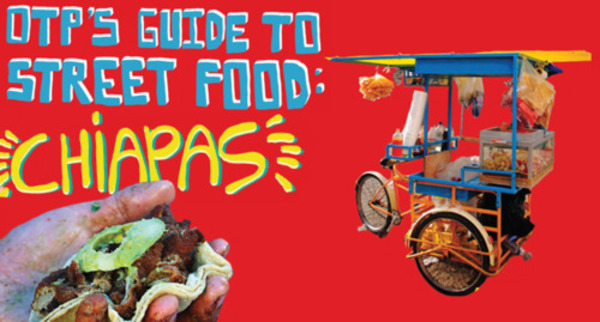 Elote (corn on the cob) is a major street food and is usually grilled, then super-slathered in mayo. To layer flavor on your natural stick of Mexican food history, other topping options include chili powder, butter, salt, grated cotija cheese, salsa picante and lemon or lime juice. If picking corn out of your teeth on the streets gets grueling, check out elote's loose cousin, esquite, which is corn cut off the cob into a bowl with a mixture of the above ingredients and eaten with a spoon. Add some corn to your corn by chugging down disease-curing pozol, a drink made of corn dough and water (pozol blanco), or mixed with cacao (pozol de cacao), and popular during Mayan ceremonies and believed to help the Indígenas make long journeys through the jungle. When your corn baby fully matures, flush and don't look down.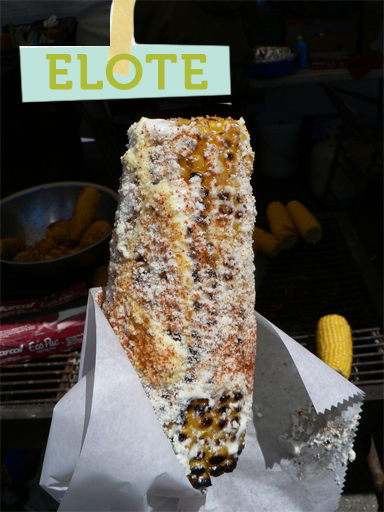 Why yes, those are curled up ant legs on your plate. Nucú (aka chicatana), a Chiapas specialty, are essentially delicious, oversized queen ants filled with thousands of eggs. Usually roasted and salted, served with lime juice and chile, and sometimes in tacos (if you like an extra crunch). Wash the Chiapas caviar down with some posh, a local sugar-cane based liquor. Nucú mate in swarm orgies every June, after which all the males die leaving bloated females to sit around until dinnertime. Best to take off their head and direct your bite straight at their fat asses.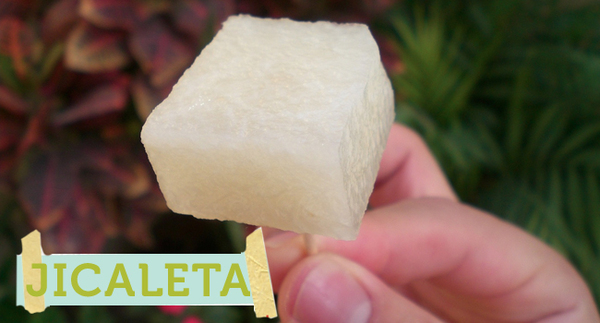 A healthy street treat, jicaleta is a slice of refreshment on a stick. Jícama (also known as "yam bean" or "Mexican turnip"), is the edible root of a highly poisonous plant and is commonly used in soups, fruit bars, salads, salsas and other cooked dishes. Street vendors stick a slice on a skewer and you can either crunch on it au natural or dip it into flavored powders.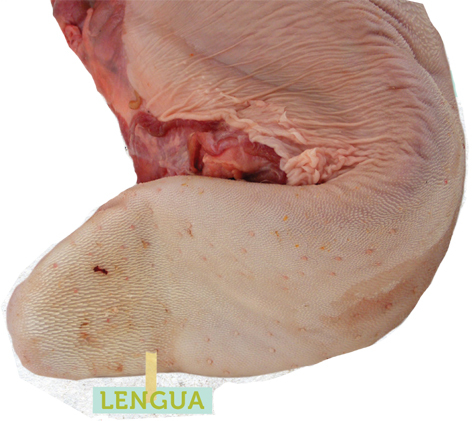 If your own tongue just ain't cutting it anymore, Chiapas is your mouth's chance to get real personal with beef tongue. Rubbing taste buds with a cow may sound almost cannibalistic, but the meat is chewy, with a dense, smooth texture and not half bad. You can find a lickin' in burritos and tacos, or on its own with a sauce. Try it with saffron sauce (lengua en salsa de azafran) to make you, and your new beefy friend, salivate.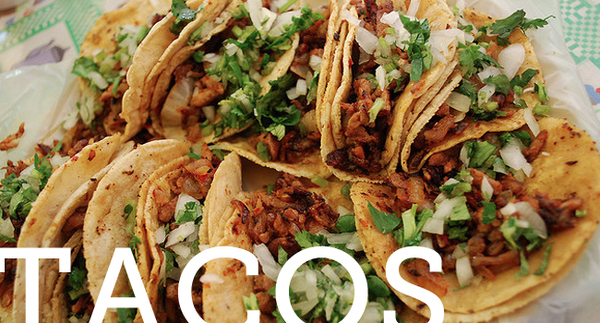 Instead of giving you our gringo taco banter, while in Chiapas, OTP was lucky enough to meet Jesús Catalán, the self-proclaimed Taco King, and he's here to give you the deep insider view of Mexico's favorite sandwich.
Catalán is legit: Born in Del Valle, the taco epicenter of Mexico City, he has consumed millions of tacos around the world and, after 17 years, still holds the record for eating the most Tacos de Canasta (63 of those bad boys!).
So, what makes a good taco? Catalán says it's all about "tortillas, beans, chile, the fresh ingredients of a salsa" and the essential squeeze of lime. He's willing to get on an airplane for his Chiapan taco fix: DIY taco joints (puestos) at the shore of Lago Pojol in El Parque Nacional Lagunas de Montebello, "...there you'll find home-made fresh cheese wrapped in banana leaves, that will be grilled and topped with black beans, fried chorizo and avocado slices. Ask for tortillas and make tacos, those are really authentic."
Catalán swears that, "God is a taquero, life is a puesto, love is the salsa and you are the taco." To Catalán, tacos are serious eats and he's ready to wage war on anyone trying to mess with his favorite street eats. In fact, he "...dare[s] all Off Track Planet readers who have a passion for tacos to bring it on and steal [his] crown." You hear that? BE the taco.
"Always look for the crowd, which not only indicates deliciousness and hygiene, but also a good price. Ask for tacos 'con copia', which means two tortillas instead of just one per taco. Deep-fried tacos and quesadillas are not only tastier but will fill you up better."
These are not your freezer section logs of awful. Chiapas' nutty version, called tamales chiapanecos, are a regional creation, filled with pork, raisins, tomatoes, almonds, onions and spicy herbs then wrapped in banana leaves. The dough contains chipilín, an herb native to Chiapas, that gives these tamales a little extra flair. The juacanes version reminds you of Chiapas' coastal access by incorporating dried shrimp, along with black beans and pumpkin seeds, into their tamales. Hot off the grill (and not wrapped in plastic), tamales bring the sweet flavor of the southernmost state of Mexico straight into your mouth. Purchase yours from any guy peddling them from his bike.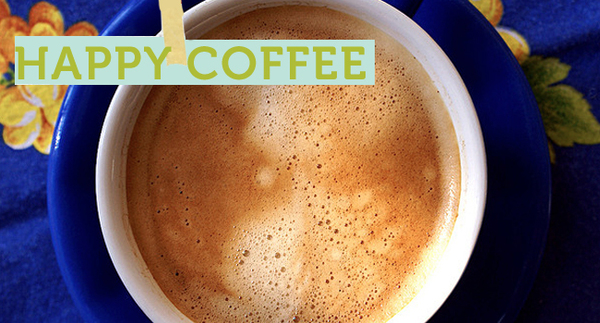 Cacao was first discovered in the Chiapas region of Mexico and Guatemala 4,000 years ago and was used as currency until its crack-like qualities were revealed. All coffee in Chiapas is organic, shade-grown (which is better for you, the environment and the farmers) and off-the-hook delicious. Cacao is also cultivated to make chocolate and in Chiapas, they like it spicy. Buzz on a cup of coffee from just about anywhere and check out Kakaw, the cacao and chocolate museum, in San Cristobal de Las Casas. Order the sensaciones prehispánica for shots of hot chocolate in achiote, vainilla, amaranto and cacahuate varieties.
Super-agriculturalists since before America was "born", you best believe the people of Chiapas know their shit when it comes to food. The Taco King will tell you: "In such a diverse country as Mexico, food is perhaps the strongest element that 'glues' us all. Old and young, rich and poor, religious or not." Combine that with the "mi casa es su casa" mentality and you got yourself a street feast worth a trip way south of the border.
-- Bianca Rappaport and Anna Starostinetskaya
Popular in the Community