The reports first came in a trickle, then a deluge. In April 2014, we learnt that Boko Haram had raided the Government Secondary School for girls in Chibok, Borno State, and whisked their captives into the night whereupon they seemingly disappeared. The outcry was felt around the world, with organisations and individuals alike imploring governments to act, the United Nations to denounce, and even addressing the extremists directly through the "bring back our girls" campaign sustained by home-grown activists.
It's no surprise the world expressed its grief as one. The notion of enforced disappearance induces such a visceral distress in all of us that it is, understandably, a powerful strategic tactic for the morally bankrupt. In the case of Boko Haram, such a tactic aligns neatly with aspirations to spread terror and gain income through financial extortion, for it is no secret that its victims are tortured in unimaginably graphic ways. Around the world, many kidnapped people do not return to their families alive, and even for the fortunate few who may, the resounding physical and psychological scars are not so easily soothed. Sadly, the Chibok situation is nothing new. Seldom throughout history has armed mobilisation not been weaponised to victimise women.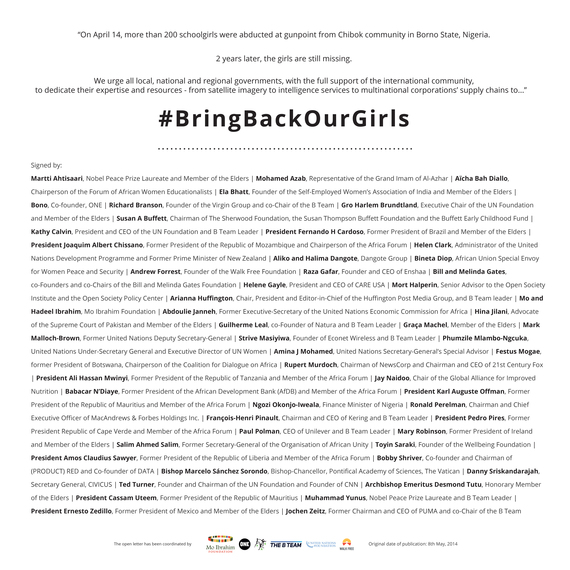 The missing Chibok girls have been deprived of their liberty since April 2014, their whereabouts unknown. One missing Chibok girl, Amina Nkeki, formerly of Christian faith, has been found, returned, converted to Islam, nursing an infant, as a child bride. The other girls remain unfound and unreturned to date. The precise number of girls who have disappeared in Nigeria is unknown and may never be confirmed. However, every disappeared life is of inestimable value and potential; every girl should and does matter, every life counts.
Enforced disappearance is the secret abduction or imprisonment of an individual by by a third party, accompanied by a refusal to acknowledge the person's fate and whereabouts thereafter. The intent of enforced disappearance is to place the victim outside the protection of the law, but its impact on the those directly linked to, or proximally impacted by these victims are similarly numerous and resounding. A community affected by enforced disappearance is one that thereafter lives in fear: for the welfare of the person missing, for the families left in turmoil, and in anticipation of potential additional kidnapping situations.
Though the enforced disappearance of the Chibok girls of Borno State is not the only enforced disappearance in Nigeria, this issue is not just a Nigerian problem. Governments, non-governmental organisations and individuals alike must and do, continually and collectively advocate for the protection and advancement of women.
On 21 December 2010, by its resolution 65/209 the UN General Assembly expressed its deep concern, in particular, by the increase in enforced or involuntary disappearances in various regions of the world, including arrest, detention and abduction, when these are part of or amount to enforced disappearances, and by the growing number of reports concerning harassment, ill-treatment and intimidation of witnesses of disappearances or relatives of persons who have disappeared.
As we mark the International Day for Enforced Disappearances this week, the Wellbeing Foundation Africa continues to advocate not only for the secure release of the Chibok girls, but for all access to safe and quality education for children to be protected. We also call for the health and wellbeing of all retrieved girls, and indeed all displaced persons, to be compassionately and appropriately managed by Governments, NGOs and other international organisations who have all committed to protecting the safety, sanctity and dignity of mankind everywhere.
Through the use of public health records, we can monitor and evaluate the health and psychological condition of every released victim of enforced disappearance in Nigeria - not only to ensure they are physically well, but in order to identify needs, and ensure they receive any and all necessary psycho-social support.
On this day, the entire Wellbeing Foundation team prays for the safe return of the surviving Chibok girls, and we will continue until each girl's whereabouts is accounted for, and each girl's welfare is catered for, once more. Our hopes remain alive.