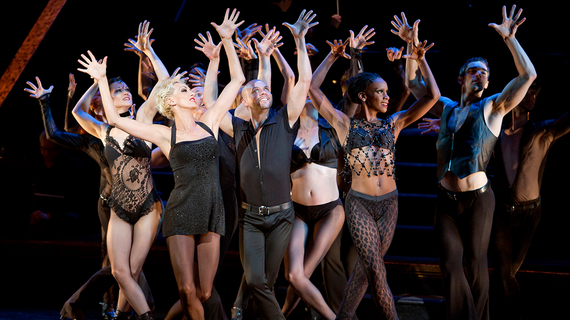 Amra-Faye Wright (front left) as Velma Kelly and company in Chicago on Broadway (photo credits: Jeremy Daniel)
Few Broadway shows can claim the milestone the musical Chicago celebrates as the six time Tony Award winner continues into its twentieth year from its 1996 revival on Broadway. This makes Chicago the longest running American musical on Broadway and the second longest running show in Broadway history, second only to Phantom of the Opera.
Ahead of its time in breaking the fourth wall and dripping with stylish sophisticated cynicism that was in vogue in the 1970s, Chicago was an instant Broadway success story. The song and libretto feels as modern now as when created and continued Bob Fosse's success after Pippin, another narrative breaker which also broke ground in fourth wall shattering as cast members talk about the show directly to the audience.
Fosse's alluring and iconic choreographic style was lovingly re-vitalized in this revival by Ann Reinking, credited as choreographer 'in the style of Bob Fosse,' who also co-starred when it opened.
Ever inspiring and feeling even more timely now then when it was written, the female driven double murderess song and dancer is a romp through the corrupt prison and court systems of the 1920s. It feels as upbeat, smart and on point today as when it was written in 1975. You know a musical is intelligent, witty and connivingly devilish when its choicest songs about press manipulation, betrayal and selfishness could feel equally at home either on the Broadway stage or in any of the Presidential campaign trails in this election year.
The staging is surprisingly simple for Broadway which often turns set design into its own character. But here the performers are on their own, front and center, as the orchestra is elevated on tiered seating behind them across the stage. The remaining space downstage and on the apron is where the entire show unfolds as the scantily clad perfect bodies of the cast create sexy, precise staging to sting us with politically powerful vignettes. The company doesn't waste one extra move as they take us through the heroines' storied and tantalizing dramas.
The stage is stripped almost as bare as the cast, yet the show sweeps you away on the sheer power of the music and libretto. Fosse's sexy, halting, riveting choreographic style is in clear relief from the first step when the entire company starts the show with "All That Jazz," "Class," and "Cell Block Tango" a show stopper as the girls in prison explain how reasonable they all were in killing the one's they loved.
Amra-Faye Wright as Velma Kelly, the tall voluptuous viper who is shortly dethroned in prison by her competitor, takes stage from her first step in "All That Jazz" and never lets go. Her great turns in "I Can't Do It Alone" and "When Velma Takes The Stand" show a dynamic stage presence that held the theater every time she came forward, each of her numbers charm and amaze.
Bianca Marroquin as Roxie Hart, was powerful, comedic and poignant as needed. Her self absorbed and spoiled character of the downtrodden wannabe who tries trading up in boyfriends results in murder when she's dumped. Songs like "Me and My Baby," and "Roxy" were funny, outrageous and compelling, showing an extensive emotional range. Tom Hewitt as the cold hearted lawyer Billy Flynn, gracefully croons his way like a narcissistic shark swimming towards his client's victories. Numbers like "All I Care About," which ended in a Zeigfield Folly-like fan dance, and another show stopper "Razzle Dazzle," a play by play of how to manipulate the press, were immensely rewarding with a final note in one song he held for such an unusual duration it received its own applause.
Roz Ryan playing Mama Morton, the prison top dog, breaks the wall the most blowing kisses to members of the audience she likes and demanding attention when on stage particularly in "When You're Good To Mama."
Raymond Bokhour as Amos Heart does a magnificent turn as the naïve, simple ex-husband that Roxy still manipulates to help get her out of jail. He has some of the biggest laughs in the show as well as tears in a terrific rendition of 'Mr. Cellophane' lamenting his chronic invisibility. He has one of the best jokes of the night as the cast calls for their exit music, but I won't reveal it here.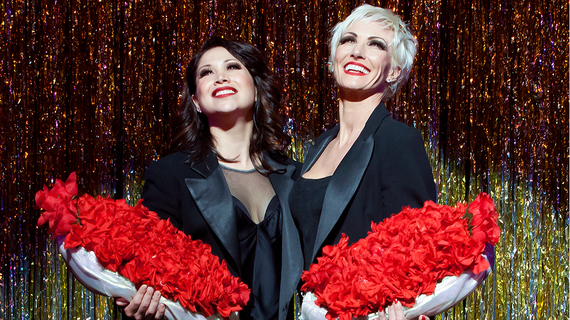 Director Walter Bobbie has great fun with minimal stage technique keeping the performers moves ever interesting and challenging even having some climb up the sides of the proscenium as well as exiting through the orchestra's seating and interacting with the conductor during the show.
The show is a testament to the power of the music and libretto, which blaze out past the absence of big sets and scenery. What started as a witty tear down of established story telling and personal mores has become a timeless classic poking fun at the sins and sinners we accept, if they're beautiful, and the ideals we live by, like honesty and justice, which we're ready to give up if we choose to forgive two desirable criminals, and we do, rooting for them right to the end.
All That Jazz is the revival that is currently running at the Ambassador Theater on Broadway and 49th street as well as touring nationally and internationally. For more information on Chicago
Calling all HuffPost superfans!
Sign up for membership to become a founding member and help shape HuffPost's next chapter