A coalition of Chicago aldermen on Wednesday introduced an ordinance that would increase the minimum wage for many workers in the third-largest U.S. city to $15 an hour.
The ordinance calls for corporations with more than $50 million in annual sales to increase worker pay to at least $15 an hour with a year of the law's effective date. Smaller businesses would be allowed more than five years to raise pay. Twenty-one of the council's 50 members have signed on as cosponsors, Crain's Chicago Business reports.
The current minimum wage in Chicago is $8.25 an hour, a dollar more than the federal minimum wage.
Several aldermen joined low-wage workers at a press conference at City Hall on Wednesday, before the meeting where the ordinance was filed. Home care worker Darlene Pruitt, a 55-year-old mother of three and grandmother of 22, said she earns $10.65 an hour after five annual raises of a dime an hour working for the Help at Home agency. It's not enough, the West Side resident told The Huffington Post.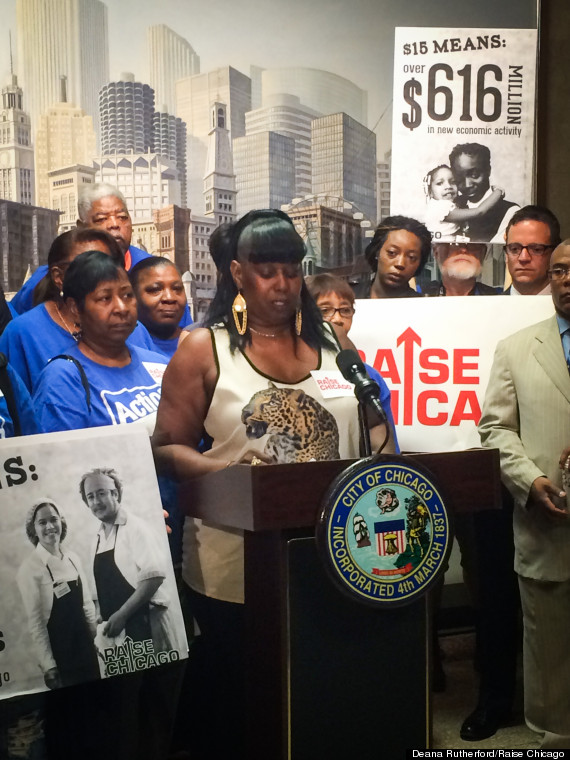 Darlene Pruitt speaks at a Wednesday morning press conference at City Hall.
Pruitt said she has sometimes turned to a food pantry to make sure her family has enough to eat. "It's hard out there," Pruitt said. "The cost to live in Chicago and meet your basic needs -- rent, utilities, food, medication, clothes -- is high."
Pruitt said she is not afraid of retribution from her employer from speaking out because she is optimistic her efforts will help other workers like her who are in a similar position. If she earned more money, much of it would go right back into her community, she said.
The study said the higher minimum wage would be responsible for $616 million in new economic activity and would help create 5,350 new jobs in its first phase. The higher wage also would add $45 million in sales tax revenues, but would raise consumer prices about 2 percent, according to the study.
Business groups, however, have yet to be swayed.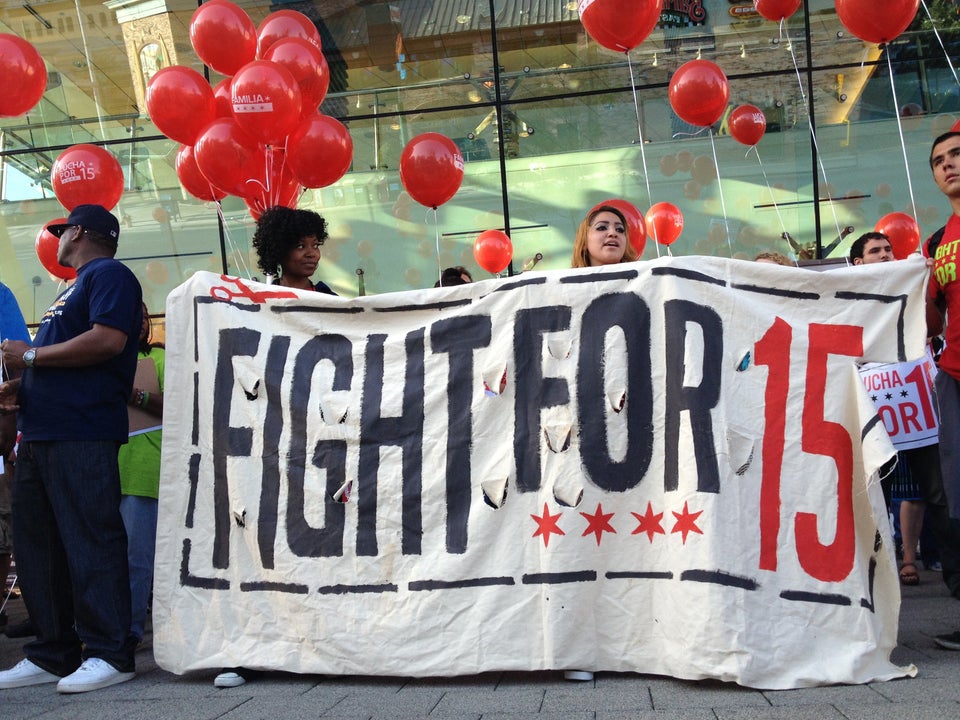 Chicago Minimum Wage Workers At #829 Strike