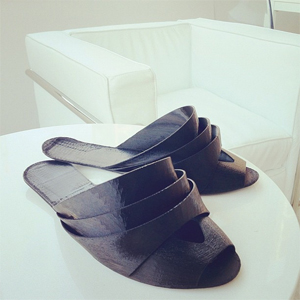 In our lifetime, we will look at an online shoe store, and when we hit the "print button," our 3D desktop printer will manufacture a pair of shoes right from our desktop.
Innovation Factory, a retail location in the West Loop of Chicago is printing out such shoes and has the pink sample (seen in this video below) in the storefront window. They are working with shoe designer Emanuel Nwabuisi and hosting a "3D fashion show" on April 24. This is their first fashion event, showcasing the intersection between fashion and 3D printing with a show that features the footwear, along with the swimwear of designer Brenda Pik.
This new space is significant -- Chicago is having a groundswell of support for what's called "advanced manufacturing," which involves a suite of technology tools and design principles that share a core value: agility. Overseas manufacturing partners specialize in rote processes and large orders, and their strength does not lie in flexible and collaborative partnerships. With a new demand for manufacturing that requires experimentation, iterative changes and small quantities, this next-gen manufacturing requires a sophisticated labor force and local providers.
In March, Governor Quinn attended the Illinois Innovation Council at 1871, where a large portion of the meeting was dedicated to "Advanced Manufacturing as a Federal/State Priority." Neil Kane spoke to digital manufacturing, Adam Pollet, the head of DCEO, presented on the topic of "capitalizing on a sector that is critical to the future growth of the state." and Caralynn Nowinski of the University of Illinois spoke about specific plans for the Illinois Manufacturing Laboratory (the IML project is detailed in this Crain's Chicago Business article).

Jonathan Kinlay, the CEO of Innovation Factory, is well positioned to join the local though leadership through his efforts on the ground -- not only due to the stake-in-the-ground West Loop location, but due to his long history of success. Holding a Ph.D. in economics, and MBA in Business Administration and MSc in Statistics, his was described by Business Insider as a "quantitative trading" pioneer, a manager of numerous high volume trading funds, and the former head of global modeling for Bear Stearns." (More details about the companies he's founded is detailed here.)
When asked via email how this history came to bear in the creation Innovation Factory, his reply explained that "Innovation Factory is something I have wanted to do for a long time: to create an environment that inspires and encourages people (myself included) to innovate and develop their ideas from concept to completion. It's something that is very challenging to do on one's own, as I know from my experience in the hedge fund world. So I decided that in the final stage of my career I wanted to help young designers, innovators and entrepreneurs navigate the process successfully.
Being an innovator in the realm of industrial design is not all that different from creating an investment strategy -- lots of research and development, trial and error, blood sweat and tears. Having someone beside you who has been through the process many times, who can help you overcome the many technical and business challenges you are likely to face, can make the difference between success and failure."
Thus Chicago's new hopeful manufacturing future takes a step forward with a 3D Fashion show that is open to the public. During the event, attendees will be able to see the shoes, along with watching 3D Makerbot Printers create more shoes through this "additive printing" process which adds layers on plastic, one tiny "row" at a time. Workstations located throughout the space will display the different types of rendering and modeling software (Solidworks and Mathematica) with which these printable products are designed. Innovation Factory designers will be on-hand to answer questions and demystify the process of prototyping.
In my article about Robomodo, I mentioned the rumor of a new "makerspace" that has the working title of "1872."This name is an intentional offshoot of Chicago's new technology incubator named "1871" (the year of the Great Chicago Fire). The symbolic reason of bringing up "1872" for a second time, along with showcasing this new storefront, is that growing "Maker scene" is rising alongside the burgeoning tech scene. A new pride and historic connection to the city's manufacturing roots is manifesting is new spaces, initatives (see Pumping Station One), projects, companies (see also MakeItFor.us and Inventables.com); and there is a pushback against being digital-only entrepreneurial scene. Chicago may retain the "City of Big Shoulders" title through its strength in the creation of tangible products, as opposed to being only a "Land of Carpal Tunnel" from sitting at a desk and typing software code.
Calling all HuffPost superfans!
Sign up for membership to become a founding member and help shape HuffPost's next chapter