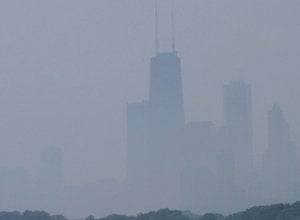 Chicago's air quality is below federal standards, according to a release issued Wednesday by the U.S. Environmental Protection Agency.
U.S. Environmental Protection Agency Region 5 today issued a list of 76 counties that it plans to name as not meeting the new, health-based 24-hour outdoor air quality standard for fine particles (soot). Counties that do not meet national outdoor air quality standards are called nonattainment areas.
Cook County is one of 14 Illinois counties on the EPA's list that are in violation of the EPA's new rules.
The EPA explains the danger of small soot particles:
The new standard is designed to protect the public from exposure to these tiny particles that are 2.5 microns or smaller. By comparison, a human hair is about 70 microns in diameter. The new 24-hour outdoor standard is 35 micrograms per cubic meter. The old 24-hour standard was 65 micrograms per cubic meter.
[...]
Fine particles have been associated with a range of serious adverse health effects, including aggravation of lung disease, asthma attacks and heart problems. EPA believes that airborne fine particles cause tens of thousands of premature deaths across the United States each year. In addition, exposure to them results in tens of thousands of hospitalizations as well as millions of sick days and doctor visits.
Calling all HuffPost superfans!
Sign up for membership to become a founding member and help shape HuffPost's next chapter