I realized this week that, as of this year, I've been immersed in the art world for 40 years. I guess it's what keeps me young, on my toes, engaged and learning. And in the last few months I've learned the difference between an Art Dealer and a Gallerist. I kind of feel that everyone else has known this all along. Oh, well. An Art Dealer is a person who is primarily interested in the transaction, the selling of a work of art. A Gallerist, on the other hand, embraces a higher calling, that of being interested in the art and in the artist's career. Of course, it still involves selling, but the emphasis is different.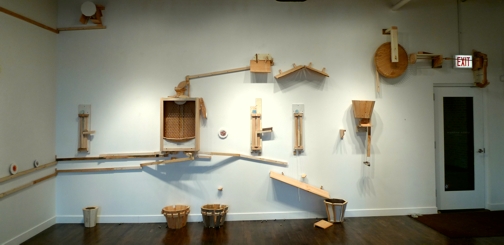 I point this out because it has been a pleasure to watch Linda Warren's gallery grow to where she is now celebrating her 10th anniversary as a gallerist. Unequivocally she believes in her artists and goes to bat for them on a daily basis. She and her staff show and support artists they believe in. Sales are important, but there is much more. And such is the case with Conrad Freiburg who makes thoroughly engaging and unsaleable art, except for a few pieces. His large installations are often participatory joys - and a fabulous way to introduce kids to the thrill of art.
Playing on the notion of "kicking the bucket," the gallery is full of buckets that fill with steel balls as we pull, push, prod and propel these balls into who knows where until we hear them clunk in our proximity. Life, like Freiburg's materials, are fragile and fleeting, immediate and malleable. Lose yourself in his work. It's great to feel like a kid again.. Also on view are some pretty "fun" paintings by Eric Edward Esper depicting a broad array of Chicago tragedies. Sure, the Chicago Fire is there, but can you recall the rest? And since this is the galley's 10th anniversary there's a handsome selection of the gallery's represented artists on view.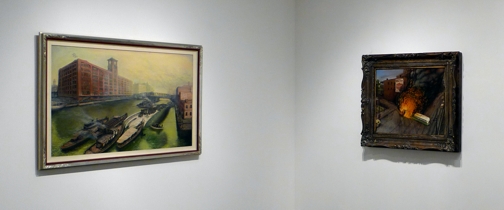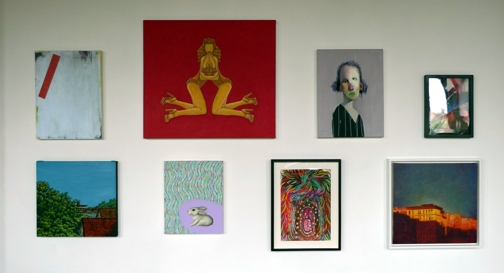 John Buck's art at Zolla/Lieberman is the best of his I've seen. Always frontal and juxtaposing figuration with abstraction, this body has greater clarity and form. The psycho-physical nature of his work touches on personal and societal issues of how we move from one to the other, and maintain our integrity, while putting a good face forward, The virtuosity and abundant joy he gets from working with wood is apparent. And the show is beautifully installed.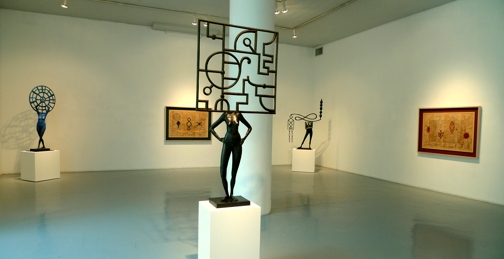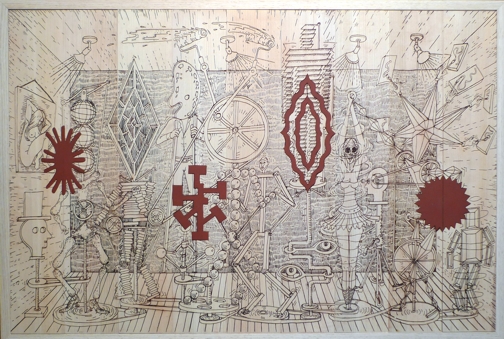 I've been watching Jason Brammer for several years. The man is a magician with his hands. His talent is coupled with unique, a futuristic, steampunk, and ancient vision that addresses cosmology, mystery and beginnings. He's fun to keep an eye on because he's focused, hardworking and fleet, enabling us to voyeuristically marvel at where he's been and speculate about where this path is taking him. At Adventureland.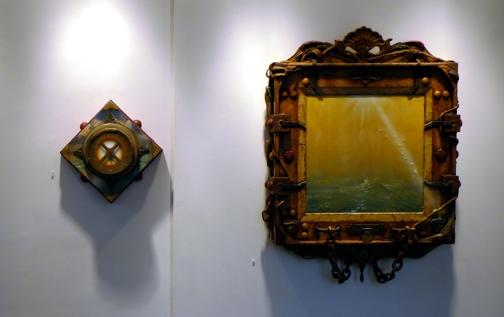 Firecat Projects is a gallery like no other. They exhibit many fine artists and never take a commissions, instead seeking sponsorship from collectors and benefactors who care about art and artists. And now they are embellishing that model by making the gallery occasionally available to fine art galleries from other cities who will mount their own exhibitions of their own artists, kind of like a one gallery art fair. This month it's Yard Dog from Austin, Texas, where there's a different aesthetic, but it's not a large leap from much of the art we see in Chicago; fresh, refreshing and a reflection on ourselves.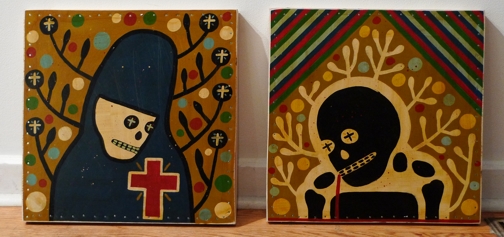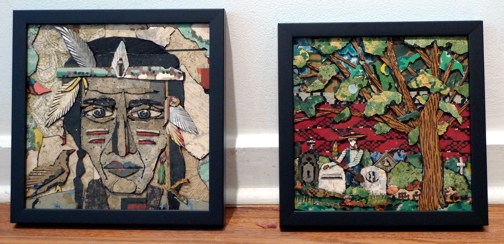 Thanks very much. Enjoy the art!
Paul Klein
REAL LIFE. REAL NEWS. REAL VOICES.
Help us tell more of the stories that matter from voices that too often remain unheard.