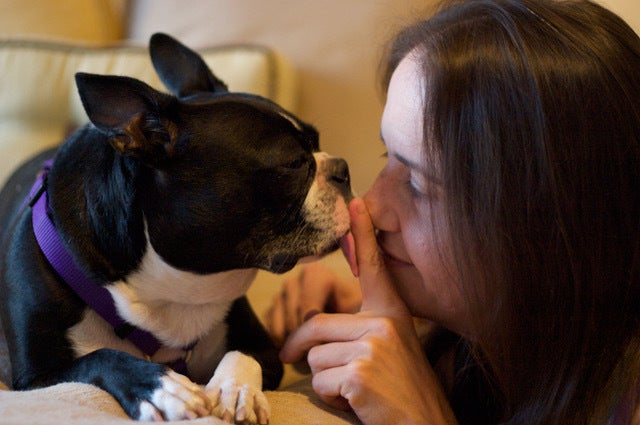 Every month in October local and nationally recognized organizations work to raise awareness for breast cancer screening and treatment. As a person with chronically cystic or lumpy tissue, Bev Spangler was no stranger to mammograms. The process, including needing ultrasounds and biopsies, had become routine to her. "No big deal, I've had four [biopsies] over the years and the tests always come back negative." wrote Bev in her YouCaring post. "Easy. To biopsy, they aspirate it, it always instantly deflates, it feels better, it's always benign, and I go home happier."
On August 24, 2017, Bev -- an animal lover and multi-disciplinary artist -- learned she had stage 2a triple negative breast cancer. The cancerous lump was the size of a walnut and growing. Although Bev was shocked by the bad news, her doctor advised that there was hope because the cancer hadn't reached the lymph nodes nor metastasized as yet.
Once Bev's friends Tehilla Newman, Jan Janz, and Mary Brown heard of their friend's situation, they came together to plan a Creativity Curing Cancer event as a way to raise funds for Bev's pending medical expenses.
On January 27, 2018, the Tehilla, Jan, and Mary along with a diverse lineup of Chicago artists will share in a night of connection and creative community expression. The open mic fundraiser welcomes singers, storytellers, poets, and musicians. Some of the featured acts include singer/songwriter Megon McDonough, speaker/comedian Ben Hollis, singer/songwriter Matt Baron, singer/performer Wendy Parman, and playwright/performer Eileen Tull. There will also a raffle with a lot of great prizes.
"It would bring so much stress relief to know that I'm financially solvent while putting my focus and energy into fighting this good fight." wrote Bev. Her current cancer treatment plan is expected to take at least 30 weeks and cost about $60K.
Since her diagnosis, Bev has chosen mostly integrative cancer care over conventional treatments. "My cancer is a tough one and my odds did not look good to me using conventional methods." Recently, Bev traveled to Irvine, California where physicians at The Cancer Center for Healing administered integrative care. She also had a partial mastectomy on December 11 at UChicago Medicine Breast Center to remove the tumor and is currently in the healing process.
Although Bev is already seeing positive results while at The Cancer Center for Healing -- a 'one of a kind' clinic in North America -- she explained that integrative treatments are expensive and most approaches aren't covered by insurers. Bev hopes to participate in a trial for a promising new immunotherapy. "I've also decided to change my lifestyle substantially. New foods, more exercise, more rest and recreation, whatever it takes!"
Needing to take time off from work and her pet care business to complete treatment plays a significant factor in her ability to cover medical expenses. However, Bev shared that she's deeply moved by the flood of love from family, friends, even strangers. Support has come in monetary and non-monetary forms like meal prep, offers for realistic wigs, positive thoughts and prayers.
Calling all HuffPost superfans!
Sign up for membership to become a founding member and help shape HuffPost's next chapter
This post was published on the now-closed HuffPost Contributor platform. Contributors control their own work and posted freely to our site. If you need to flag this entry as abusive,
send us an email
.