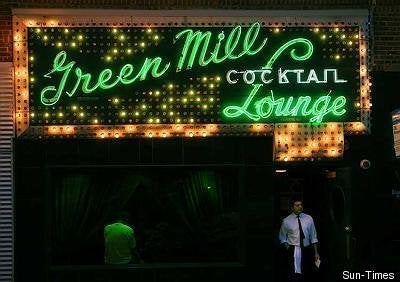 Three Chicago watering holes -- a Prohibition-era classic, a punk-rock whiskey bar and a brand-new foodie haven -- have made their way onto Esquire magazine's list of the "Best Bars in America."
The Green Mill was featured on the magazine's list of "Ten Bars Every Man Should Drink in Before He Dies." The Uptown hotspot (4802 N. Broadway) is home to regular performances by jazz legends like Von Freeman, Franz Jackson and Wilbur Campbell; it also hosts the Uptown Poetry Slam. But more importantly, to Esquire at least, is its historical connection to the Mob.
Al Capone's henchman, "Machinegun" Jack McGurn, owned 25 percent of the Green Mill during the Prohibition era, and Capone occupied a regular booth. He also ran a network of tunnels under the building for quick escape.

And Esquire summed it up even more concisely, when explaining why you should visit the Green Mill before you take your last breath: "Capone drank here."
Delilah's in Lincoln Park (2771 N. Lincoln) was also featured in the issue, in the "very dark bar" category. The bar is usually blaring punk rock, and is known for its enormous selection of whiskeys -- over 400, according to its website.
The vibe at Delilah's, which has been consistent since the bar opened in 1993, is an interesting mix of gruff biker types, nuevo-punks featuring the latest in the tattoo and flesh piercing arts, dark gothic types who drink a lot of cider, normal yet adventurous types, and people with an alternative outlook on life in general. ... The common bond? People that like to drink during the week - lots, late.
Finally, a new arrival onto the Chicago bar scene also received a nod: Logan Square's Longman & Eagle (2657 N. Kedzie). Opened in January of this year, L&E's founders include two of the co-owners of The Empty Bottle. The establishment is a cross between classy cocktail bar, gastropub and contemporary Chicago tavern. Chef Jared Wentworth has received special attention for his snout-to-tail pork dishes.

Esquire listed Longman & Eagle as "The Bar With Very Good Food."
Related
Popular in the Community