On April 28th, Chicago's artists, musicians, and businesses are coming together for one event at Restock Shop in Wicker Park to benefit mental health resources in underfunded neighborhoods.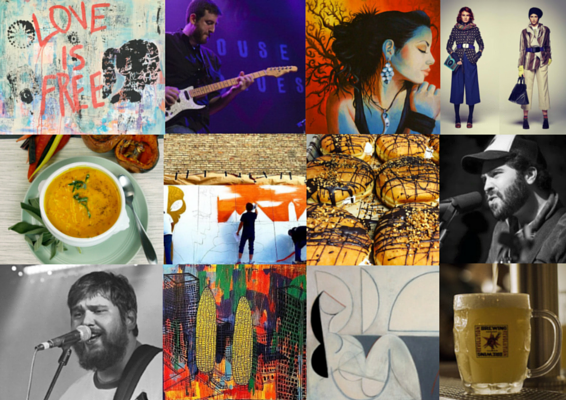 If you live in Chicago - or you've heard anything about us on the news - you know that not all of our neighborhoods have the same level of funding. Chicago can be a great place to live - it is safe in many places and full of music, theater, and trending restaurants. We love our teams, we tolerate our winters, and we enjoy all the entertainment this city has to offer.
But while there are perks to Chicago's lifestyle, there are many neighborhoods with limited resources - especially mental health resources. According to the Illinois Children's Healthcare Foundation, Illinois ranks third in the nation when it comes to states with the highest dollar amounts cut from mental health programs. 35-40 percent of children in Illinois are considered to have a behavioral or mental health concern but Chicago has shut down 6 of 12 mental health care facilities, including facilities in "the heart of the African-American community on the South Side," according to ILCHF.
The mental health care system in Chicago is broken, which is why artists throughout Chicago are banding together to host the first Dynamic Artwork Fundraising Event on April 28th at Restock Shop in Wicker Park. Guests can shop art and designer fashion or dance to the music of Blue Mud and Riverhorse. All proceeds benefit Dynamic Counseling - an organization whose mission is to cultivate the accessibility and quality of Chicago's mental health care.
Dynamic's Co-Founder, Katie Jackson, explains, "We're passionate about breaking down any barriers that someone might have to access mental health services. It's hard enough to reach out for help without worrying about finances." That is why Katie, and Co-Founder, Lauren Rabin have decided to put together the Dynamic Artwork Fundraising Event to jumpstart the organization's mission.
If you are a Chicago resident you can contribute simply by enjoying the event. There are limited tickets available so don't wait to check it out.
Dynamic Artwork will not be the effort of only one organization. The event is being made possible by the work of many local businesses including the contribution of hor dourves by Eat Purely - a company that is giving Chicago access to healthy food anywhere, anytime.
Each and every sponsor is a business, artist or musician from the city of Chicago who is invested in bettering the community's resources.
Of course, you can't have an exhibit without art nor a party without live music. Scroll down to see some of the art and music Dynamic Artwork guests will experience on April 28th.
Watch live performance videos by musical guests, Mike Jacoby & Rob Owen of Blue Mud and Riverhorse right here
For more details on Dynamic Artwork, contact Lauren Rabin: counselingdynamic@gmail.com..
Calling all HuffPost superfans!
Sign up for membership to become a founding member and help shape HuffPost's next chapter