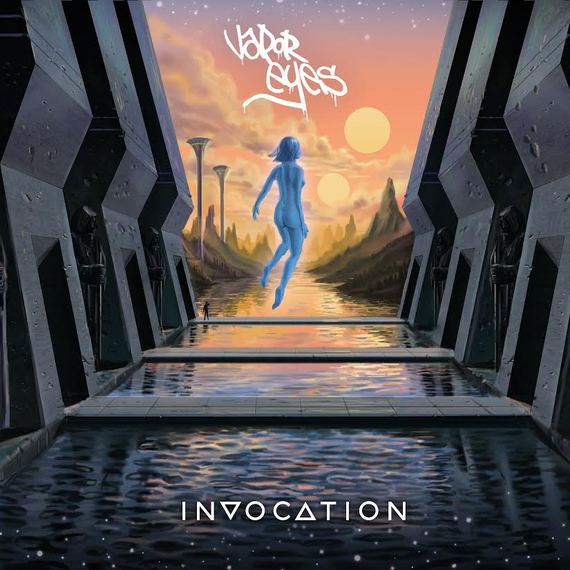 Chicago has always been a haven for underground music, especially in the hip hop and electronic music communities. Seeing a huge resurgence in the Midwest, the most resonating hip hop music has instrumentals that are engaging enough to stand alone. Chicago-based producer, David T. Cohen, or Vapor Eyes, has just released his 8th full length album called Invocation. Already a prolific producer, Vapor Eyes is a long-time artist who is affiliated with the Young Heavy Souls collective and record label. Invocation was released as an independent self-produced work on February 23, 2016.
Chock-full of head-bobbing, foot-gliding, shoulder-popping beats, his mastery of production is apparent upon first listen. The album is aptly named as each track invokes an otherworldly energy that awakens every cell of the body even if you are listening to it while sitting still. His complex, sample-based sounds are diverse and exciting, never falling into the repetitive trap of monotonous beats into which many hip hop artists fall. The album evokes a large spectrum of feelings: from unusual to familiar, hard to sensual, and obscure to catchy. There is no boredom on Invocation as each track is constantly enlivening the soul, tickling the ear drums, and vibrating the mind.
Invocation unfolds itself through 11 glittering tracks, each one activating a different part of the brain and body. His diversity in sound invites all styles of movement, from B-boys and girls to ballerinas, bone-breakers, ecstatic-dancers and everyone outside and in between. Vapor Eyes has a sharp ear for unique samples, using them appropriately with precise timing. While some of his tracks are ethereal and gossamer, others are heavy hitting and hard, mixing up the vibe with invigorating force. Multi-layered drum programming and soundscapes allow his songs to reach deeper sonic dimensions.
My personal favorite track is "Party Line Divine," for its name as well as its effervescence. It brings to mind visions of swirling mandalas and stained glass illuminated by sunlight. This track, once again, shows his skill of sampling as he inserts a sample of a woman saying, "time is a slippery devil," and then finishes the track with a man saying "if heaven exists, what would you like God to say when you arrive?" These samples not only add to the magic of the song as a composition but are also thought-provoking.
"Drawn from a series of '70s rock samples and beyond, I have musically interpreted the emotions of my current leg of this journey. Expressing a variety of inner feelings and quest for deeper connection in this scattered world, Invocation is meant to bring to the surface the spirit of the past and how it fits in to the puzzle of the now," explained Cohen.
As a member of the Young Heavy Souls crew, Vapor Eyes has established himself in the Midwest as an asset to Chicago's beat scene. While locally acclaimed, it is only a matter of time before he finds himself on various lineups of musical events throughout the U.S. Each album he has created has evolved into something more and more complex, refined and mastered. Invocation is a powerful album, with its cover art representing the elevation of his unique sound, always growing, changing, and rising above. Through mountainous sonic landscapes and rushing rivers of sound, Vapor Eyes has created more than just an album, he has created a journey.
Calling all HuffPost superfans!
Sign up for membership to become a founding member and help shape HuffPost's next chapter