The 1985 Chicago Bears will go down in history as one of the most dominant teams to ever endure the rigors of an NFL schedule. That same Super Bowl squad has another distinction most championship teams lack: a cancelled White House visit. Days after the Chicago Bears thumped the New England Patriots in Super Bowl XX, the space shuttle Challenger met a tragic end, which led to the indefinite postponement of the annual White House tradition.
Over 25 years have passed since the Bears hoisted the Lombardi Trophy, and President Obama, a Bears fan, has invited the 1985 squad to finally receive the trip they rightfully earned so many years ago. Not everyone on the infamous roster appreciates the gesture, however.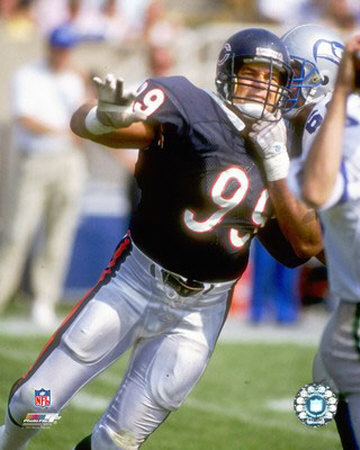 "It's my own personal choice that I choose not to go," the Bears legend said. The reasons for the NFL great's opposition are simple: he has no family to take with him and because he's "not a fan of the guy in the White House." When one of the sportscasters speculated the '85 Bears were invited because of President Obama's affiliation with Chicago, Hampton interrupted:
It's bizarre, isn't it? And, you know, here's the other part of it. You know, life's about opportunities and seizing the moment. And you know what, I understand why we didn't go the week after the game -- or two weeks or three weeks -- because if indeed it was the Challenger that the White House and the regular administration was dealing with, I understand that. But there were other months -- March, April, May, June -- we could of went. And, obviously, it wasn't a pressing issue for the organization here. And so, it just basically, just, you know, rolled off our backs. And now 25 years later, uh, to say, 'Oh, yeah, let's put the band back together'? Nah, I'm not in.
Hampton isn't the first to snub an American president. James Harrison, a linebacker from the Pittsburgh Steelers, made headlines for blowing off President Bush in 2006 and President Obama in 2009 after the Steelers were named rulers of the NFL, though Harrison's motive was a tad bit murkier.
"If you want to see the Pittsburgh Steelers, invite us when we don't win the Super Bowl," Harrison told the media. "So as far as I'm concerned he [President Obama] would have invited Arizona if they won [the Super Bowl]." As difficult as it is, I'll give the Pittsburgh defender the benefit of the doubt. As an NFL player who has won two Super Bowls, he likely doesn't know that the winner is always invited to the White House and the loser isn't (though maybe that lesson was driven home when the Steelers weren't invited to the White House after their loss to the Green Bay Packers in Super Bowl XLV). Harrison's refusal to meet the president drew criticism from other athletes, such as NBA star Grant Hill. Hill told ESPN that Harrison's decision was the wrong one. "Personally, I wouldn't care who the president is or if I saw eye-to-eye with him politically. The chance to be honored at the White House is an opportunity most people will never get to experience."
There have been more hypocritical snubs, too. When the Green Bay Packers won the Super Bowl in 1996, their All-Pro tight end Mark Chmura, a Boston College graduate, refused to meet with President Clinton on moral grounds. "Today's society puts athletes on a pedestal whether we want it or not," Chumra told a Catholic newspaper in Green Bay. "I would not want my kids to grow up to be like Dennis Rodman or Charles Barkley." That infamous quote made things even more awkward when Chmura was arrested, though ultimately acquitted, for sexually assaulting the 17-year old-babysitter of his children. His quote remains accurate, though. Rodman may have been noticed for his cross dressing, and Barkley is known for his love of gambling, but neither were arrested for sexual assault. Mission accomplished.
The fact is getting invited to the White House as a champion is a rare honor and should be treated as such regardless of how one feels about the man or woman residing in its confines. In an era of non-stop partisan bickering, we simply have to draw the line at making photo ops a game of politics. What should we do if a catcher refuses to catch the first pitch from a president at a baseball game? What kind of a world would it be if the Boy Scouts of America refused to meet with the president because they disagreed with his tax policy? As cute as it may be to see a child read off such a statement at a press conference, such a world isn't one I want to see come to fruition.
Dan Hampton, you're an NFL Hall of Famer. Go act like one by hanging out with your old teammates at the White House.
Scott Janssen is a rabid football fan who owns and operates several successful fantasy football organizations, an accomplishment that never seems to impress anyone. He can be reached at dnaprovesnothing@gmail.com.