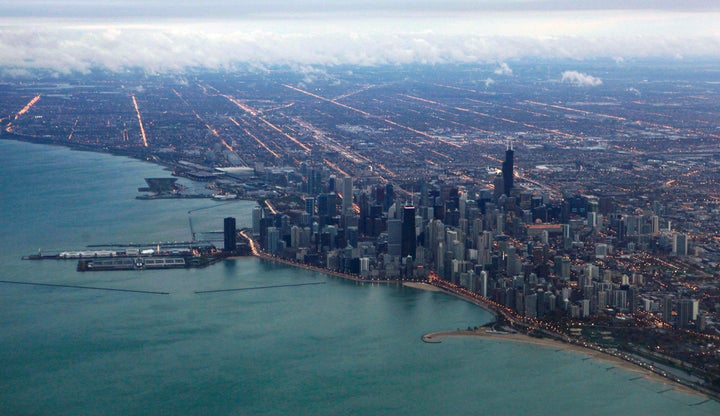 The 2010 Census reveals that Chicago's black population is leaving -- to Houston, to Dallas, to Atlanta and to the other black talent-magnet cities of the 21st century. And in some cases, they're moving to the smaller cities of the Deep South that were once points of origin for the Great Migration.
Muddy Waters, Buddy Guy and Otis Rush all came to Chicago from the Deep South to make a name for themselves playing the blues, and in turn they gave Chicago its reputation as a capital of black culture. Barack Obama followed them when he chose Chicago to stake his claim in Democratic politics. These days, however, the lands of opportunity lie elsewhere for more and more African Americans.
While the sprawling Chicago metro area as a whole, which includes suburbs and exurbs, grew by a healthy 4 percent over the last decade -- more than New York or Los Angeles -- the black population was not only down in the city proper, but also across the region.
The 2010 Census showed the city of Chicago lost 200,000 people over the last decade. The city now has about as many people as it did in 1910. There are 181,000 fewer African Americans in the city, a whopping drop of 17 percent, and 72,000 fewer in the region as a whole.
At the same time, an influx of Latinos, many of Mexican ancestry, presents a notable counterweight to the black exodus. Latinos are increasing their share of Chicago's population, and there are 25,000 more Latinos in the city now than in 2000. And more and more, Latino immigrants are "skipping the city" and heading straight to the suburbs, where jobs and cheap housing can more easily be found.
Chicago's neighborhood and ethnic rivalries are far from new. But in recent years the racial politics that marked campaigns like Harold Washington's 1983 mayoral run -- when his opponent ran on the slogan "Epton For Mayor -- Before It's Too Late" -- have become somewhat less polarizing.
Rahm Emanuel was able to more or less clear the field when he was elected this year, defeating the supposed "consensus" candidate of the black community, Carol Moseley Braun. She turned out not to have been the product of much of a consensus -- Braun did not win a single one of the city's 50 wards, even those in the predominantly black South Side.
Still, the demographic shifts playing out in the latest Census numbers are not abstract. On Tuesday it was revealed that the City Council's Black Caucus was gearing up for a fight over ward boundary redistricting that could be "among the most contentious in recent history" according to the Chicago Sun-Times.
The biggest point of contention: the huge decline in the city's black population.
Ward gerrymandering is something of a zero-sum game; the Black Caucus' lawyer told the Sun-Times that "if there is to be an increase in Latino wards, it should come at the expense of wards represented by white aldermen." But not everyone feels the story of black-Latino rivalry, told and retold in many of America's cities, needs to be part of the narrative in Chicago.
Charles Leeks is the director of the North Lawndale branch of Neighborhood Housing Services of Chicago, which tries to help people on the city's West side keep their homes in the face of foreclosure and other pressures. Leeks said there is plenty of empty housing stock in the historically African American community of Lawndale -- which was formerly a historically Jewish-American community -- and he sees no reason it can't accommodate more of the Mexican-Americans who are moving up from South Lawndale.
"The 39,000 African Americans don't have to go anyplace," Leeks said. "Many of them own their own homes, others are renting, and often they are renting from African Americans."
The Census tract where Leeks' office sits is 93 percent black; since 2000, its population of Hispanics has grown by 126 percent. There's no reason why the increased vitality represented by new Latino residents has to be viewed as negative for North Lawndale's African Americans, Leeks argued.
"Chances are, in 10 or 15 years from now you're going to see a much more diverse neighborhood in North Lawndale," he said.
Many African Americans are simply finding Chicago a less attractive place to live.
Unemployment among the city's black population is a staggering 21.4 percent. Horrific tragedies like the beating death of Derrion Albert, a 16-year-old, in front of a high school, are only the most visible failings of a city where the promise offered during the Great Migration has long since waned.
Andrea Zopp, the president and CEO of the Chicago Urban League, said she believes the city has much more work to do to reinvest in its black community. Despite the population drop, which affected the Bronzeville neighborhood (where the Urban League has its headquarters), classes for job training there are always full, just as they always have been.
One solution African Americans have found to escape the city's ills is no different from that found by urban dwellers across the country: Black people are moving out to the suburbs, in many cases following radial lines out from historically black city neighborhoods. The phenomenon of "black flight" is not new, but it has accelerated over the past decade. About half of the Chicagoland region's black people now live in the suburbs.
On one street in Matteson, a southern suburb, the Chicago News Cooperative found that five of the nine new houses there were bought be people from the city's South Side. The black population in Matteson has almost doubled since 2000, from 8,033 to 14,833.
But the black population in the overall region keeps dropping, meaning suburbanization does not tell the full story of where Chicago's black people are moving.
In an article on Chicago's "Census shellacking," Aaron Renn, an urban affairs analyst who runs the blog The Urbanophile, teased through IRS data on migration from city to city and found that many of the people who are leaving greater Chicago altogether -- which includes many African Americans -- are heading to places like Atlanta.
Renn said he's still waiting for a thorough analysis of the dramatic loss of public housing in Chicago -- the elephant in the room of discussions about the city's black population loss. In 1999, the city Housing Authority announced a "Plan for Transformation" that would replace or rehabilitate 25,000 housing units. That included notorious high-rises like the Cabrini-Green projects, the setting of 1992 horror flick "Candyman."
Determining how many of the people who were kicked out of their homes under that plan have stayed in Chicago is not an easy task. Many of those residents were given vouchers that might allow them to leave the city for anywhere they chose, leading to speculation that the city-driven plan might be behind the drop in the African American population. Many of the predominantly African-American neighborhoods where populations have dwindled the most since 2000 were targeted under the plan.
Migration to other cities comes as no surprise to Quraysh Ali Lansana, a poet who teaches at Chicago State University. Lansana moved to Chicago in search of the poet Gwendolyn Brooks, a Pulitzer Prize winner who wrote about life on the streets in the South Side neighborhood of Bronzeville.
Lansana has lived in the city since 1988, with one brief interruption for school in New York. He is now 47 and a father. "I certainly understand as a parent of school-age children why someone would leave," Lansana said. "If for no other reason other than the situation regarding public education in this state and this city."
While moving to the suburbs might seem one choice for better schools, Lansana said many people he knows are thinking about leaving the state entirely for better job opportunities.
"For the 20 to 30-year-olds, Atlanta is much more happening. Atlanta is hot right now," Lansana said. "Chicago doesn't have quite the shine that it used to have."
"You can still make a buck here if that's your goal," Lansana said, referring to the people who are filling up the downtown Loop neighborhood -- but for artists like him, it's getting tougher.
One intriguing, if statistically uncertain, possibility for some of the migration from Chicago to the South is the idea that the same people who swelled the city's black neighborhoods during the Great Migration, which lasted until 1970 by some measures, are returning home.
Renn said that while Atlanta was no surprise to him as a magnet for Chicago's black population, there were other destinations that struck him as perhaps "indicative" of a return to erstwhile hometowns in the Mississippi Delta.
Memphis, for example, has not seen a lot of growth over the last 10 years. But Chicago was the second top exporter of population there, after New Orleans.
Chicago is the number five source of immigration to Birmingham, Ala. In Jackson, Miss., Chicago blacks make up the second largest source of new residents, again after New Orleans.
"I find it interesting, right? Renn said. "Jackson, Birmingham and Memphis -- which are not known as magnets of people -- among their top net inflows are from Chicago."
"It's not huge, but I think it's indicative," he added.
Many are quick to note that Chicago's black population, while diminished, is still quite strong; the black population for the region in 2010 was 1,645,993 people.
Mayor Emanuel has announced an initiative to get more young people to come to the city for tech jobs, citing Chicago-based company Groupon and other success stories.
Leeks, of Neighborhood Housing Services, said he hopes the city and businesses will begin aiming such efforts at black people. Regardless of the most recent Census numbers, he said he is optimistic.
"It really is about working with your human capital," he said. "I certainly don't see Chicago as a lost cause. And certainly, with a leadership [in] position to take advantage of its opportunities, it can reinvent itself in some ways."
Lansana, the poet, said he thinks Chicago still has something to it. Some people may leave, but the culture that grew to such great heights during the 20th century -- the culture that pulled him here to study under Gwendolyn Brooks -- remains.
"I think Chicago is the black capital of the United States," he said. "D.C. is Chocolate City, it will always be Chocolate, but Barack Obama could not have evolved from any other place in this country."
Popular in the Community