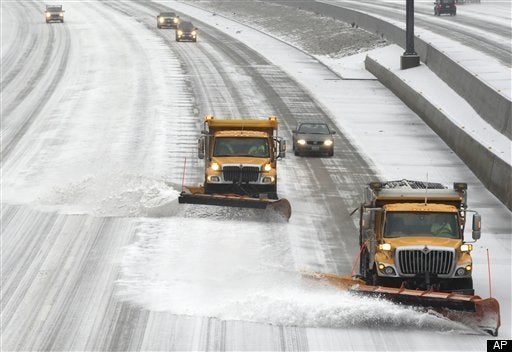 The 20.2 inches of snow that fell by midday in Chicago made the storm the city's third-largest on record, with still more coming down.
The storm was, if not unprecedented, extraordinarily rare, National Weather Service meteorologist Thomas Spriggs said.
"A storm that produces a swath of 20-inch snow is really something we'd see once every 50 years - maybe," Spriggs said.
Chicago closed its public schools for the first time in 12 years and shut down Lake Shore Drive, where hundreds of motorists were stranded for 12 hours after multiple car accidents on the iconic roadway.
On Wednesday morning, Lake Shore Drive looked like rush hour had been stopped in time. Three lanes of cars cluttered the road with snow reaching as high as the windshields. Some cars were almost completely buried. Others filled with snow that engulfed dashboards and steering wheels after doors were left ajar.
Bulldozers worked to clear the snow from around the cars before tow trucks plucked them out of snow drifts one by one. The operation likely would take hours: At least 1,500 cars awaited rescue.
Lindsey Wilson, 26, said that after sitting for hours on a stranded city bus, she joined other passengers who tried to walk off the road. She made it about 100 feet before she couldn't see anything around her, including the bus she'd just left.
Fearing she would be swallowed by mounting snowdrifts, Wilson turned back and spent the night on the bus.
"I thought if I fall over, what would happen if I got buried under a pile of snow?" she said.
Raymond Orozco, chief of staff to Mayor Richard Daley, said motorist rescue efforts had been "severely hampered" by snow drifts, high winds and white-out conditions.
Not only was driving dicey, but flying in and out of Chicago's O'Hare Airport - a major U.S. hub - won't be possible until Thursday. The decision by O'Hare-based airlines to cancel all their flights for a day and a half was certain to have ripple effects.
"Effectively shutting down America's most important aviation hub hits the system immeasurably hard," said transportation expert Joseph Schwieterman.
The city's smaller airport, Midway, also abandoned hopes of resuming flights until Thursday. Boston's Logan Airport closed briefly Wednesday as well.
More than 5,500 flights in or out of the U.S. were canceled as of 11 a.m. Wednesday, according to flight tracking service FlightAware. Most were scratched well in advance of the fast moving storm
Follow our live blog for more storm coverage throughout the day.
Support HuffPost
The Stakes Have Never Been Higher
Related
Popular in the Community