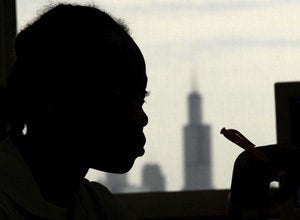 Chicago Public Schools President Ron Huberman received the go-ahead Wednesday night from the Board of Education to move forward with a controversial plan of school closings and overhauls.
De Las Casas Occupational High School is now set for closure. Schneider Elementary will be phased out, and McCorkle Elementary will be combined with another school. Five other schools will undergo what's known as "turnaround," where all the students stay at the school but the entire staff is replaced.
In January, Huberman released a list of 14 schools slated for closing or turnaround. The list sparked some outrage among parents, teachers and administrators, many of whom argued they were caught entirely off guard by the list.
After considerable protest, Huberman removed four schools from the list last week, and switched Curtis Elementary from a closure to a turnaround. Two more schools were removed at the eleventh hour on Tuesday after further disputes with parents and teachers.
The remaining overhauls will cost 269 teachers their jobs, although those whose schools are being turned around can re-apply for their current jobs.
The Chicago Teachers Union objects to the CPS action, and sued on Wednesday seeking an injunction against the closings. The judge in the case ruled that he could not take pre-emptive action; it remains to be seen if the courts will intercede now that the Board of Ed has cast its vote.
Popular in the Community