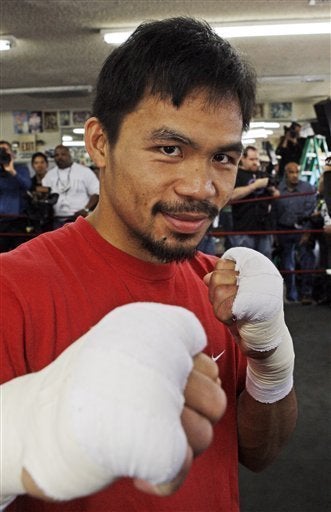 There's really only one good reason to watch a boxing match: ass-kicking.
Face it: you can talk about sportsmanship, you can talk about guts, grit and determination, you can talk about technique. But when it all comes down to it, there are two men in a ring and one of them is going to get his ass kicked.
It's either going to be your guy, or your guy's going to pound someone until the bell rings done. The question is, is it going to be quick or protracted and bloody -- and is your guy going to be the one still standing?
Last time, my guy got his ass kicked. Bloody.
"Oh-my-God-make-it-stop!!!" bloody.
It was June 28, 2008, and Chicago boy/Olympian/World Boxing Council lightweight champion David Diaz was taking on Manny "The Mexicutioner" Pacquiao at the Mandalay Bay in Las Vegas for bragging rights and about 800,000 bucks.
Diaz came out slow and by round two he'd already been cut on the face. By round four it was a wonder Diaz could even see with all the blood pouring down his broken mug.
Round eight was pure torture for both Diaz and everyone watching -- no one expected him to be able to stand up straight for a ninth round but he went in there and Pacquiao just knocked his block off sending him to the mat face down to lose his world title in a puddle of his own blood. Technical knockout.
It was horrifying ... but you had to hand it to him, the guy just would not be kept down and his determination was a beautiful thing to behold.
No one who's ever seen David Diaz fight doubted for a second that he'd be back and this Saturday will be his first since losing his belt to Pacquiao. Diaz (34-2-1, 17 knockouts) will face-off against former two-time world champ Jesus Chavez (44-5, 30 KOs) at the UIC Pavilion.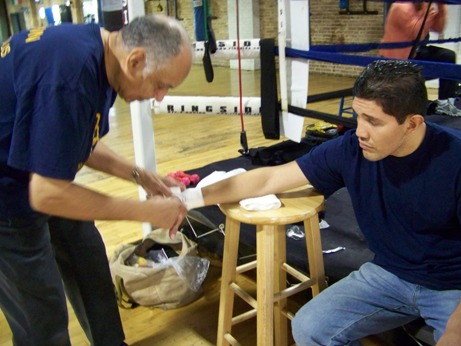 I talked to Diaz last week and led off with the sheer morbid curiosity about how one comes back from a nationally televised beat-down, a year older and a bum knee later.

"I was down, the ego was shot. I felt it was a moral victory but at the end of it I still lost," the 33-year-old North Sider said. "I felt like I'd let everyone down: my family, my kids ... I was really hurt for like two weeks but it was them who got me going."
Amazingly, he hurt his knee from playing on his laptop, sitting cross-legged on his recent best friend, the couch. "I didn't start training until April of this year because of the excruciating pain and then the surgery," he said, joking that it was his wife who suggested he either get back in the ring or paint the house. Knee pain and all, it was an easy choice.
Diaz says it's all good and that he's now in the best physical condition of his career which is, of course, what all aging athletes tell themselves and their fans. "I just think it's going to come down to conditioning; we're both the type of guys that don't back off for one bit," Diaz said of Chavez, a Mexico native who has made his home in Chicago since the age of five.
Either way, there's absolutely no doubt that it'll be a hell of a fight to watch -- after all, somebody's going to get his ass kicked and the only question is whether it'll be quick or bloody. Being a fan, I'm voting for a little of both -- but this time with Diaz still standing at the end.
"Long term I want to be champion again and have the city behind me again -- when I was a champion it felt so good and so right and I want that again," Diaz said. "Hopefully this is a step towards trying to realize that moment. This Saturday, this is going to be the kind of fight that Chicagoans are going to love."
Esther J. Cepeda writes about bloody pugilism and much, much more on www.600words.com
Support HuffPost
The Stakes Have Never Been Higher
Related
Popular in the Community