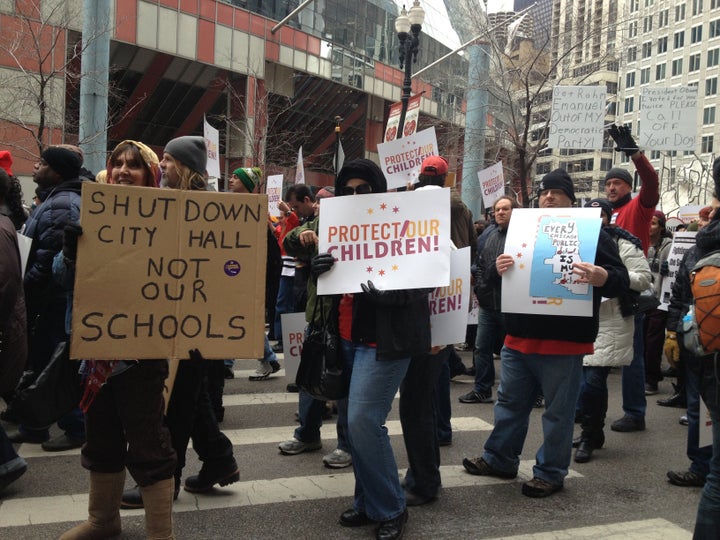 This is a developing story
In other words, WBEZ reports the 19,000 figure (and others cited by charter advocates) is the number of applications filed — not the actual number of students.
Speaking to the Chicago Reader, Preckwinkle said:
"I talked to somebody the other day I've known for a long time who's in the public school system. Her view was that things were bad and getting worse, and she wondered whether there was a deliberate effort to weaken the public schools in order to make the case stronger for charter schools and contract schools."
Karen Lewis, Chicago Teachers Union president, told HuffPost what's happening in Chicago is part of a larger effort charter advocates have been "propagating" nationwide.
"Here's an indication as to how much of a lie [the charter school demand report] was; when we were on strike, Andrew Broy said, 'We have 3,000 spots,'" Lewis said. "Not only do [charter schools] not have the demand they say they have, they had openings. If they had 19,000 students demanding to get on the list, why is [Broy] saying they have 3,000 spots?"
Lewis expressed her doubt at the purported demand for charters.
"[Charter schools] are running around the week before school starts, knocking on doors trying to get parents to come to the charters," she added.
HuffPost reached out to CPS for an up-to-date number of charter schools slated for opening in the 2013-2014 year — the same period the slated school closures will go into effected -- as well as a reaction to the charges the demand for Chicago charter schools has been overstated. We will share the district's forthcoming response when it is received.