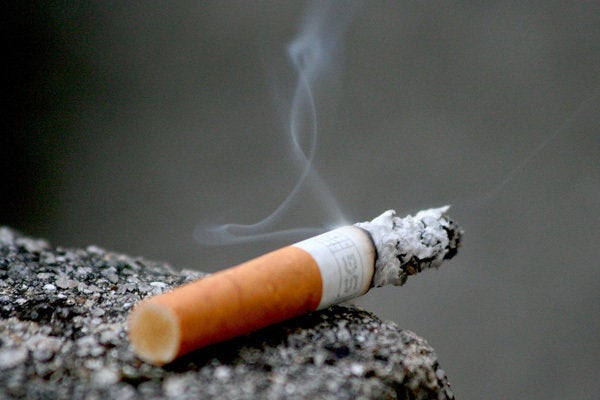 A cigarette tax increase is one source of revenue that legislators often see as win-win: either people will choose to keep smoking and pay an extra premium for it, or they'll quit smoking and get healthier. Lawmakers have proposed a $1-a-pack tax increase to help resolve Illinois' budget crisis.
But opponents of the tax worry that smokers will just cross state lines, or buy on the internet, to avoid paying higher taxes. And a new study suggests that a majority of Chicagoans are doing just that.
According to the University of Illinois at Chicago, 75 percent of sampled cigarette packs found on the streets of Chicago come from out of the city, costing roughly $120 million a year in revenues.
Teams of researchers, led by David Merriman, the head of UIC's economics department, collected littered cigarette packs from 100 neighborhoods in Chicago and the surrounding areas. They found that three-quarters of the discarded packs didn't have a Chicago tax stamp on them.
When the packs were collected in July 2007, state and local taxes on a pack of cigarettes in Chicago totaled $4.05. They were only $1.37 outside of Cook County. This made Chicagoans 60 percent more likely than their collar-county counterparts to shirk cigarette taxes.
Merriman acknowledged that the problem of tax avoidance was primarily a Chicago issue, but did not fail to see its public policy implications.
"This research suggests that an increase of $1 per pack in Illinois, as recently proposed, would drive more Chicago residents to buy their cigarettes in Indiana, but would be likely to have a relatively small effect in the rest of the state," Merriman said.
The fear of sending business to Indiana may poke a hole in the ambitions of state lawmakers hoping to create a budget for the coming fiscal year. With Gov. Pat Quinn's controversial plan to increase income taxes unlikely to come to fruition, the state is at a loss for new revenues. And cuts to public services like education have been met with vocal opposition.
Legislators have repeatedly argued that a new cigarette tax would help stave off some of those education cuts. But with the General Assembly already on recess and no resolution in sight to the budget mess, this new report may only serve to impede consensus in an increasingly fractious legislature.
Popular in the Community