Roughly 30 Chicagoans blockaded a Citibank branch on North Clark Street today to demand Citigroup divest from the Dakota Access pipeline. It's part of a flurry of nationwide actions targeting pipeline investors.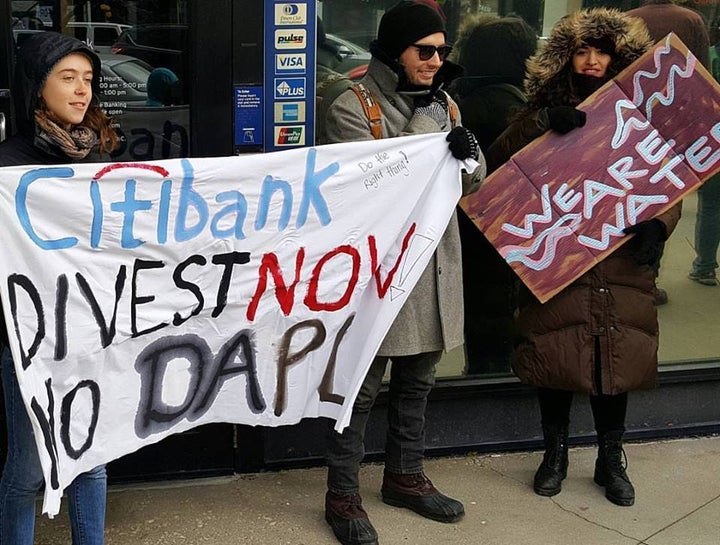 Part of the group remained inside the bank, blocking business for two hours until they were arrested. The branch appeared to remain closed for the day after the protest ended. A member of the Standing Rock Sioux Nation delivered a letter to Citigroup, which stated in part:
Not only is this pipeline going over the burial ground of my ancestors, it will also be constructed under the Missouri River and Mississippi River. Since the year 2000, there have been at least 370 known pipeline accidents in the Unites States. The People that live in and around Cannonball, ND where the pipeline is proposed to cross the Missouri River rely on the River as a source for clean water. We do not need another pipeline disaster. You should not do business with this conglomerate of oil companies that could potentially dissolve the moment oil prices go down or the moment they decide to go bankrupt to avoid paying for an oil spill disaster.
The primary builder, Enbridge Energy, did their best to keep the Dakota Access pipeline quiet during the regulatory approval process in Illinois. But it's no longer a secret thanks to the historic gathering of water protectors along the proposed pipeline site in North Dakota. People across Illinois are now mobilizing against a pipeline that would cross the Mississippi River and end at downstate Patoka.
In addition to several large rallies in Chicago, southern and central Illinois residents closer to the pipeline's path have been gathering in opposition over the last several weeks. It's likely that blockades like the one at Citibank will spread to more cities.
Enbridge is learning that even if a company quietly sneaks a pipeline through the regulatory process and finishes most of the project, it can still be held up and defeated at the 11th hour. Only a fool would invest in new fossil fuel pipelines after the stand at Standing Rock.
Popular in the Community