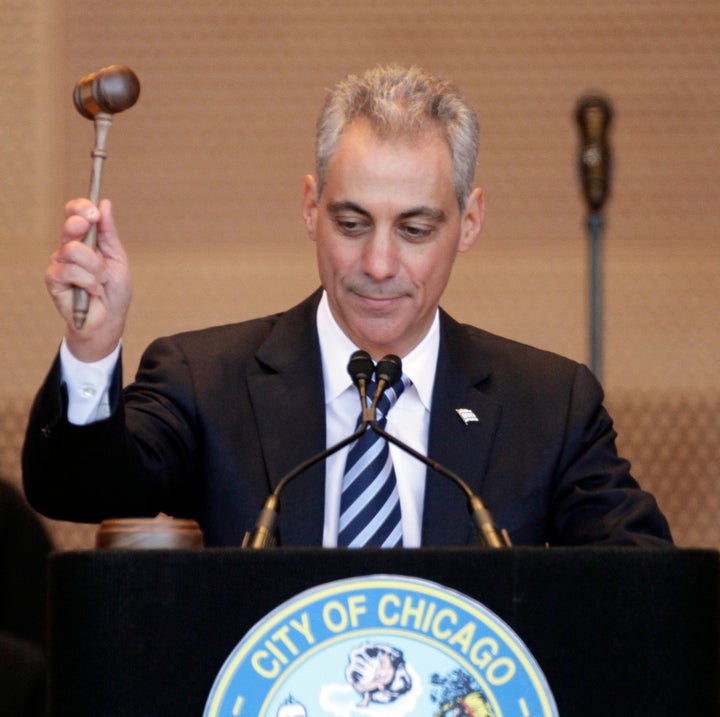 The findings of a new report will come as a shock to exactly no one who follows politics in the Windy City: Under Rahm Emanuel, Chicago's City Council have failed to oppose measures proposed by their presiding mayor at a rate exceeding that of various portions of two previous Daley administrations.
Emanuel has enjoyed an average level of support of 93 percent -- more than both the 88 percent support Richard M. Daley experienced during his final term (2007-2011) and the 83 percent support Richard J. Daley (1955-1957) had for his first two years in office, per the UIC analysis.
In the report's conclusion, Simpson and co-author Melissa Mouritsen Zmuda write that their findings confirm those of Steve Rhodes' analysis in April's Chicago magazine, which counted only 112 "no" votes from Chicago aldermen under Emanuel's leadership compared to 1,333 "yes" votes through the end of 2012.
"Overall, the council has become ever more a rubber stamp council," the report concludes.
In Rhodes' Chicago analysis, Ald. John Arena emerged as the city's alderman who -- with 18 "no" votes under his belt through that date -- had voted against the mayor's proposals the most. He admitted in a previous interview with HuffPost that not enough of his colleagues were doing their "due diligence" in evaluating the Emanuel administration's proposals based on the interests of their constituents.
"The reality is it's easier to do this job if you don't put a lot of thought into it and let the administration propose ideas and give you vague numbers to support them and assume they know what's going on," Arena told HuffPost. "Based on recent history in Chicago, that's been the order of the day and it's not produced the best of results for Chicago."
The report's findings indeed carry larger implications, as the Chicago Sun-Times' Marcus Gilmer points out: "The City Council is pretty much a legislative body in name only, rarely making any difference in the laws the mayor of Chicago - whomever it may be - has passed, with at least 80-85 percent of aldermen voting with the mayor no matter who's in office."
Calling all HuffPost superfans!
Sign up for membership to become a founding member and help shape HuffPost's next chapter