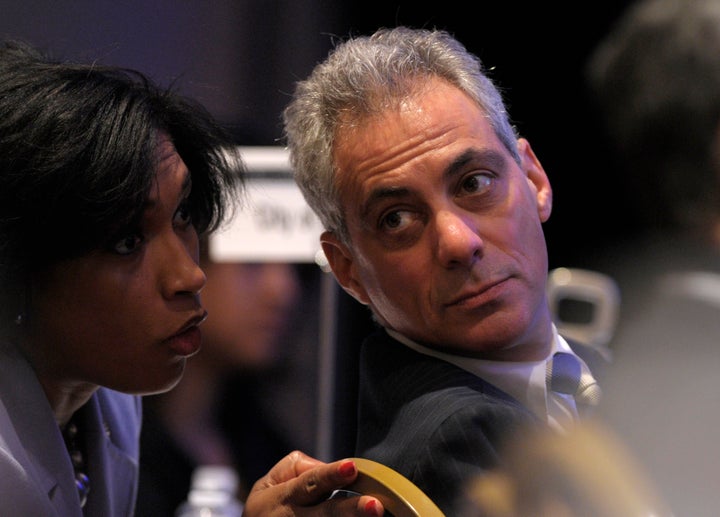 At 12:30 a.m. on the chilly morning of April 13, 2012, sparks flew as a handful of Chicago police sawed through the metal barricades of the Woodlawn Adult Health Center and arrested a coalition comprised of mental health workers, consumers, and advocates who attempted to occupy the facility. Police arrested 23 people, but 11 were released without charges.
Earlier, at 4:30 p.m. on April 12, 2012, dozens of individuals sequestered themselves inside Woodlawn Adult Health Center at 6337 S. Woodlawn Avenue using thick metal chains and bicycle locks in an effort to stop the closing of six public mental health clinics and the privatization of seven others. Outside the clinic, another 200 people chanted, cheered, and applauded while the Chicago Police Department (CPD) arrived on the scene. Optimistic and energetic demonstrators carried signs that read: "Health Care is a Human Right!" "They say, 'Cut back," and we say, 'Fight back!'" and "Save city mental health clinics."
The Woodlawn Adult Health Center is a beacon in the community. Built in 1972, it hearkens back to the 1960s when the Woodlawn neighborhood first became organized and politically active in its pursuit of social and economic justice. The neighborhood even recruited the assistance of legendary community organizer Saul Alinsky. The pristine condition of the handsome single-story brown brick building suggests its immutable presence. Attractive and verdant hedges adorn its front and an American flag and a Chicago flag flutter side-by-side thirty feet in the air against the backdrop of a crystal blue sky.
Those who owe their lives to the Woodlawn Adult Health Center have a difficult time believing the city would shutter it.
David, a long-time mental health care consumer stated, "It's not real. How can they do that? This clinic has served thousands in the past, and now they're sweeping us under the rug." He is dressed handsomely in a brown suit and tie and gets understandably choked up as he expresses gratitude for Anna Ruth Rogers, founder of the Woodlawn Crisis House: "She was a mother to me, and she was the mother to people who didn't have mothers. The Woodlawn Crisis House worked for me, and it worked for hundreds of others." He recounted how victims of domestic violence or those struggling with substance abuse were able, with the support of an organization like the Woodlawn Adult Health Center, to overcome adversity, reconnect with family, and rejoin society.
Another consumer, Percy, echoes David's sentiment: he "hopes they keep the Woodlawn clinic open. The people here at Woodlawn are more compassionate, and they seem to like their job better than those at other clinics. When clinics are privatized, they push you out. They give you a little something and push you out. They don't do that here."
According to Beth Buczynski, "the city will refer the insured clients to nonprofit community mental health providers, but patients and their advocates fear" they will be turned away and "left to fend for themselves." A former Woodlawn employee is equally skeptical about the city's plan. The Woodlawn clinic is "serving people that no one else will serve: the uninsured and the mentally ill."
Another consumer, Solomon states matter-of-factly, "Without this clinic there will be chaos. They've helped me a lot, a whole lot; they really have. I think everything is going to be OK. I'll put it in God's hands, and things will be OK."
Half-joking, I tell Solomon that my fear is that God has not met Rahm Emanuel.
If public pressure does not mount, the Woodlawn clinic will close on April 30, 2012.
These savings seems substantial until you realize that Emanuel's administration and his Orwellian-esque "Infrastructure Trust" will spend $7 billion on cherry-picked infrastructure projects like the completion of the Bloomingdale Trail, "a multi-use recreational trail," and two new boathouses on the Chicago River. If budgets are about priorities, it is increasingly clear that Rahm Emanuel's priorities skew unflinchingly toward the affluent. In Rahm's topsy-turvy world, boats get houses while people go homeless.
PHOTO GALLERY
Mental Health Advocates Occupy Woodlawn Clinic
N'adana, a demonstrator frustrated with Emanuel's empty pockets routine exclaimed, "Prove to me you're broke! Prove it! It hasn't been proved yet because the mayor has money for flowers. The mayor has money for G8. What happened to that? He had $20 million left from the snow removal. What did he do with that money? We didn't see it!"
After securing the building at 4:30 p.m., those inside used an elaborate wireless microphone setup to communicate with those on the outside. Individuals receiving mental health services from the clinic took turns using a headset microphone to relate their stories to the demonstrators gathered outside. A man recounted his battle with alcoholism. A woman described her attempted suicide from a third floor window. Most who spoke emphasized the role the Woodlawn Adult Health Center played in their recovery and continues to play in their day-to-day survival.
At the same time, demonstrators waiting on the roof of the building unfurled two large banners: one read, "Stop $tealing our healing. Save our mental health clinics!" and the other:
"We are the mental health movement occupying our clinic until Rahm agrees to:
1. Keep all 12 public mental health clinics open and fully staffed and funded
2. Stop plans to privative services at Chicago's seven neighborhood health centers
3. Hire more doctors, nurses, therapists, and social workers to serve the community
4. Reinstate the drug assistance program
5. Expand the public mental health safety net to cover unmet community needs"
The stealthy dismantling of the demonstration and arrest of its participants shortly after midnight suggests that Mayor Emanuel does not intend to compromise as Mayor Daley did when he tried to close the same clinic in 2009. A demonstrator characterized Emanuel this way: "This is a mayor who doesn't want to deal with the citizens at all. If you go to a City Council meeting and put up a sign that reads, 'Please Save the Clinic,' you will be thrown out of City Hall. I know because it's been done to me." Fran Spielman describes a pattern in Emanuel's approach to governing. He proposes "bold new plans, often without public input, then throw[s] the opposition a bone or two when he encounters resistance without compromising the overall goal." Rolling Stone's Rick Perlstein is even more blunt in his recent piece titled, "Rahm Emanuel Has a Problem With Democracy."
Rahm Emanuel's determination to exile the most vulnerable citizens of Chicago to the unforgiving and costly world of private mental health care makes little economic, political, or moral sense. With public backlash growing about the installation of speed cameras and a 60 percent increase in homicides, it's politically prudent for the mayor to rethink his attitude toward public funding of mental health. Cook County Sheriff Tom Dart complained, "Reductions in funding for the mentally ill have made Cook County Jail the largest mental health provider in Illinois." This will only get worse when the remaining clinics are closed.
Mental health advocates argue that issues of crime are mental health driven. To stop crime, you have to learn where it comes from. Some children are abused, hungry, and neglected. Without strong family support, they are easily lured into gangs and violence. One demonstrator asserted: "It's a mental health issue when you feel comfortable shooting someone."
In order to keep the city safe, you have to have mental health services because they provide a safety net. A demonstrator named N'adana spoke to the crowd, "The mentally ill are safe when they are able to come to the clinics. Their families are reassured because they know where their loved ones are. Oftentimes these clinics are a safe haven. People will sometimes stay from 10 a.m. to 4 p.m. and their families know where they can pick their loved ones up."
Occupy Chicago supporter Toussaint Losier, expressed concern for the lives of those affected by the closing of these mental health facilities: Emanuel's policy, "doesn't take into account the real moral imperative of the folks who are out here. As you close this clinic, and as you close clinics like it across the city, it's going to be a death sentence for some people. They're going to be left on the streets. They're going to be disconnected from services. And that's gonna be it for them."
In my conversation with Percy earlier in the day, he explained to me how power works: "When you're in power, and you wish something to happen; it happens." So, get wishing for some funding for these clinics Mr. Emanuel.
Calling all HuffPost superfans!
Sign up for membership to become a founding member and help shape HuffPost's next chapter