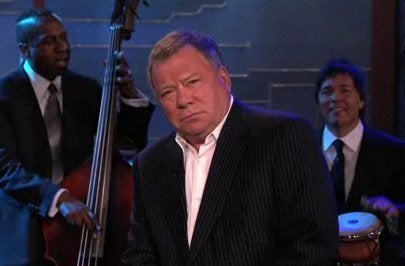 Get out your Admiral Ackbar masks and dust off your Klingon dictionaries, Chicago: the Comic Con is coming to town this weekend.
The biggest name to grace the Donald E. Stephens Convention Center this weekend is certainly William Shatner. The actor, whose career has spanned nearly 60 years, has appeared in countless TV series, films and commercials, but will always be known (especially to the Comic-Con crowd) as Captain Kirk from the original Star Trek series.
Shatner will be appearing Saturday only, though the convention runs from Thursday the 19th to Sunday the 22nd. Autographed photos can be pre-ordered for $75, to be signed in person at the convention, if the spirit moves you.
Also at the convention will be the Midwest premiere of the new documentary "The People vs. George Lucas." (Scroll down for trailer.) The film is about the fanatical devotion of Star Wars fans, and the vitriolic reaction of many of those fans to the new trilogy of prequel films. The director and producer will be in attendance at the screening, and a George Lucas look-alike contest will precede the Friday night showing.
One person who might not be too happy about the film: Jake Lloyd, who played the young Anakin Skywalker in "The Phantom Menace," the first of the much-loathed prequels. Lloyd will be attending the convention, along with Daniel Logan, the actor who played Boba Fett in "Attack of the Clones," and other Star Wars-related guests.
The convention will be held at the Stephens Convention Center at 5555 N. River Road in Rosemont. It will run from 5 to 9 p.m. on Thursday, then all day Friday (12-8), Saturday (10-7) and Sunday (10-5). Aside from celebrities and actors, hundreds of exhibitors and artists will be displaying their wares and entertaining guests.
Watch a trailer for "The People vs. George Lucas":
Popular in the Community