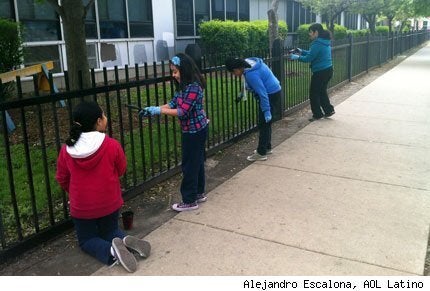 CHICAGO.- Cientos de residentes del barrio predominante latino de La Villita participaron este fin de semana en el evento "Calles limpias - Calles seguras" para enviar un mensaje en contra de la violencia de las pandillas que cobró la vida de la niña de 6 años, Aliyah Shell, hace poco más de un mes.
Organizaciones comunitarias, iglesias del área así como alumnos, maestros y padres de familia de la primaria Gary Elementary, donde Aliyah era estudiante, limpiaron las calles, pintaron salones de clase y despintaron graffiti en diversos puntos de este barrio del suroeste de la ciudad.
Lilia Becerra, madre de tres niñas estudiantes de la primaria Gary, llevó a sus hijas a participar en "Calles limpias - Calles seguras". Becerra y sus tres hijas estuvieron a cargo de pintar un tramo de la reja de la escuela.
Becerra explicó a AOL Latino que decidió participar en el evento porque es importante involucrar a los niños en actividades recreativas y comunitarias desde pequeños para que no se integren a las pandillas.
"Quiero enseñar a mis hijas que tienen que ayudar a la comunidad", afirmó Becerra quien vive en La Villita desde hace 14 años.
Becerra indicó que el barrio ha mejorado en los últimos dos años con excepción del homicidio de Aliyah, ya que antes había más tiroteos entre pandillas.
"Todavía tengo miedo de salir a la calles con mis niñas, porque podría haber un tiroteo y siempre le pegan a la gente inocente", dijo Becerra.
La madre de tres niñas señaló que debe haber más vigilancia de la Policía y un mayor número de actividades para los niños.
"Hemos notado la diferencia desde que organizan este tipo de actividades comunitarias", explicó Becerra. "Los niños que están creciendo tienen cosas que hacer y ya no andan tanto en la calle".
El asesinato de Aliyah conmocionó a esta ciudad el pasado 17 de marzo. Aliyah se encontraba esa tarde junto con familiares en el porche de su casa cuando presuntos pandilleros dispararon en dirección del inmueble impactando a la niña varias veces. Aliyah murió horas después en un hospital del área.
Un boletín interno del Departamento de Policía, que publicó en exclusiva AOL Latino, describe al tío de Aliyah como pandillero "de alto rango" y "posible blanco" del tiroteo que cobró la vida de la niña. La madre de Aliyah, Diana Aguilar, ha negado que su familia tenga nexos con alguna pandilla. Calificó a los asesinos de su hija como "animales; no humanos".
Ese fin de semana, se registraron 37 tiroteos y nueve asesinatos en la ciudad. El superintendente de la Policía, Garry McCarthy, informó entonces que casi todos esos actos criminales tuvieron que ver con pandillas.
El violento fin de semana continuó un aumento en los actos de violencia que se inició a finales del año pasado. Del 1 de enero al 18 de marzo, hubo 94 homicidios comparados con 66 en el mismo periodo de 2011.
El sábado pasado, en la escuela Gary, alumnos, maestros y padres limpiaron y pintaron los salones de clase como parte de "Calles limpias - Calles seguras".
Robert Castañeda, director ejecutivo de Beyond The Ball, grupo que se dedica a organizar actividades recreativas en La Villita para fomentar la responsabilidad individual y comunitaria, explicó a AOL Latino que el área que ocupa la escuela Gary es muy importante porque se ubica entre los territorios de los Latin Kings y Two-Sixers, dos de las principales pandillas de la ciudad.
"Queremos que nuestros niños tengan un lugar seguro para jugar", dijo Castañeda. "Es importante la escuela y sus alrededores luzcan bien y sean seguros".
Castañeda señaló que Aliyah participaba en las actividades de Beyond The Ball y que su muerte consternó a los residentes del barrio porque fue la primera vez en 14 años que asesinaban a una niña de esa edad.
"Cuando algo así ocurre, la gente reflexiona y se involucra", indicó Castañeda. " Y es fundamental que nuestros niños puedan jugar en un ambiente seguro".
Castañeda afirmó que queda mucho por hacer para hacer de La Villita un barrio seguro, pero que es importante "no sólo reaccionar a los actos de violencia, sino que hay que involucrarse de manera proactiva".
Popular in the Community