Once the dust settled after Democratic Rep. Luis Gutiérrez's surprise announcement Tuesday that he would retire from Illinois' 4th Congressional District at the end of his term, something even more unexpected happened.
The frequently disappointed activists who occupy the left wing of the Democratic Party publicly rejoiced at their good fortune.
Two prominent progressives, Cook County Commissioner Jesús "Chuy" Garcia and Chicago Alderman Carlos Ramirez-Rosa immediately announced their intention to run for the seat that Gutiérrez has held since 1993. (The district, where Hillary Clinton defeated Donald Trump by 68 percentage points in 2016, is gerrymandered to bring together heavily Latino swathes of northwestern and southwestern Chicago with nearby suburbs.)
For hardline progressive voters, a potential showdown in the March 20, 2018, primary between Garcia and Ramirez-Rosa, a dues-paying member of the Democratic Socialists of America, amounts to an embarrassment of riches. They see it as a plum opportunity to capitalize on the leftward drift of the Democratic Party since last year's presidential run by Sen. Bernie Sanders (I-Vt.).
"There is no doubt that progressive politics are the way of the future for the Democratic Party and there is a real opportunity to bring someone who represents that into Congress," said Nomiki Konst, a former Sanders convention delegate who serves on the Democratic National Committee's Unity and Reform Commission.
"It's a Democratic district. Why not go for somebody as progressive as possible and have a real fighter in Congress?" Konst added.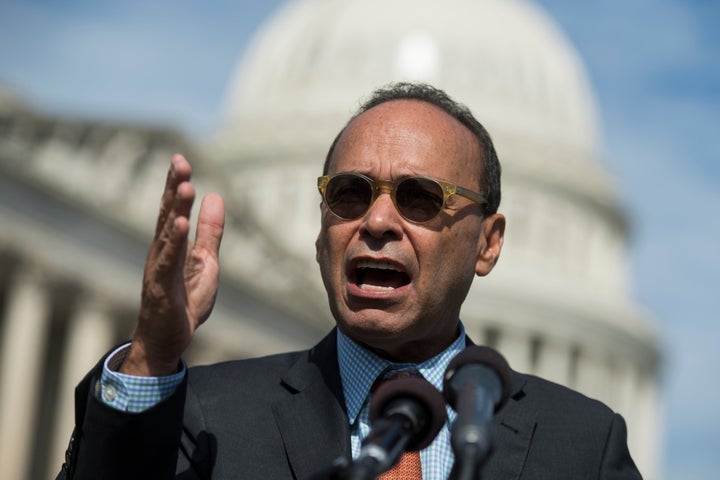 What's more, both Garcia and Ramirez-Rosa would be more reliably left-wing and anti-establishment than Gutiérrez has been, according to several activists.
Unlike Gutiérrez, who backed the 2015 re-election bid of Chicago Mayor Rahm Emanuel, himself a centrist Democrat, Garcia and Ramirez-Rosa are both ardent Emanuel opponents. The two-term mayor has attracted the ire of Chicago progressives for, among other things, closing public schools and mental health clinics and enabling the upscale development of historically diverse, working-class neighborhoods.
Garcia, 61, challenged Emanuel in the 2015 mayor's race, forcing the first mayoral runoff in Chicago history. Ramirez-Rosa, 28, has been one of Emanuel's most vocal critics on the city council since his own election in 2015.
"We saw the work that [Gutiérrez] did for Rahm Emanuel in 2015 after Emanuel had so specifically targeted black and brown communities for displacement, for gentrification," said Emma Tai, executive director of United Working Families, a progressive grassroots organization that has not yet endorsed anybody in the race. "There's no question that either Carlos Ramirez-Rosa or Chuy Garcia would be real champions for working people in D.C."
"Luis is friends with [Emanuel] and never really stood up to him," said Lucie Macías, a Ramirez-Rosa supporter and fellow member of the Chicago chapter of the Democratic Socialists of America, which has not yet formally endorsed anybody in the race. "That immediately makes me feel that Luis is not a true progressive."
I have a 40-year history of being an organizer, an advocate, a community builder in Chicagoland communities.

Jesús "Chuy" Garcia
Sen. Sanders is another point of commonality for Garcia and Ramirez-Rosa: Both supported him in the 2016 presidential primary. Gutiérrez, on the other hand, was an ardent Clinton supporter who questioned whether Sanders even "likes immigrants" in June 2015.
Although Sanders, like Ramirez-Rosa, identifies as a democratic socialist, Garcia's ties to him run a shade deeper than those of the young alderman. Sanders endorsed Garcia's run against Emanuel in April 2015. Garcia returned the favor by backing the senator's presidential bid that November at a time when few other prominent Democrats were doing so.
This week Sanders wasted no time putting his considerable weight behind Garcia's congressional run, making his support public on Wednesday.
Garcia "is ready and willing to stand up and fight for the working families of Chicago and our nation and take on the powerful special interests who have far too much economic and political power," Sanders said in a statement. "He is also an experienced legislator who has risen up the ladder of Chicago's brawling politics. That makes him well groomed for jumping into the House's rough and tumble political battles."
Despite the general progressive joy over the primary to come, there are suspicions that Gutiérrez, who endorsed Garcia even as he announced his own retirement, had planned it all in a way that limited the competitiveness of next year's race. 
Gutiérrez's announcement left potential candidates with just six days to collect the petition signatures needed to secure a place on the primary ballot in March. Candidates must submit 864 signatures from registered Democrats living in the district by Monday, but since campaigns frequently challenge the validity of their opponents' signatures, they're all canvassing feverishly to collect thousands of names.
"If I were the retiring congressman, it's not how I would have handled it," Ramirez-Rosa told HuffPost. "As the Democratic Party, we've learned that we benefit when we have open and contested primaries."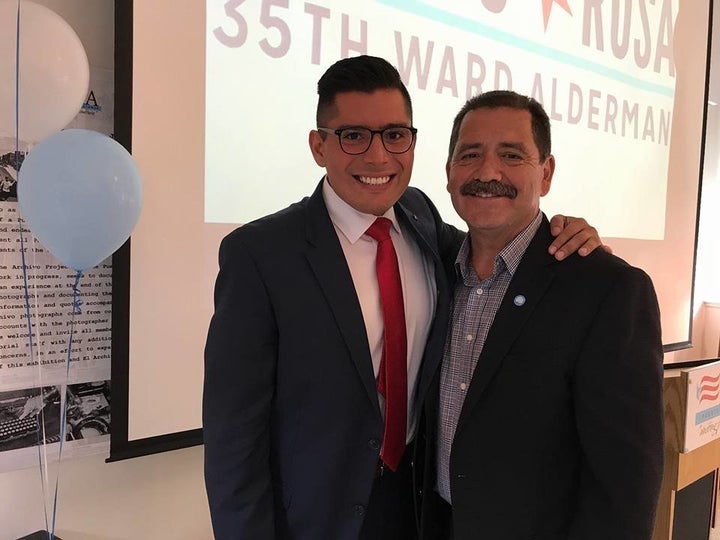 Garcia's decision to run could also conveniently remove Emanuel's greatest rival in a potential 2019 race for his third term as mayor, Chicago politics watchers have been keen to note.
"Anyone who thinks more than 5 seconds about how this whole deal went down can't help but realize things smell a little fishy," said Micah Uetricht, a Chicago-based associate editor of the socialist magazine Jacobin.
Konst, the former Sanders convention delegate, emphasized that she had no evidence that Gutiérrez backed Garcia as a favor to Emanuel. Still, she wondered aloud, "How great would it be if Chuy were the mayor and Ramirez-Rosa were the congressman?"
Garcia admitted to HuffPost that Gutiérrez had both told him that he was considering retiring at the end of last week and said that he would not retire unless Garcia was willing to run. Garcia nonetheless denied that Gutiérrez's abrupt announcement and then endorsement of him had in any way reduced the competitiveness and openness of the primary race.
"With respect to the process, there is no quid pro quo. There are no pre-conditions for it," Garcia said. "It's not nepotism because it is not a relative handing something down to another relative."
Uetricht, a friend of Ramirez-Rosa's and fellow member of the Democratic Socialists of America, warned that the appearance of favoritism could still poison relations between the party and its progressive base.
"It seems in some ways like exactly the kind of backroom deal that people reacted so strongly against with the Hillary Clinton campaign," Uetricht said, referring to evidence that Clinton had effectively co-opted the Democratic National Committee for her own purposes during the 2016 presidential primary. "It just further enrages the left into thinking that this party does not represent them."
In contrast with other primary battles that might pit a clearly moderate Democrat against a progressive rival, the national policy positions of Ramirez-Rosa and Garcia are almost identical. They both support single-payer health care, free public college tuition and a $15 federal minimum wage, and they both promise to take up Gutiérrez's mantle as a champion of immigrant rights and comprehensive immigration reform.
Both Ramirez-Rosa and Garcia can also claim to authentically represent the Mexican and Puerto Rican communities of the congressional district. Garcia, who immigrated to Chicago from a village in the Mexican state of Durango when he was 10 years old, is married to a Puerto Rican woman. Ramirez-Rosa, who was born in Chicago, is the son of a Mexican-American mother and a Puerto Rican father.
Garcia, a mustachioed grandfather of six, speaks in a calm, deliberative voice as he explains why he would make a good congressman. His pitch is heavy on experience, about how he has worked his way up through Chicago politics since 1984. 
"I have a 40-year history of being an organizer, an advocate, a community builder in Chicagoland communities," Garcia said. "I am an immigrant and have lived the immigrant experience in these communities in the Chicagoland region that comprise the 4th District."
What I bring that's different is the ability to take on the establishment and win, the ability to buck the status quo and show people that we can fight in ways that others did not think possible.

Carlos Ramirez-Rosa
Ramirez-Rosa, who sports a hip undercut coiffeur and stylish black-rim glasses, was Chicago's first openly gay Latino alderman ― and would likely be the first openly gay Latino man to serve in Congress as well. 
During his briefer time in public life ― as an alderman, a Democratic Socialists of America activist, an immigrant rights organizer and an onetime staffer to Rep. Gutiérrez ― Ramirez-Rosa said he has distinguished himself by his willingness to take on more established Democrats.
"What I bring that's different is the ability to take on the establishment and win, the ability to buck the status quo and show people that we can fight in ways that others did not think possible," said Ramirez-Rosa, a certain manic energy audible in his remarks.
Indeed, in November, Ramirez-Rosa was the sole Chicago alderman to vote against Emanuel's plan to build a $95 million police training academy on the West Side of Chicago, calling instead for greater police accountability and investment in other resources for local residents.
Shortly after President Trump's election in November 2016, Ramirez-Rosa also publicly demonstrated for the city to do more to protect undocumented immigrants, calling on the mayor to provide those facing deportation with free or subsidized legal representation. The following month, Emanuel announced the allocation of $1 million for the legal defense of the city's undocumented immigrants.
Ramirez-Rosa's youth and combative profile has galvanized more grassroots support, according to Macías who, together with dozens of her fellow democratic socialists, has swarmed Chicago's El stops and street corners every night this week to collect signatures for him.
Ramirez-Rosa "has mobilized a lot of people in a way that I don't think Chuy has," Macías said. "Yes, they are both progressive candidates, but one of them has momentum and is getting people super excited about the campaign."
Neither Garcia nor Ramirez-Rosa had a bad word to say about the other.
One issue that could prove contentious, however, is the Boycott, Divestment and Sanctions (BDS) movement, which seeks to pressure Israel to end its occupation of the Palestinian territories. Daniel Biss, an Illinois state senator seeking the Democratic gubernatorial nomination next year, dropped Ramirez-Rosa as his running mate in September after the alderman refused to renounce BDS.
The 4th District does not have a large Jewish community. But more hawkish Democratic donors and activists at the state and national levels could mobilize against Ramirez-Rosa for failing to toe the line against the protest movement.
Asked about his current stance on BDS, Ramirez-Rosa declined to either embrace or condemn it, implying instead that he favored leveraging U.S. aid to change Israeli government behavior.
"As it relates to Israel and Palestine, I have been consistent about the need to have a conversation about how the U.S. government leverages the money that it has to bring about a two-state solution," he said.
At the same time, Ramirez-Rosa said he would reject legislation that in any way criminalizes participation in the BDS movement.
"We have to protect the First Amendment,"  he said. "Any movement or any attempt to try and take away the rights of those fighting for social and economic justice and peace in Palestine is something that I would oppose."
For Garcia's part, when asked about any policy differences with Ramirez-Rosa, the Cook County commissioner volunteered that he staunchly opposes BDS. He prefaced his remarks by saying he wasn't certain about Ramirez-Rosa's position.
An area where "we may have a little nuance is on the question of Israel and BDS," Garcia said. "I have not endorsed the BDS movement. I believe in a two-state solution and the BDS movement does not address what solution there ought to be to the Israeli-Palestinian conflict."
Calling all HuffPost superfans!
Sign up for membership to become a founding member and help shape HuffPost's next chapter
BEFORE YOU GO
PHOTO GALLERY
2017 Scenes From Congress & Capitol Hill