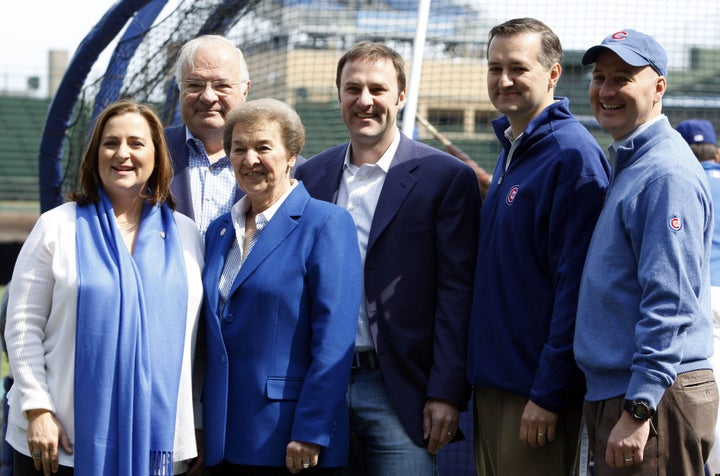 WASHINGTON -- Wealthy businessman Joe Ricketts's mission to rid the country of earmarks and government waste has run into a hurdle: the request by his son, Chicago Cubs Chairman Tom Ricketts, for $300 million in taxpayer money to help renovate Wrigley Field.
The elder Ricketts, founder of TD Ameritrade, recently started the nonprofit Taxpayers Against Earmarks (TAE), with the self-described mission of "educating and engaging American taxpayers about wasteful government spending and the misguided practice of earmarks." As The Huffington Post previously reported, Ricketts also has an affiliated political group called the Ending Spending Fund, which spent a large amount of money in the Nevada Senate race against Majority Leader Harry Reid (D).
As Windy City Watch notes, in September, Ricketts recorded and posted a YouTube video of himself talking about wasteful spending, specifically mentioning loans that future generations will have to pay for:
I think it's a crime for our elected officials to borrow money today, to spend money today and push the repayment of that loan out into the future on people who are not even born yet.
"These are private owners of a baseball team," added Quinn. "They spent almost $1 billion buying it. They knew what they were buying. To be coming to the people of Illinois for assistance now after an election isn't a top priority. ... If they wanted this to happen, they should have talked about it before the election -- not after."
TAE President Brian Baker said in a statement that federal and state spending are two completely different issues.
"Taxpayers Against Earmarks is concerned with the issue of waste, fraud and abuse in federal spending decisions -- and advocates for changes in the broken Congressional budget and appropriations process," said Baker. "We have advocated for transparency in the federal government and an end to the earmarking process. There are two very different ideas between fighting Congressional earmarks at the federal level and state-level spending decisions. Questions about state and local level spending decisions are best left to state and local officials and the voters."
A spokesperson for the Ricketts family did not return an inquiry from The Huffington Post about whether Joe agrees with his son's request for taxpayer money.
UPDATE, 10:51 p.m.: Tom Ricketts conducted an interview with WTTW in Chicago, and reiterated that his father's group is focused on federal issues. "I think we're as far from being an earmark as possible," said Ricketts, stressing the public nature of the Wrigley Field plan. He said that he had spoken to his father, Joe Ricketts, several times over the last few days, and he doesn't believe that he has any problem with the proposal.
Popular in the Community