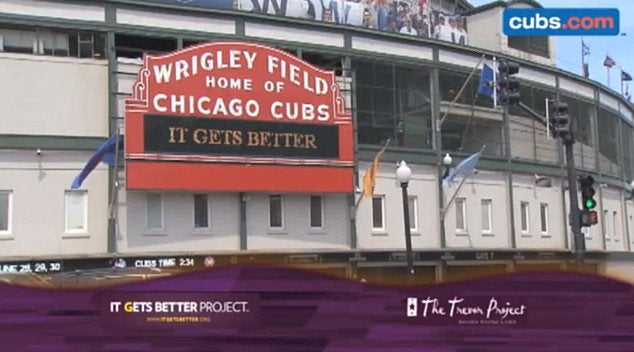 Following in the footsteps of the San Francisco Giants, the Chicago Cubs Monday became the second professional sports team to join the "It Gets Better" YouTube video campaign, a project intended to raise awareness of and call for an end to anti-LGBT bullying and harassment.
The minute-long video (embedded below) features team manager Mike Quade, first base coach Bob Dernier, starting pitcher Ryan Dempster, outfielder Marlon Byrd and second baseman Darwin Barney offering their messages of support for LGBT youth just short of a week before the city's Pride weekend kicks off.
"Hatred, bigotry and intolerance have no place in this world," Dempster said.
In the video, co-owner Laura Ricketts, who in 2009 became the first openly LGBT owner of a professional sports team, said: "We know it can get really tough. I've been there. So many of us have been there. And we can promise you, it does get better."
Last year, the Cubs participated for the first time in the city's Pride Parade as Ricketts and Mr. Cub himself, Ernie Banks, appeared on their float entry. The team also hosts an annual "Pride Day" at Wrigley Field and has donated to many organizations who support the LGBT community, including the Center on Halsted and AIDS Foundation of Chicago, according to the team's press release announcing the video's creation.
The It Gets Better Project was launched in September 2010 by former Chicagoan sex columnist Dan Savage and his husband Terry Miller in response to a string of suicides of teenagers who either identified as or were perceived as being gay. Since the project launched, it has attracted many A-list contributors, including President Barack Obama, Secretary of State Hillary Clinton and many of the nation's leading corporations.
Wrote Savage of the Cubs' new video Monday: "[W]hat really got me was seeing the Cubs' iconic Clark Street flashing 'IT GETS BETTER.' I probably rode my bike and the bus past that Cubs sign about 100,000 times when I was a teenager living on the North Side of Chicago struggling with when and how to come out to my family ... Going to Cubs games as an adult and splitting your time between watching the game—which you've developed an appreciation for—and checking out the shirtless guys in the bleachers: Just one of the many ways that it gets better."
The Boston Red Sox and Seattle Mariners; who both, like the Cubs and Giants, were petitioned via Change.org to join the campaign; have also also announced plans to create "It Gets Better" videos.
REAL LIFE. REAL NEWS. REAL VOICES.
Help us tell more of the stories that matter from voices that too often remain unheard.