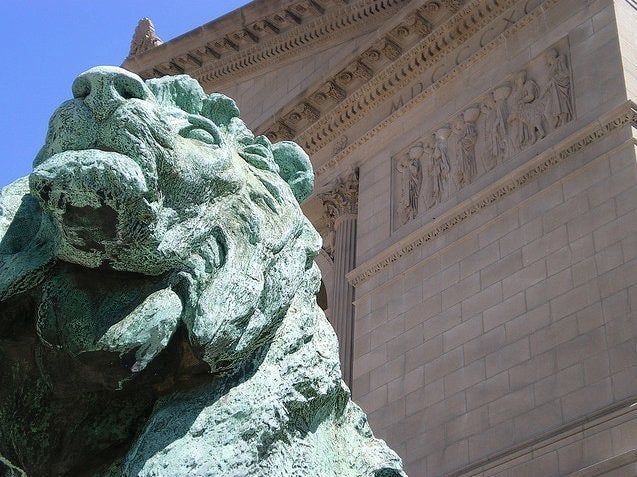 I, and a couple hundred others, sat in on an enthusiastic meeting Wednesday with Mayor Emanuel, NEA (National Endowment for the Arts) Chairman Rocco Landesman, Ra Joy of the Illinois Arts Alliance and of course Chicago's dynamic Arts Commissioner, Michelle Boone, among others. The discussion was about the just released draft of the Chicago Cultural Plan.
(The Culture Plan came out of a series of public meetings in an array of Chicago communities. I attended one of those town hall meetings where I was very impressed with the desires, insights and wisdom of the pubic-at-large.)
Emanuel was the first substantive speaker, who clearly gets the economic impact the arts and culture bring to any city, but surprisingly spent much more time discussing culture's benefit to the quality of life. With a mayor who was a dance major, the arts are appreciated and understood to be important.
As I understand it, NEA Chairman Landesman, shortly after his appointment by President Obama, expressed the notion that culture needs to cross-pollinate. This means that the NEA partners with HUD (Housing & Urban Development) who has a lot more money and periodically work on joint projects with a cultural impact.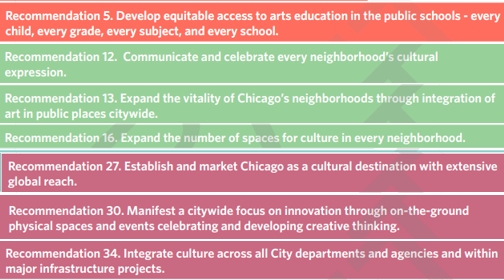 In Chicago, this means the DCASE (Department of Cultural Affairs and Special Events) has recently partnered with the Department of Transportation and the CTA (Chicago Transit Authority). Gabe Klein is the Transportation Commissioner. A year ago he began installing bike lanes and is now identifying ways his department can augment culture in Chicago.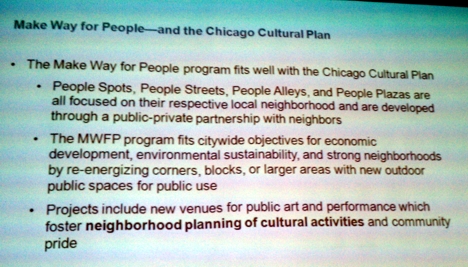 It is the partnership with Transportation and it's Make Way for People plan, that I find most exciting and emblematic of where the Cultural Plan will take us. Klein's Department says there are 56 plazas in Chicago, most of which I believe are the triangles created by our diagonal streets. Transportation is converting these to "Cultural Venues," which will have small stages or kiosks or seating areas or community gathering accommodations. Another iteration is to consume 3-5 parking spaces and turn them into community outposts with temporary seating or a mini farmer's market or occasional art displays.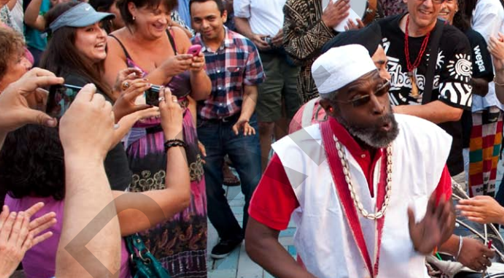 This is the spirit of what's going on. We have a mayor with an arts major, who commissions a new Culture Plan and "Inspires" his Commissioners to jump on board and they all become boosters and we benefit.
There is a lot of valuable reading in the Cultural Plan Draft (linked above) and we have an opportunity to turn out at a series of public meetings next week to hear more and have an opportunity to speak to the issues that concern us.
PS: So many of these things need not cost big (any?) money. For example, one idea I'd like to see is for the buses and trains to add Cultural Public Service Announcements that include information about what cultural venues are accessible from the next stop.
Popular in the Community