Author's Note: This article first appeared as part of the DANCIN' FEATS column in Windy City Times and is reproduced with permission from the Editors.

I feel really fortunate to be a small part of Dancin' Feats' legacy profiling dancers and topics of interest from the LGBTQ community, and we are still finding plenty of "gay dance things" to cover. Windy City Times is 30 years old this year, and has covered dance all of that time. The column Dancin' Feats is now 10 years old. Maybe this is pretty obvious, but Chicago dance is actually super-gay. Some of the people I talk to say that queerness is but one part of a myriad of other characteristics--that being queer does not have a prominent place in the dances they make. Conversely, some use dance as a platform from which to express queerness and queer themes.
Indeed, Chicago's queer dance community is as diverse as the LGBTQ community at large, but it hasn't always been that way. Historically ( and stereotypically ), many gay male dancers were dancing in heteronormative roles oozing with machismo, while the women assumed delicate, submissive personas. The community denied its sexuality even as its members were rapidly dying of AIDS. In parallel with the rest of society, dance has grown more accepting of its LGBTQ members, who are increasingly transparent. This shift manifests in dances that feature men partnering men, women partnering women, and a refreshing level of gender ambiguity in movement, characterization, and costumes. Dancers are coming out in droves, and the community is showing increased representation from lesbians, genderqueer people, and transgender people. In sharp contrast to the Memories Pizza debacle, the difference between the dance community and communities at large is that no one really seems to care.
Actually, the underground dance community has been pretty gay for awhile. Poonie's Cabaret is a multimedia variety show created in memory of the life of Chicago dancer/choreographer Poonie Dodson, who died of AIDS in 1993. Poonie's has been off and on for the past decade or so, but recently saw a resurgence with Joe Varisco's series POST Q, a variety show held in late April at Links Hall. I reviewed POST Q on SeeChicagoDance.com, despite the fact that it had very little dance, because of the currency it might have among dance audiences:
"I watched Poonie's Cabaret/Post Q on the same night as the Bruce Jenner interview, five days after the death of Freddie Gray in Baltimore. Everything in the world seems to be on a grand tilt... like everything could change at a moment's notice. Art is a way of processing, dealing with, or finding meaning in that tilt..."
I don't judge or even really object to people using violence as a way to get someone's attention. Indeed, plenty of Facebook walls pointed out that the first gay pride parade was a riot as we watched a Baltimore CVS burn on our televisions. But then the newscast cut to the Baltimore Symphony playing a free concert downtown, and I was reminded that art is as powerful a weapon as anything else. Performances like POST Q challenge us to think differently, and organizations such as Dance for Life use dance as a catalyst that has had a tremendous impact in the LGBT community.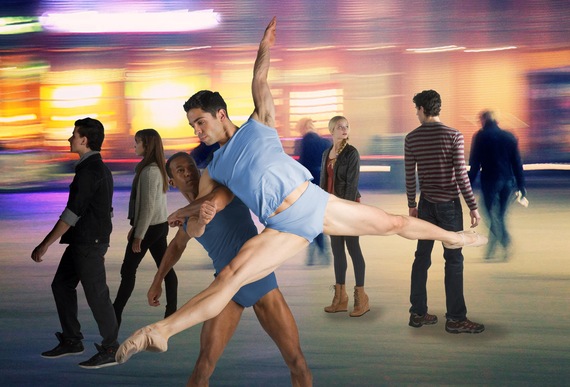 Gay-related dance has been going on for a while in the neighborhood venues, but even downtown in a company like The Joffrey Ballet, we can see what a dramatic change has occurred from the time and culture in which founders Robert Joffrey and Gerald Arpino lived. I recently happened on a free screening of the 2012 film Joffrey: Mavericks of American Dance, reminding me that Joffrey and Arpino were in a relationship during the early years of the company. Despite Joffrey's eventual death from AIDS, his status and sexual identity were never discussed.
Fifty-eight years after the company's founding, the Joffrey Ballet would host choreographer Brock Clawson and the company premiere of his work Crossing Ashland. The piece features a sensual duet that included a cast of two men, and Clawson and artistic director Ashley Wheater ( both openly gay ) freely answered questions about love and marriage in the Q&A that followed a sneak preview presented in collaboration with the Center on Halsted. In a brand new collaboration, tello films, the highly successful producer of original lesbian web series, recently began filming Full Out, a six-episode dance drama inspired by members of Chicago's dance community--think Breaking Point, but lesbians!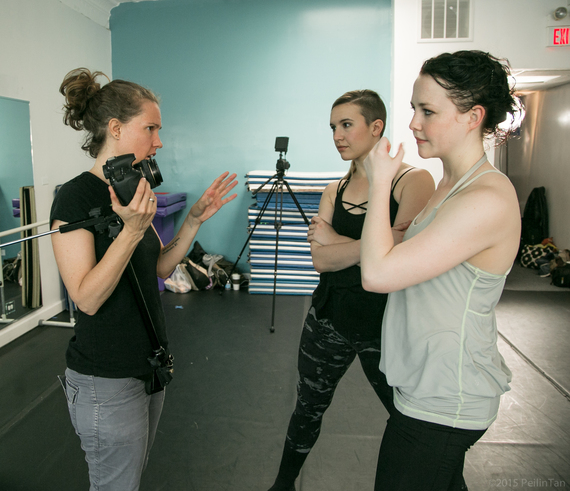 tello films is currently in production in Chicago for its 14th original lesbian series, Full Out, a narrative dance series centered on a closeted ballerina and her struggle to reenter the dance world following a devastating injury.
The project was first conceived last year when I and Chicago Dance Crash company member Kaitlin Webster helped tello pull off its first dance mob scene for the series Rent Controlled. After seeing how fun it was to collaborate with dancers and hearing war stories from the front lines of contemporary dance, from a lesbian's perspective, Julie Keck wrote the script for Full Out, which is being produced by tello CEO Christin Baker and directed by Jessica King; the cast is led by Webster, local dancer Jess Duffy, Kaitlyn Alexander ( star of the lesbian series Carmilla ), and Nana Visitor of Broadway and Star Trek: Deep Space 9.
Characters in the series struggle with issues related to being out ( or not ), heteronormity in the dance world and survival as an artist. Audiences will be able to see the series this fall on tellofilms.com .
Photo 1: Dancers Ricardo Santos and Lucas Segovia in Crossing Ashland by Brock Clawson | Photo by Christopher Duggan
Photo 2: Full Out Director Jessica King gives instructions to dancers Katilin Webster and Jess Duffy | Production photo by Peilin Tan, courtesy of tello
Disclosure: The author is a consulting producer for Full Out on tellofilms.com
Popular in the Community