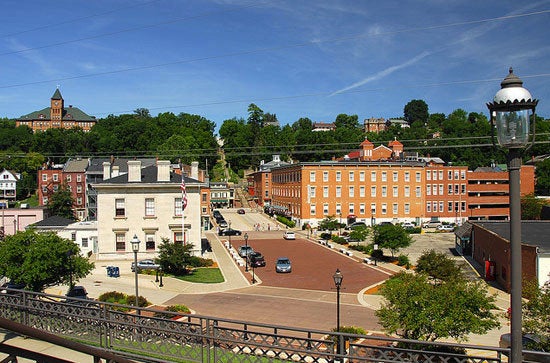 If you don't have enough vacation time to take a weeklong getaway during what's left of the summer, don't fret -- an escape can be done in just one day. We've come up with a few day trips that require just a hop in the car and a little drive time, whether you want to sip regional wines, climb up the mounds of an ancient city or relax in an artsy, lakeside town.
Follow the Fox River: The Chicago 'burbs harbor two picturesque cities -- St. Charles and Geneva -- with an idyllic setting next to the flowing Fox River. A gem of the Fox River Valley, Geneva boasts the Herrington Inn & Spa, which offers romantic couples massages and has an intimate, riverside restaurant called Atwater's Restaurant, which serves crab-topped filet mignon. While you're there, don't miss Geneva's charming Third Street, with its boutiques and the charming pink- and green-bedecked cupcake shop, The Latest Crave. A few miles to the north, St. Charles has its own, busier charm. Don't miss Kimmer's Ice Cream, with its Caramel with Sea Salt and Red Velvet Cake flavors, and if you're looking for dinner, try Prasino, with its emphasis on local and organic ingredients or Bistro One West, which features an expansive patio right next to the Fox River. Drive time from Chicago: 1 hour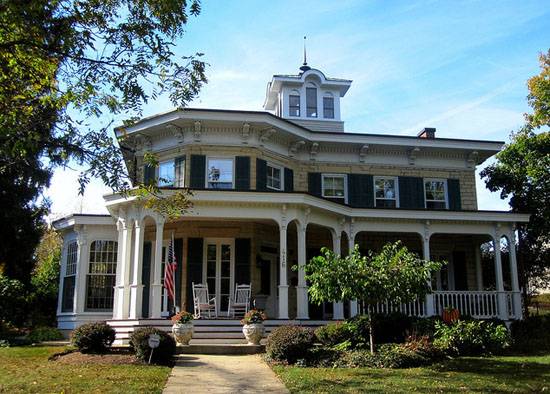 The Eastview House in Geneva. Built in 1851 by one of Geneva's founding families, it is one of the oldest properties in the area. Photo by ChicagoGeek via Flickr.
Climb Ancient Mounds: For history lovers, the ancient city of Cahokia awaits in downstate Illinois. You can pick out some of the historic site's two dozen mounds, including Monks Mound, the largest manmade earthen mound in North America, to scamper up. The city, which was occupied between 700 A.D. - 1400 A. D. and numbered as many as 20,000 people, has been designated as a World Heritage Site. An interpretive center at the Cahokia Mounds State Historic site displays ceramics and tools once used by the city's residents. Why its inhabitants abandoned Cahokia is a mystery, and fortunately, one that you can inspect for yourself. Free (suggested donations of $2 for kids, $4 for adults and $10 for families) 30 Ramey Street in Collinsville, IL Drive time: 5 hours, so make sure you head out early!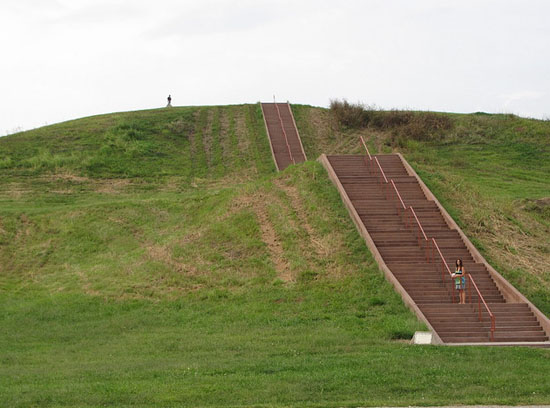 Monk's Mound. Photo by John Stagner via Flickr.
See the shores of Saugatuck: See what the other side of Lake Michigan looks like from idyllic Saugatuck. This quaint Michigan resort town rests on the shores of Kalamazoo Lake, which flows into Lake Michigan and invites you to kayak in its azure waters. The Saugatuck area, with its dozens of art galleries and summer Chamber Music Festival, has turned into a Carmel-by-the Sea of the Midwest. Don't forget to catch sunset over the Lake Michigan water before heading back to Chicago. Also, if you plan on stopping for a cocktail--the Red Dock is amazing. But go early, they close at dusk. Drive time: 2 hours, 25 minutes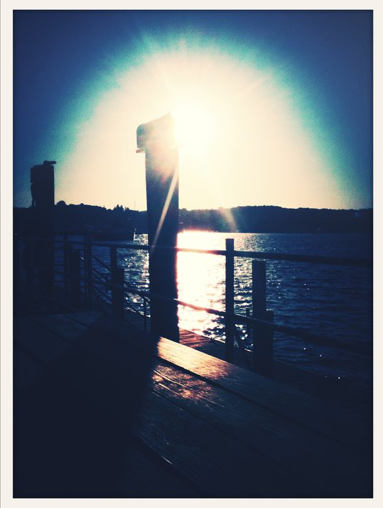 Sunset on the Red Dock.
Wander down Main Street Galena: Stroll down Galena's Main Street, whose stately brick buildings and sharp steeples may make you wonder if you accidentally drove into a New England town. Several stone buildings on Main Street date from the 1800s, including a blacksmith shop built in 1897. Meander onto Bouthillier Street to visit the federal-style brick home of President Ulysses S. Grant. For expansive views of the Galena River, take a half-mile stroll down the Pathway on the Levee. Drive time: 3 hours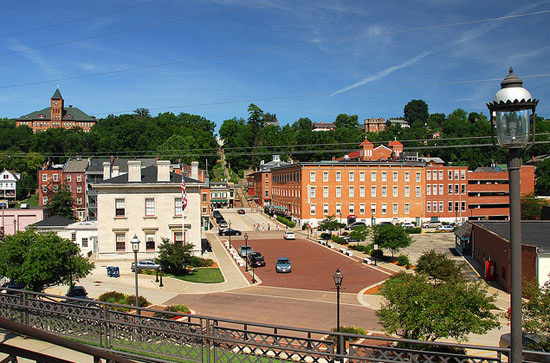 Downtown Galena. Photo by Tomcio77 via Flickr.
Get Wine Happy: You don't have to hop on a pricey flight to Napa for a wine tour -- not when you can drive a couple hours east on I-94 to more than two dozen vineyards in southwest Michigan. Our neighbor to the east has more miles of freshwater coast line in the U.S. than any other state, and that makes the climate in many of its regions perfect for making vino. For an easy stop off the Interstate, head toward St. Julian Winery in Paw Paw, Mich., which sits just a half mile north of Exit 60 on I-94. The 90-year-old winery produces more than 40 wines, sparkling juices and spirits. For a more fruit- and farm-oriented experience, stop by Lehman's Orchard in Niles, Mich., which uses the produce grown on its estate to make its cherry, blueberry, peach, pear and apple wines. If a smaller vineyard is your thing, visit Fenn Valley Vineyards & Wine Cellar, a winery in Fennville that produces riesling, chardonnay, merlot, sangria and pinot gris. Drive time: 2-3 hours, depending on the vineyard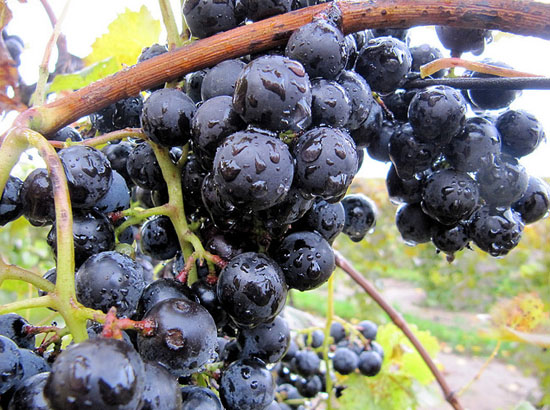 Grapes at the Fenn Valley Vineyard. Photo by Rachel Kramer via Flickr.