CHICAGO ― After several bruising years for the Chicago police and Mayor Rahm Emanuel, heightened by the fatal shooting of teenager Laquan McDonald by an officer, allegations of a City Hall cover-up and a damning Justice Department probe, the city is poised to begin its police reform efforts. But now there are serious doubts about whether a toothless plan can address the deep problems.
News trickled out of city hall last week that Emanuel planned to seek a "memorandum of understanding," rather than an enforceable consent decree, as part of an effort to remedy the widespread unconstitutional practices the Justice Department identified in a report released just before Trump's inauguration. The sweeping federal report, issued after the biggest investigation of a city police department in Justice Department history, concluded that reform efforts in Chicago were "not likely to be successful" without a consent decree and independent monitoring.
The city has not yet established a timeline for an independent monitor.
"At this point, there's still ongoing discussions between ourselves and the DOJ," Walter Katz, Emanuel's chief liaison with the CPD, told HuffPost. Katz noted that the city has already undertaken some reform efforts, including revamped police rules on use of force, an expanded bodycam program and a planned Civilian Office of Police Accountability, set to open in September.
Success will be defined by "substantial compliance with the agreement," Katz said, adding that prior consent decrees and memorandums of understanding have been effective for measuring compliance.
High tensions over crime and policing in the city were aggravated with the November 2015 release of a police dashcam video that showed a more than year-old incident of an officer shooting Laquan McDonald 16 times as the teen walked away. The video contradicted the narrative by police that McDonald had been imminently threatening officers, and the legal fight to keep the tape under wraps prompted critics to accuse Emanuel of intentionally covering up the video until after his reelection, a charge he has denied. The officer who shot McDonald is awaiting trial on multiple charges, including first-degree murder.
When the Civil Rights Division's report came out on Jan. 13, the Justice Department and Emanuel's administration announced they had reached an agreement in principle, a two-page document in which both parties committed to "negotiate in good faith to reach a comprehensive settlement in the form of a consent decree."
Attorney General Jeff Sessions does not believe in police consent decrees. Shortly after his Feb. 8 confirmation, Sessions conceded he hadn't read the Chicago report but called it "anecdotal." Sessions separately suggested that such binding legal agreements amounted to "harmful federal intrusion" that could "cost more lives by handcuffing the police instead of the criminals."
Theoretically, the Trump DOJ is bound by the previous agreement to work in "good faith" toward a consent decree with Chicago. But Adam Collins, a spokesman for Emanuel, noted the stark ideological differences between the Obama-era DOJ and the department under President Donald Trump.  
"Obviously there's a different administration in D.C. right now that has a different attitude on consent decrees," Collins said. "The public comments from the DOJ are very clear about their attitudes about how it relates to consent decrees and that they don't believe they're a good model."
Nevertheless, Collins said Police Supt. Eddie Johnson "has been clear that the city of Chicago is on the road to reform."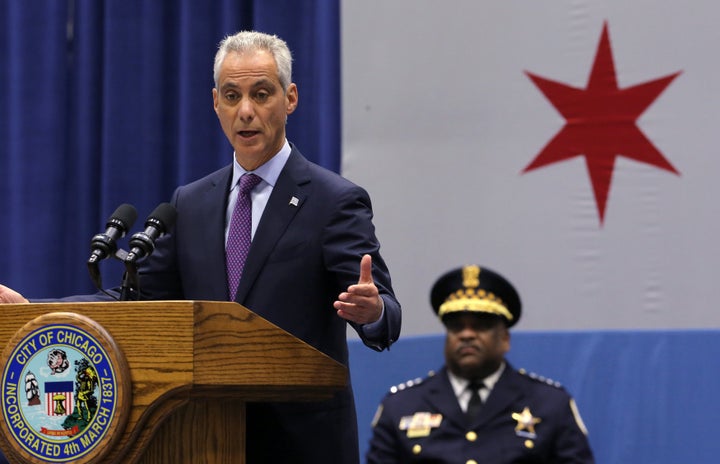 Vanita Gupta, the former head of the Civil Rights Division, says that commitment isn't enough. Gupta, who now heads the Leadership Conference on Civil and Human Rights, told HuffPost that Chicago has seen "over and over again" that deals without court enforcement mechanisms don't work. The memorandum of agreement will "become yet another set of recommendations for the Chicago Police Department that will have no teeth."
"History has demonstrated that memoranda of agreement, which are not court-enforceable, are not robust enough to remedy longstanding problems," Gupta said.
Gupta noted that, even with the new administration, the agreement signed in January had "not been publicly disavowed by either party" and that both sides had recognized "the gravity and scope of the constitutional violations required a court-enforced agreement."
Gupta said it is "absolutely critical" that the career Civil Rights Division officials who investigated the Chicago Police Department "find that whatever agreement is reached will actually remedy the serious findings" the report brought to light.
Groups like the ACLU of Illinois concur with Gupta's concerns, slamming the memorandum of agreement as a "half-measure" that will not amount to meaningful change.
"This proposal is a non-starter for anyone committed to real reform of Chicago's broken system of policing," Karen Sheley, director of the ACLU of Illinois Police Practices Project, said in a statement. "The City is proposing to sign a set of promises with a DOJ that is hostile to real police reform."
A spokesman for ACLU of Illinois said that it had not yet determined if they would go to court over the city's decision but that it would "continue to talk with other advocates and consider all options." 
Chicago was the last police department to undergo an investigation into its "patterns or practices" in the Obama-era Justice Department.
The number of DOJ-enforced consent decrees grew under Obama's tenure compared with his most recent Republican and Democratic predecessors. From the start of Obama's first term in 2009 to the conclusion of his second term this year, 14 police departments — including Seattle; Cleveland; Ferguson, Missouri; and Puerto Rico ― agreed to consent decrees. By contrast, only three consent decrees each were reached in Bill Clinton's and George W. Bush's two-term administrations.
While consent decrees have been welcomed by police reform advocates, they're often oppose by police unions as burdensome and restrictive. Since consent decrees are effectively lawsuits brought by the Justice Department against the city to ensure reform measures are implanted, the agreements can also come as huge expenses to taxpayers. Sessions himself hit on the cost in his statement following the approval of the Baltimore consent decree, saying the deal would force the city to fund a "highly-paid monitor to govern every detail of how the Baltimore Police Department functions for the foreseeable future."
But in Chicago, a lack of police reform has already taken a massive financial toll: Since 2004, the city has paid out roughly $662 million for police misconduct in the form of multimillion-dollar settlements, legal fees and other penalties.
City Hall is standing by the decision as its option for achieving the badly needed overhaul. Collins cited Washington as an example the city views as a case study on successful police reform achieved without a consent decree.
"It's a model that's worked in other cities," Collins added, noting that D.C.'s former police chief Charles Ramsey — a former CPD official who now serves as an adviser on reform for the police department ― "spoke highly" of the process.
Emanuel aide Katz said he was confident the city's efforts will be successful because the city, its police and its residents want the same basic outcome.
"What we're focused on is the fact that people want to live in a community that is safe," Katz said.
 The ACLU's Sheley expressed doubt that anything short of a consent decree would make a difference. She noted in a statement that the kind of agreement Chicago is pursuing "could not be enforced by the monitor, by the community or by anyone else ― since it is not planned to be overseen by a federal court."
"The only real path to police reform in Chicago is through a consent decree overseen by a federal judge," Sheley added.  "That is what the City committed to when the DOJ completed its scathing report in January."
 Gupta also believes that Chicago's proposal will fall short of implementing the necessary reform.
"There is no political solution that will fix the problems that the career Justice Department team found. Congress gave career lawyers at the Justice Department the mandate to remedy patterns and practices of unconstitutional policing when found," Gupta said. "It is their judgment that matters and that has not changed."
A Justice Department spokesman did not respond to a request for comment. 
Kim Bellware reported from Chicago and Ryan Reilly reported from Washington, D.C.
Calling all HuffPost superfans!
Sign up for membership to become a founding member and help shape HuffPost's next chapter