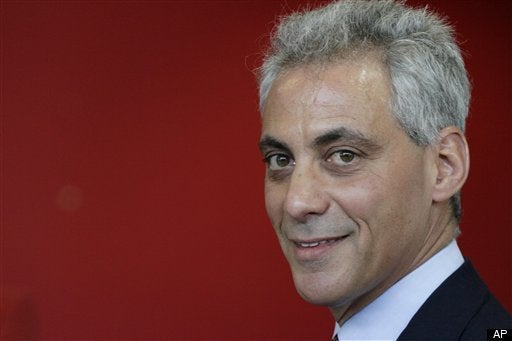 In recent months, former White House Chief of Staff Rahm Emanuel has been widely criticized by immigration reform advocates who say he did not throw enough support behind the DREAM Act when he was in Washington. Emanuel has disputed those claims, and is now out to prove just how much he supports giving the children of immigrants a chance to attend college in the United States.
The Chicago for Rahm campaign issued a press release Thursday evening touting Emanuel's plan for immigration reform...in Chicago.
"Just because Congress has yet to pass the Dream Act doesn't mean we will wait for progress in Chicago," Emanuel said in a statement. "All children in Chicago deserve to have access to a quality education, and we will make sure they have that opportunity."
Emanuel's plan would not provide a path to citizenship as a national DREAM Act would, but would "allow these children to access the same financial aid opportunities as every other child," according to his campaign.
"The number one prohibitive reason people don't go to college is cost," Emanuel said in an interview with Telemundo Chicago. "So I want to take a part of the DREAM Act, which Sen. (Richard) Durbin introduced, and make Chicago the first city in the country to adopt a Chicago DREAM Act." (Scroll down for video)
Those eligible would be able to receive student loans to both community colleges and four-year universities at a low interest rate, Emanuel told Telemundo. His plan is to raise $5 million from "business and civic leaders" to pay for the loans.
Not long after his announcement, other Chicago mayoral candidates slammed the plan and accused Emanuel of pandering,
Miguel del Valle's campaign spokeswoman accused Emanuel of stealing del Valle's ideas.
A spokeswoman for the Gery Chico campaign called the plan a "straight-up pander" and said that "when Rahm was in a position to push substantive immigration change, he took a pass," according to NBC Chicago. U.S. Rep. Luis Gutierrez, a Chicago Democrat and comprehensive immigration reform advocate, has been very critical of Emanuel in the past on the issue. Gutierrez endorsed Chico in the Chicago mayoral week last week.
If the Chicago DREAM Act comes to be, Emanuel's campaign said a Chicagoan must meet the following criteria:
* Moved to Chicago before the age of 16...
* Resided in Chicago for at least five consecutive years prior to application for DREAM Status.
* Be a student in good standing at an elementary or high school in Chicago - public, private or religious.
* Be between the ages of 12 and 25 at the time of application.
* Be a law-abiding Chicagoan.
WATCH Emanuel discuss his plan on Telemundo here: