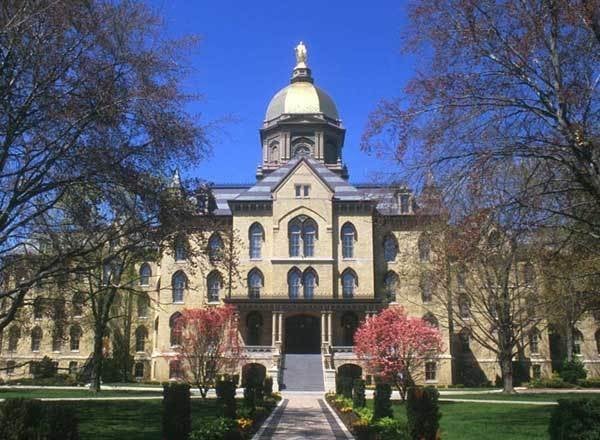 In a statement issued late Wednesday, Notre Dame University announced the immediate resignation of one of their Board of Trustee members, Burr Ridge, Ill. executive Roxanne Martino. The announcement comes after weeks of controversy in the Catholic blogosphere regarding Martino's contributions to pro-choice groups including Emily's List and Personal PAC.
"In the best interests of the University, I regretfully have decided to step down from the Notre Dame Board of Trustees," Martino said in the statement. "I dearly love my alma mater and remain fully committed to all aspects of Catholic teaching and to the mission of Notre Dame. I had looked forward to contributing in this new role, but the current controversy just doesn't allow me to be effective."
Martino is a 1977 Notre Dame graduate, as well as president and CEO of Aurora Investment Management, the Chicago Tribune reports. The Chicago firm manages $8 billion in hedge funds.
The news of Martino's history of support for the two pro-choice organizations was first reported by conservative pundit Bill McGurn on the blog Ricochet. McGurn served as chief speechwriter for President George W. Bush from mid-2006 to early 2008 and was formerly vice president with News Corp. He currently maintains the Wall Street Journal's conservative "Main Street" blog.
In a May 20 posting, McGurn addressed Martino's contributions to Emily's List, which reportedly totaled $27,000 dating back to 1998. McGurn also quoted an e-mail reportedly sent by Notre Dame's board chairman Dick Notebaert that said "it's inaccurate to characterize Roxanne Martino as pro-choice. Ms. Martino (along with her husband, Rocco) is a Notre Dame graduate, and she is fully supportive of Church teaching on the sanctity of life … She has through the years contributed to organizations that provide a wide range of important services and support to women. She did not realize, however, that several of these organizations also take a pro-choice position."
McGurn criticized Notebaert's judgement after discovering seven separate contributions totaling just under $6,000 dating back to 1999, to Personal PAC, a Chicago-based group "dedicated to electing pro-choice candidates to state and local office in Illinois."
Despite drawing attention to Martino's donations, McGurn expressed sadness over the way the situation was handled on his blog Wednesday.
"It's sad that someone who obviously has enormous talents had to come to this kind of end," McGurn wrote.. "It's sadder still how the way ND handled it all put her in the worst possible light."
A spokesperson for Emily's List contacted for this story did not comment on the Martino controversy but said their organization is "grateful for the support of people throughout the country who want to help elect pro-choice Democratic women."
The South Bend, Ind., university previously came under heavy scrutiny by some in the Catholic hierarchy following the invitation of President Barack Obama to speak at their 2009 commencement. Chicago Archbishop, Cardinal Francis George called the invitation an "extreme embarrassment" to the Catholic community due to Obama's positions on abortion rights and stem cell research.
REAL LIFE. REAL NEWS. REAL VOICES.
Help us tell more of the stories that matter from voices that too often remain unheard.