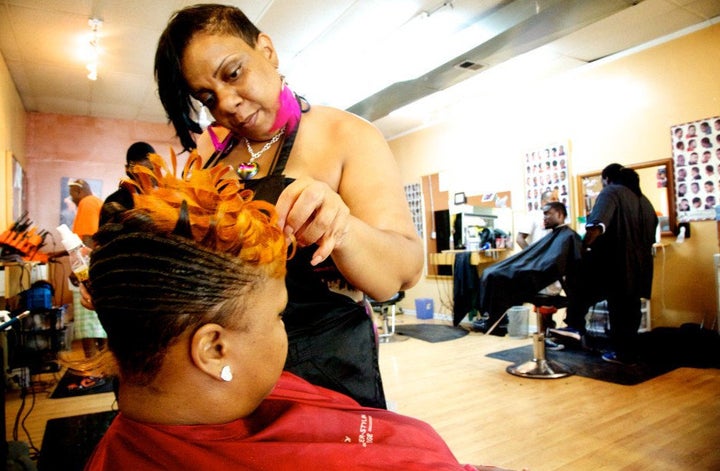 Chicago filmmaker Cyrus Dowlatshahi appears to approach his craft a bit differently than most, at least based on the footage he has released thus far of his latest project, a full-length feature documentary about life on the city's South Side.
In many ways, Dowlatshahi is setting about telling the story of how the other Chicago -- the one separated in so many ways from the city printed on the postcards -- lives. Using a method he's described as "moving photojournalism," he aims to present the largely African-American, arguably insular communities' stories as vignettes making up a larger whole. A whole frequently misunderstood by outsiders fixated on the area's struggles with poverty and gang violence.
Continuing our "Can They Kick It?" series featuring aspiring local crowdfunding campaigns, The Huffington Post interviewed the young filmmaker about his new, as yet untitled project.
HP: What motivated you to take on the South Side of Chicago as the subject of this documentary? Do you live in the neighborhood?
CD: I'm from Hyde Park and as soon as I was 16 and got my license I started driving south and west of my neighborhood. I love the South Side. Over the years, I've made a bunch of videos down there ("Black the Auto Mechanic" about a guy who fixes cars in an alley and "The University of Chicago Secret Police" chronicling the tales of a fictional law enforcement agency). I wanted to do a feature film and I was exploring the possibilities about a documentary in Iran. I went in January for a month and it's an amazing place, but you need a permit for everything film-related and it just seemed like too much of a hassle for my first shot at a feature. So, while the South Side of Chicago was my second choice, it's very much not a second choice.
(Scroll down to watch a preview of Dowlatshahi's film.)
Tell me more about your film background. How do you generally choose your personal subjects and projects?
I'm one of those guys who got a MiniDV camera in high school and had iMovie on his computer. I was making little videos from a young age, basically about anything and everything: my friends, family, travel, skiing, whatever. All non-fiction, all documentary. This continued in college: my friend and I would go to parties and interview people and just go crazy in general. The next day I'd edit the videos down to something watchable, and save them as QuickTime files on my computer.
This was before YouTube. To share the videos, we set up my computer so that other people could log on and just double-click on the quicktime file. We also set up a Microsoft Word document that anyone could edit that served as a "comments forum." It was cool, we got a little audience going, people on campus started watching our stupid little "news reports." Naturally, we were both loved and hated. At that point I had graduated to Final Cut Pro, and I was loving my philosophy classes. I never took any film classes because you had to take a full year of film theory before being eligible for the production classes.
I really don't know how I pick my subjects. Can "shit I think is cool" suffice? I'm not sure what they all have in common.
How did you feel after your first day of filming? Did you really feel like you were on to something?
I thought that I was really onto something, but later I realized the early footage was shit. A lot of the summer was like that actually. But the footage gets better and better every time I go out. "Better" by the way means something that's a coherent picture, footage that gives people who weren't there an understanding of what was going on.
I imagine the individuals you approached for filming responded to you in a variety of ways. What were some of the more interesting interactions you had? (Is "Jerk Man" one of them? Or Veronica?)
Some people obviously don't want to be on camera. After all, what advantage does anyone gain from being on camera? None. Others are more enthusiastic. Jerk Man is all about the project and showing off his neighborhood. Veronica's probably not as excited to have me filming her, but she's down. She knows that I like her and that I'm really impressed with what she does.
I approach people respectfully. Of course, part of that involves respecting 100 percent anyone's wishes to remain off camera. One block I was filming on this summer there were people selling weed outside. I was just documenting a family chilling on one of the front porches, but the guys on the street would still be looking at me. Pretty early on, I had to meet the boss and explain that I wasn't trying to film him or his guys. Understandably, he still wasn't excited for me to be there. "A documentary? We already got enough stuff going on around here," he said. I wasn't sure if that was a flat-out "no" or what. And I would have respected him if he didn't want me there. After all it's his street, he lives there. I would have begged for his permission, but I would have abided by his decision. But then he said, "Well, as long as you don't stop filming when the police come and mess with us. You gotta get both sides of the story."
Your Kickstarter campaign page lays out three things that make the South Side distinct from other parts of the city. Why did you feel it was important to put that out there? Do you think people have misconceptions about this area of the city and people who live there?
The neighborhoods I'm filming in are all-black neighborhoods with bad reputations that outsiders don't go to. I thought it was important to lay these three things out because some might think that the "outsiders don't go there" part is related to the "all-black neighborhoods with bad reputations" part. In reality, outsiders just honestly have no reason to go to these neighborhoods. None of Chicago's four main sports stadiums are in Englewood, they are in other neighborhoods. None of the architecture Chicago is famous for is found there, it's in the heart of downtown along the river. All the tourist traps visitors frequent and Chicagoans work at... you won't find any of those on 77th Street. It just has to do with the layout of Chicago.
But then, people not generally going to these neighborhoods is probably related to the misconceptions they have about them, since all of what most people know about these places is what they read in the paper, which is all negative. Look at this article about a guy who put on the Englewood Film Festival. He had an impossible time finding sponsors because they were all scared of the South Side! There are definitely some misconceptions. Some of that stuff is true though too.
The campaign seems to be going well, by the way. Has the support surprised you so far? Are you confident you'll hit your goal?
I'm confident. But also nervous. I need support from people… and these aren't the best of times.
You've already got one backer signed up for a tour of the South Side in your "camouflaged Camry." What do you think you'll include in that tour?
I will definitely instruct anyone who comes on the tour to come hungry. We'll be hitting up some good food. But beyond that, where we go depends on who is in the car. If they're interested, we can talk to people. If they just want to see some of the places in the movie, we can just drive around. If one of my friends' parents signs up, I doubt we'll be at a late-night underground dance party.
Are you still filming for this project? What is the timeline going forward for its completion?
I am very much still filming for this project. This summer was mainly about meeting people and seeing what kind of footage I could get and what scenes would look like. I am clear now on what I want kinds of things I want to shoot, and I cannot wait until the fundraising process is over. If it is successful, I plan on spending the next 12-15 months in the field shooting. I usually edit as I go, so I don't anticipate a decade of editing or anything like that. But this is definitely a long-term project. Because I'll be able to be out shooting for so long at such a relatively cheap cost, this is a real opportunity to put together something amazing.
With just over a month to go as of Thursday, Dowlatshahi's Kickstarter has raised roughly $3,500 toward its $25,000 fundraising goal. Click here to help the campaign get the rest of the way there or here to learn more about the film.
If you have a Chicago-based Kickstarter or IndieGoGo project that you'd like to see featured in "Can They Kick It?"? Get in touch at chicago@huffingtonpost.com.
Related
Popular in the Community