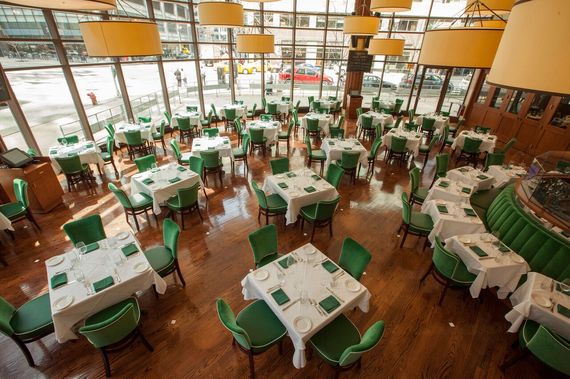 With the opening of C Chicago, David Flom and Matt Moore again prove themselves among Chicago's savviest restaurateurs, not by bankrolling feverish chefs to mount extravagant, 20-course meals but by focusing on a simple question: What do people really want to eat? If the answer is good, solid, well-prepared food in a comfortable ambiance, with finely trained servers and a good wine list, then at both their very popular Chicago Cut Steakhouse and now C Chicago, Flom and Moore have raised the quality level to a plateau whereby the ingredients speak for themselves and the kitchen treats them with the utmost respect in the same way the service staff treats their guests.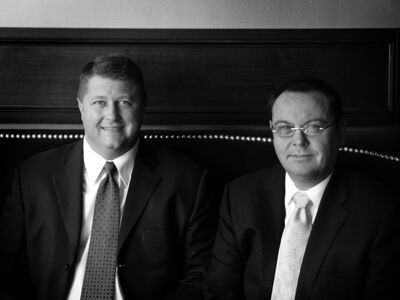 When Cut opened, in a Chicago market saturated with steakhouses, Flom and Moore added a breathtaking panorama and décor overlooking the river, with widely separated tables within a civilized atmosphere where women felt every bit as much at home as men who frequent steakhouses. Cut was a steakhouse in a finer tone, and it draws a wide swathe of celebrities, many of whom have become friends with the owners.
The seafood-centric C replicates the Cut model in a gorgeous but not frilly dining room designed by Mark Knauer--set on two levels like a luxury liner, with a grand bar, Kelly green upholstery, and a display of seafood on ice. It's a look that signifies that this is not a fast-paced raffish spot like Shaw's Crab House, or the old-time mariner appeal of the Cape Cod Room. Instead it's as modern and refined a dining room as you'll find in America right now, a place where when you walk in you say, "Yes, this is where I want to eat."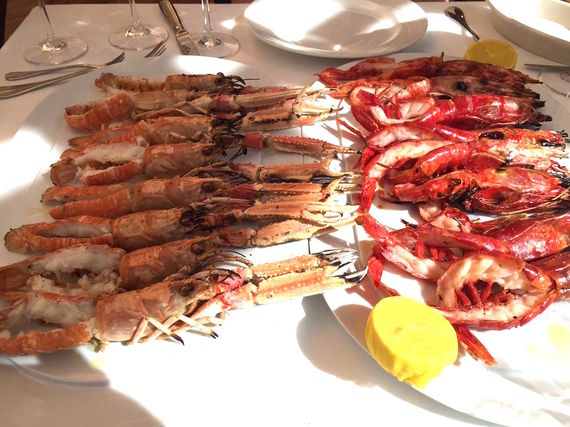 There's been a change of chef--Dean Zanella, formerly of Chicago Firehouse--since I dined there in October, but I'm told the menu will stay largely the same.
Our party of four ate lavishly but at the end felt satisfied not stuffed, and that's because the food here is not overloaded. Octopus à la plancha was dressed simply with shaved fennel and Calabrian sauce vierge, while lustrous tuna tartare came with a colorful avocado roulade and wasabi tobiko roe. In early autumn C had the extraordinary Spanish prawns called carabineros (these actually from Moroccan waters), but they are not due to return to the menu until spring. For now, big, fat Scottish langoustines of marvelous quality will do.
The cliché "surf and turf" is refreshed here by using seared A5 Miyazaki beef on a plate with butter-poached lobster in a citrus demiglace.
The whole fish selection is enough to cause high anxiety, for what is one to choose from such an array? Have the impeccably prepared Dover sole, or the dorade royale, or see how they render turbot--a hard fish to get right in this country--by baking it in an aromatic salt dough. You won't go wrong with any.
Side dishes showed every bit of the same commitment to first-rate ingredients, from roasted golden beets with espelette yogurt, sorrel, almonds and fennel tuile to a warm farro salad with charred corn, heirloom tomatoes, mustard and whipped feta.
Desserts stay the course with Key lime pie, pineapple finançier, chocolate vacherin and strawberry cheesecake.
C's wine list is exemplary for the comprehensive way it goes with this food.
Once you've dined at C you will realize all over again what good food cooked with care can achieve, for that care takes enormous talent and attention to detail, and every detail from décor to service makes C the most admirable restaurant to open in Chicago in the last couple of years.
C Chicago
20 W Kinzie Street
312-280-8882
cchicago.net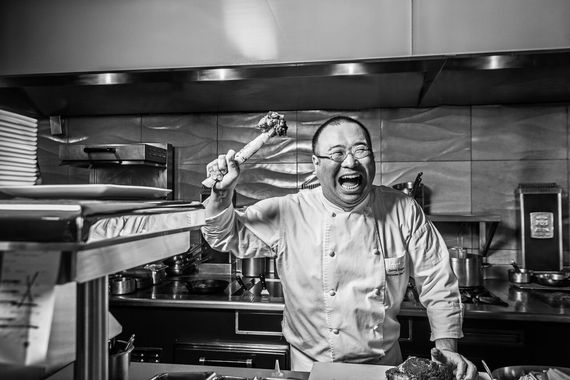 The name NoMi, for North Michigan, has taken on a bit more resonance recently with the appointment of Satoru Takeuchi as executive chef at the restaurant. NoMi has always sounded Japanese and always had a large offering of sushi and other Japanese dishes on the menu. Now, under Takeuchi, there is greater emphasis on such fare without abandoning the American and European dishes that give the menu such breadth.
"For me, it's important that a diner - no matter how developed or un-developed their palate is - can taste each ingredient that they see on the description and on the plate," says Takeuchi. "I'm not one to over- complicate dishes. I want the quality and unique tastes of each product I'm using to shine through." This is encouraging at a time when even Japanese chefs are under media pressure to become fussier and fussier with more and more ingredients.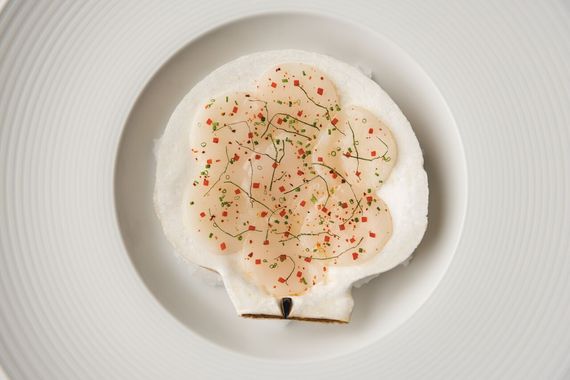 My friends and I began with a lavish NoMi platter of sushi and sashimi ($45)--all the right temperature, beautiful texture and thickness, perfectly seasoned rice--a variety that (on any given night) might include magoru tuna, sake salmon, hamachi yellowtail, and madai snapper (each also offered by the piece). Hamachi tataki followed with daikon radish soubise, the lemony pepper paste called yuzu kosho, basil-like ohba pistou, marinated leek and ponzu. There was also a wonderful, lightly glazed chicken teriyaki with rice cracker, grilled leek, shichimi togarashi made from seven peppers, and sesame.
Then came the western-style dishes, the first via Italy with a Midwestern ballast--corn agnolotti with rich mole-glazed pork belly, creamed corn and a pickled Fresno salad. Yorkshire porcelet as tender as any I've ever had came with a mustard-flavored spaetzle, chanterelles, spinach and mustard pork jus, while King salmon (farm raised, unfortunately) was pan seared then matched with braised green pea "française," Nueske's ham, orange carrot purée, and a drizzle of hazelnut oil. Skirt steak picked up its flavors from a broccoli purée, broccoli di rabe, charred broccoli, glazed white pearl onions and pepper beef jus; grass fed, the beef hadn't much taste on its own.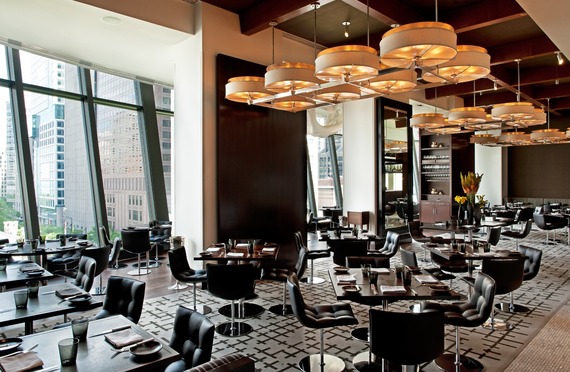 Greg Mosko's desserts were, as expected, very much in the generous Midwestern style--apple and pomegranate sautéed apple, caramelized and creamed white chocolate, tangy spiced apple cider, cinnamon cake and walnut--quite a display of goodness all on one plate. But there was also a rich flourless chocolate tart, decadently dense, with dark chocolate ganache, blackberries and both a citrusy gel and finger lime to bring up the brightness of flavors. Loveable in every way was a plum sheep's milk cheesecake with sesame graham cracker, yuzu gel, fresh plums, coconut dacquoise and a touch of shiso.
The term "fusion food" has gone out of fashion, but that may be because chefs like Takeuchi perform their magic of stylistic marriage so flawlessly that eccentricity takes a back seat to pure, good taste.
NoMi
Park Hyatt Hotel
800 North Michigan Avenue
312-239-4030
hyatt.com/corporate/restaurants/nomi
Open daily for breakfast, lunch and dinner.