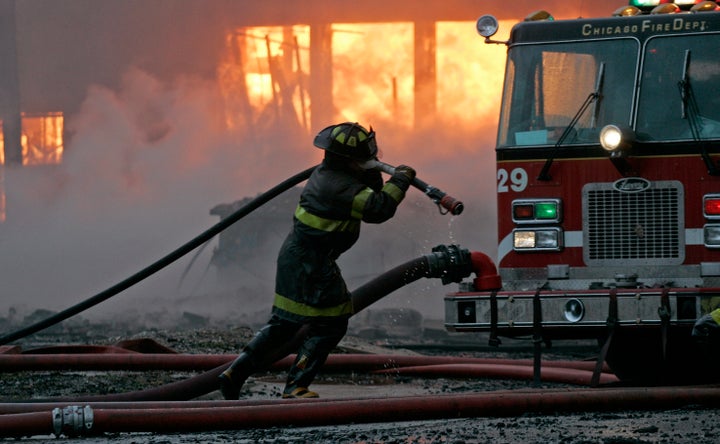 Five years ago, Samantha Vasich decided that she wanted to be a firefighter.
Sure, there aren't a lot of women in the Chicago Fire Department -- 116, to be precise, or just over two percent of the department, according to a recent story in the Chicago Tribune. But at the time it had been twenty years since the CFD accepted its first female firefighters, and Vasich figured she had what it took.
She applied. She was deemed eligible. She passed the written exam. And then came the PAT.
The PAT, or "physical abilities test," is an exam that is supposed to test applicants for the physical skills required to be a firefighter. It has four components: arm lift, arm endurance, leg lift and hose drag/high rise pack carry.
Vasich hired a personal trainer who worked with her to prepare for each element of the test. She wore a vest filled with weights while working out on a stair climber, and dragged a bag of sand around the gym to prepare for hose drag. She also read the book and watched the DVD that the department sends around in preparation for the test.
On January 13, 2010, Vasich took the PAT. Three weeks later, she was told she didn't get the job.
"When I took the test, I was able to do everything," Vasich said in a statement. "I couldn't believe it when I got the letter from the city saying that I had failed the test. I thought it must be a mistake."
The department wouldn't tell her how she scored on the individual components of the test, or which parts she might have failed.
But perseverance doesn't appear to be Vasich's short suit. On Tuesday morning, she filed a class-action lawsuit against the Chicago Fire Department, claiming Title VII discrimination on the basis of gender.
Her lawsuit argues that the PAT is not only biased against women, but doesn't have any proven correlation to job performance. There are no scientific data, the suit claims, that any of the skills on the PAT is an essential requirement to being a good firefighter.
Marni Willenson, the attorney who Vasich first turned to when she decided to take legal action, made an analogy to military service.
"Women are playing a critical role in defending our country in two wars overseas. They are operating heavy artillery and carrying out physical tasks that in the past were assigned only to men. Yet the military does not count how many push-ups these women can do before enlistment or put them through some other nonsense exercises that prevent them from serving," she said. "Instead, it puts them in boot camp and trains them to do the job. If women can defend our country in combat, then they can be trained to take care of medical emergencies and fight fires for the people of Chicago."
The suit is asking that the city adopt a new, non-discriminatory method for testing candidates; that it hire the women whom it denied jobs into the department, with retroactive seniority and benefits; and that it award them back pay for the time they would have worked.
This wouldn't be the first time the CFD had to make remunerations for discriminatory hiring practices. Two months ago, a federal appellate court ruled that the city had to hire 111 black firefighters whom it had turned away in 1996, with a payout of around $30 million in back pay.
Vasich and her attorneys are hoping for a similar result for women. "I just want a fair shot," Vasich said. "All the women who want to protect our communities as firefighters deserve that chance."
The Fire Department wouldn't speak about the lawsuit, and the city's Law Department wasn't immediately available for comment.
Related
Popular in the Community