 This will be the first in a three part series documenting my recent journey to Chicago where I set eight new food eating records; seven in Man vs. Food type challenges and one at a pazcki eating contest.
I arrived in Chicago just in time for lunch on Friday and my first stop was Taco Village the home of a 6lb burrito called the El Jefe. The El Jefe is filed with spicy chicken, beans, rice, cheese and beef. When the burrito was first brought out, my first thought was that it was as long as my arm and just as thick. The server looked at me like there was no way I would finish it let alone set a new record.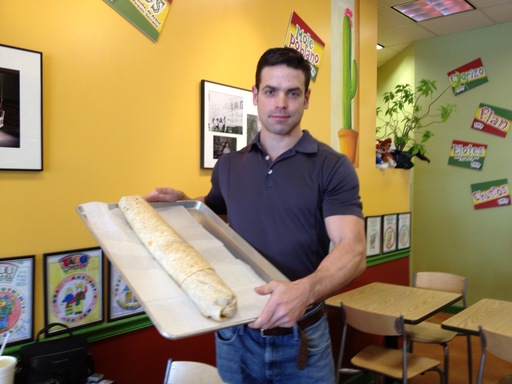 The goal for this challenge is to finish the entire burrito in less than 15 minutes. The current record was at a speedy time of eight min 30 secs. I knew that I would have to go all out, but was fairly confident that I could beat the record. Burritos are one of my favorite foods to eat normally and for challenges they are great. With a good burrito there is not much chewing involved and you can really get them down fast. In the end I was able to polish off that incredible burrito at a blazing fast four min 20 secs (over a lb per min), setting a bar that will not likely be beaten soon.
It was time to get to the gym... I knew I would have to step it up for this week as I was going to be putting my body through the wringer. This session consisted of 45 mins of incline treadmill work with a target heart rate of 130 bpm. I followed this with a high intensity sprint session for another 10 mins where the target heart rate is 180-190 bpm. Then it was time to shower and head over to my next challenge.
My next stop was at Lindy's and Gertie's Chili and Ice Cream, home of "The Beast", a monsterous 18 scoop sundae that contains; six bananas, two apples, three brownies, Nilla wafers, pecans, peanuts, brazil nuts, hot fudge, strawberries, chocolate sauce and caramel. For this challenge you are given one hour to finish. Last year I became the first person in 5.5 years to tame The Beast at a time of 20 mins, I was determined to see how much I had improved over the last few months.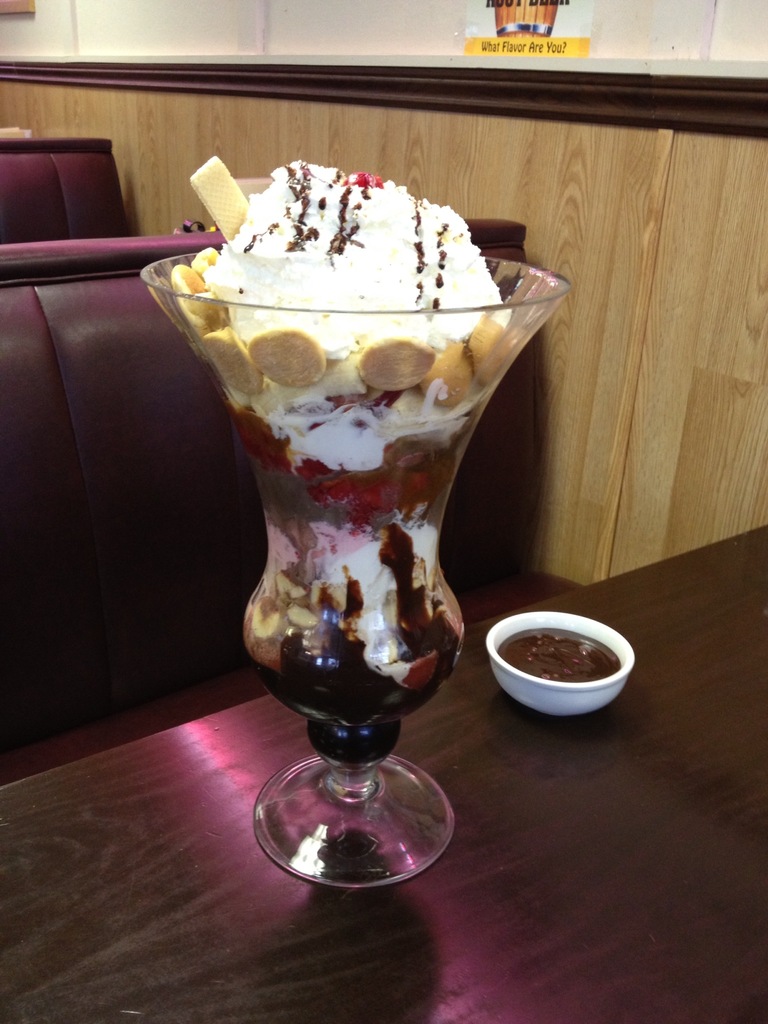 For any ice cream challenge brain freeze is a big concern and if the amount of dairy doesnt stop you usually the brain freeze will. I have learned that if you suffer through the brain freeze long enough you reach a point where everything goes numb. This mental toughness is what it takes to set records. I surprised myself on this attempt, not only was I faster but I finished it in an astonishing seven min 17 secs. Two challenges completed and two records set, now back to the gym for more cardio.
My last stop for the evening was at the WGN radio studio in the Tribune Tower. I was scheduled to appear on WGN Sports Night to have an "eat off" with the show's executive producer, Cody Gough and complete another challenge. This one, created by the awesome staff from Bad Happy Poutine was the "Triple Double," consisting of a triple patty hamburger, a double order of poutine, and a large milkshake.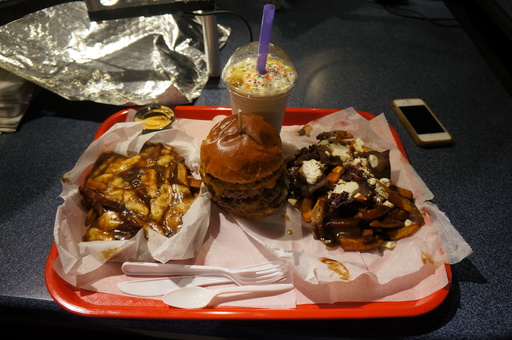 The record for this challenge was seven min 42 secs, not only did I beat Cody, who gave a valiant effort but smashed the record with a time of four mins 17 secs! I had such a fun time the WGN crew and Chef Tom Kern I could have stayed all night talking with them but I still had one last "date" with the treadmill and off to bed.
This ended my first day in Chicago, there was still a lot more to do and I knew by the end of this stint I was going to be exhausted, both mentally and physically. Stay tuned to see what new adventures day 2 brought. You can also find more videos on my website.
Related
Popular in the Community