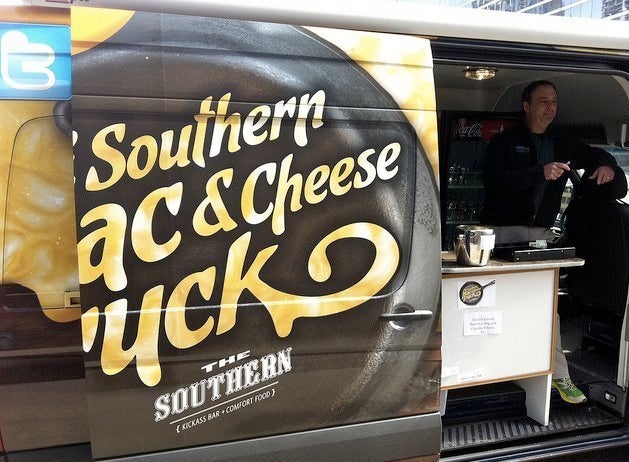 In most cities in the country, from New York to Seattle to humble Carrboro, North Carolina, the food truck craze is in full swing. But here in Chicago, the City Council has yet to pass legislation allowing food preparation onboard trucks. The only food trucks we have, like the Gaztro-Wagon or the Meatyballs Mobile, get their food prepared from a home-base restaurant and drive it around for sale.
Alderman Scott Waguespack, who has long been a leader on food trucks, re-introduced an ordinance last week that would allow food trucks to cook on the go. But another alderman, the owner of a chain of brick-and-mortar restaurants, says he wants to make sure the trucks don't jeopardize establishments like his.
Tom Tunney, the 44th Ward Alderman and owner of the Ann Sather chain of restaurants, is also the chair of the Economic Development Committee, which will consider the food-truck ordinance. And according to the Chicago Sun-Times, he wants Waguespack and others to tap the brakes on the law.
"One of the major issues is spacing from brick-and-mortar restaurants," he said. "We've got work to do. We need to hear from all sides. We need to make sure we protect … restaurants and foster a trend that, I think, is gonna be here for a while."
The bill already contains provisions to avoid competition with existing eateries. As the ordinance is written, trucks must park at least 200 feet away from competing restaurants, and at least 100 feet away from any restaurant at all without the permission of the owner.
"Isn't competition supposed to be a healthy thing?" Chicagoist asks. "We understand many of the objections of restaurants, since the cost of operating a food truck is very low. But it seems to us that food trucks are competing with food courts and chain fast food joints that serve up $5 lunches, not Ann Sather's."
Meanwhile, as the city council grapples over the ordinance, Chicago's restaurateurs aren't slowing down. Just this spring, several exciting new food trucks began rolling around town. For the moment, we can only imagine the culinary explosion in innovative street food if these trucks were allowed to operate as they were meant to.
Popular in the Community