Next Saturday, Nov. 21, the Chicago Force women's football team is holding the first of two tryouts. "NO FOOTBALL EXPERIENCE NECESSARY! We are looking for dedicated, competitive athletes who want to play football."
One Saturday early last February, about three dozen women crowded into a close room at the Broadway Armory. They ranged in age from early twenties to mid-forties, and though they'd been athletes their whole lives, they were here to try on football helmets and shoulder pads for the first time.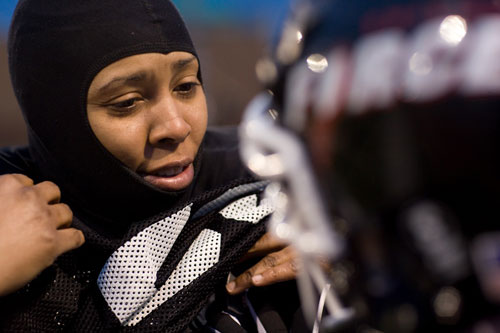 These rookies on Chicago's professional women's football team, the Force, moved from station to station, each managing to contain her heart-bursting Halloween dress-up joy sufficiently to focus on getting the right fit. "They're made for men and they don't fit if you've got junk in your trunk," a veteran reassured a rookie cornerback who was frantically struggling to yank up a pair of practice pants.
But the buzzing room betrayed the joy of the realization of a dream deferred.
It turns out that enough woman softball players, soccer players, field-hockey players and runners harbor a hot desire to play tackle football to fuel the explosive growth of a nationwide Independent Women's Football League from four teams nine years ago to almost 50 teams and more than 2,000 players today.
Most of the players didn't know themselves. Nearly every one tells of consecutive oh-my-God moments when she discovered there was a tackle football league for women, and that the league had a team in Chicago.
Force co-owner Linda Bache goes back to the Force's inception, in 2002. She'd been an all-American softball player at Michigan State in the 1980s and a flag footballer in Chicago in the 1990s. When she went out for the tackle team she thought she'd be disqualified for being 40, so when she scrawled 1962 in the birth-year blank in the application, "I made the two look like an eight." And she starred at running back and safety for the next six years.
Many of the Force veterans share Bache's intensity, but since half the team is made up of rookies, most of whom have never played football, there's a lot of schoolwork to be done between the January rookie camps and the first game in April.
This year's January rookie camp classroom sessions saw worried women scribbling formations into notebooks, taking down unfamiliar terms like "contain" and "zone" and asking the coaches -- a pair of local high school football coaches who, with a few assistants, run the team on a volunteer basis -- to repeat the difference between a hole and a gap.
The handful of rookies who had football experience were no less apprehensive. Martha Dantuma had played defensive end on the boys' team at her small-town Wisconsin high school, but because she's tall, the Force's coaches had her working out with the receivers. "I don't have very good hands," she confessed.
When 40-year-old rookie running back Karyn Silvestri was spontaneously switched in the middle of an early March practice from safety to running back, "I literally wanted to stop and throw up," she said, adding that her two months of training camp "has been the most physically and mentally challenging thing I've ever encountered in my 40 years of existence."
Some players use the three weekly practices and at-home game-film sessions as an escape from a dull day job. For others, it's a sanctuary from a stressful one. Fifth-year linebacker Tricia Charboneau is an architect who deals with deadlines and budgets and contractors all day at work -- but she uses football to "give myself the luxury" of switching work off.
"In my first season, I remember being on the field stretching before practice," she remembers. "I had my helmet on, was sitting on the ground and bending forward to touch my toes. All I could see through my facemask was green turf. No numbers, no hash marks, no sidelines -- just turf. That moment became my 'switch.' Now, I get to the field, get dressed, mess around with the girls, et cetera. But when I put my helmet on I look down to see green."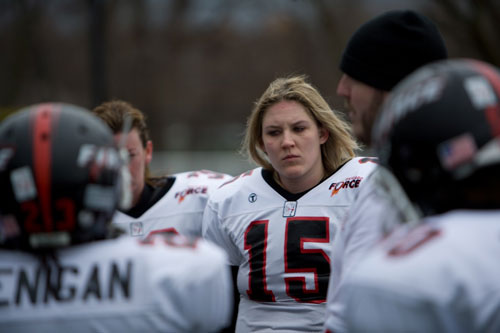 Maybe the only Force player who doesn't quite see the Force as a godsend is 24-year-old star quarterback, Samantha Grisafe. She's the daughter of two Southern California chamber singers who, bewildered, watched their little girl play QB in peewee, junior high and even high school. With her novel combination of a good looks -- she was homecoming queen -- and a strong arm, Grisafe attracted local media attention. And she firmly eschewed it, because it would have broadened the wedge between her and the boys.
Though she went to college on an acting scholarship, Grisafe is putting off that career to bartend and play one more year -- her third -- for the Force.
She's all quarterback, confidently snapping out the junior-sized, red, white and blue IWFL ball like any college QB, and cursing like a pro.
Exasperated by her failure to coach her journalist "backup" in the proper way to throw a slant pass, Grisafe finally told him: "Stop throwing like a pussy!"
Standing on the sideline with a jammed thumb during a March practice, Grisafe watched the fast-developing rookie receiver Dantuma and predicted she could win the league's Offensive Rookie of the Year honors. "God, I love that bitch!"
Grisafe doesn't see this team as a gift -- more of a "payoff," she says, for all those years trying to convince her male teammates and coaches that she belonged.
"Now I just get to be an athlete and a teammate," she says. "That's why this feels so great. Finally there's nothing except for the game."
Like the other IWFL teams, the Force is never far away from there being nothing at all. In a motivational speech before an early practice, Bache showed a PowerPoint that pegged the team's expenses at $107,000 and its revenues at $84,500. She explained how players could help make up the shortfall by raising money in addition to the $500 they pay in personal players fees.
And she issued an even bigger challenge -- to go undefeated and give up fewer points than the best-finishing Western Division team, to avoid a budget-busting road playoff game in Seattle or Sacramento. "We must host playoffs," the PowerPoint commanded, "we must shut out our opponents."
Though the Force started 4-0 and did indeed shut out two of those opponents, key injuries including a season-ending ACL tear for Silvestri caused the team to have to travel for not one but two playoff games. The Force lost to the Kansas City Tribe, which went on to win the league championship.
The season was as hard on Bache psychologically as financially. She still finds herself fighting the effects of post-concussion syndrome and fighting back tears whenever she talks about the difficulty of being around the game without being able to play.
"Before I fall asleep at night, I think about plays," said the 46-year-old, "I think about making hits."
She consoles herself with memories. "I'll look back when I'm a little old lady, and I'll say, 'I played women's tackle football.' I will always be incredibly proud of this."
And speaking of memories, was it really true what the coaches said about the game last year against the archrival Detroit Demolition? Did Bache really drill a Detroit ball-carrier in the first quarter and scream in her supine face, "Stay down, bitch!"
Popular in the Community