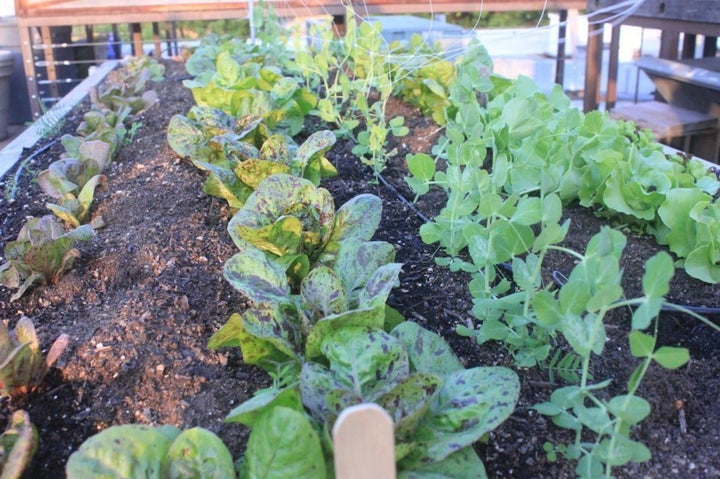 What if locating and buying locally-grown produce direct from its source in Chicago was as easy as Google searching for the nearest BYOB? What if the city's urban gardeners were able to join a social-network-meets-online-marketplace that would allow them to connect with both customers and other gardeners?
These were the questions gardener Todd Jones had in mind as he has sought to attain funding to get his web initiative Every Last Morsel off the ground. The idea, currently the subject of a Kickstarter fundraising campaign, is fairly straightforward: To create an online hub where local gardeners can share information about what they're growing, where they're growing and what's for sale -- information that can be shared with both customers and other gardeners through a robust mapping application.
With two weeks to go before his Kickstarter deadline, The Huffington Post spoke with Jones to learn more about his unique initiative and how he hopes it will impact the lives of area growers and foodies alike.
The Huffington Post: Tell me what inspired your Kickstarter -- I imagine you're a gardener yourself?
Todd Jones: It was inspired by a personal farming service I began offering last year in the suburbs while trying to organize all these gardens I was maintaining myself. I had this idea of creating a sort of platform that would allow me to do it more easily. The idea has grown tremendously since then to include a network for gardeners, what they are growing and how much of it -- data used in aggregate to create these marketplaces. There are untold thousands of gardens in Chicago that grow thousands of pounds of food each year. I'm sure a lot of that goes to waste or could certainly go to better use if gardeners had an outlet to sell it from their own back yards.
(Scroll down to watch Jones' Kickstarter campaign video.)
I imagine throw your work in gardening services, you've been able to gauge the interest for this sort of an endeavor. Do you think the demand is there on the customer end for this?
I was always struck by the amount of unused land in small patches throughout suburbia. Though a lot of people want to grow their own food and grow their own garden, lots of them wouldn't because they didn't have the time or the knowledge. Instead, they buy food in the grocery store that was shipped from thousands of miles away when it could have been grown in their back yard. If lawn mowing services work, why not farming services for back yards?
Tell me more about how you envision the website functioning and what sorts of features you envision.
The gardener, when setting up their profile, will visit the homepage, see a map and be able to drop or drag a pin onto that map and claim where, geographically speaking, their garden is. After they define its location, they will be able to add information to that data point and will be able to say how much and what kind of plants they're growing. When it comes time to harvest, there will be another column where they can push some of those amounts out into the social sphere where they can either accept payments online for food or meet their customers in person and exchange cash and product. We want to connect people who have food with those who want it, that's the goal. If you have a profile, you'll be able to look throughout a neighborhood to find out what's growing where and by whom, done in such a way that can help spur development in urban farming. Hopefully the marketplace will provide an incentive so that more people will experiment with gardening.
Where do you see this project heading longer-term? I see a lot of potential for expansion depending on the sort of route you'd like to take.
One of the bigger ideas we'd really like to pursue is to scale up these tools for small farmers and allow them the opportunity to connect with people interested in buying their product. The same problems exist for these invisible gardens but on a much different scale. The problem is getting your name out and selling your food, because they are so small and don't fit into the industrial supply chain. This could help them up their revenues and reduce waste.
Another way we've thought of incorporating value into this would be setting up a sort of subscription service where a gardener or wannabe gardener could sign up to receive seeds and other supplementary gardening materials through the mail, throughout the season as it progresses along. They'd be set up on a schedule where they receive the materials they need when they need them to help them make the transition into gardening.
You have some pretty sweet rewards for the Kickstarter -- tell me about where these came from.
I'm tremendously grateful to have the support of the artists who've become friends with this. Jana [of Bike-a-Bee] is helping out with the illustration for the garden stakes. Through Stephanie at Inkling, a small shop on Broadway, I met Jeremiah and Michelle of Reuse First. They introduced me to Julie and Andy at letterform and both of them have been huge supporters of the project and came up with really brilliant ideas for these printed materials, including seed packets and reused notebooks, as incentives. They've been awesome and I'm really excited to see their products receive some recognition as well.
And how is the Kickstarter going?
I've been really blown away by all the support we've seen. I'm excited to see people who I don't know donate to the project, and those people have been really excited by the rewards themselves. It's definitely nerve-racking putting so much on the line and getting one shot at it, but we're over one-third of the way there and I'm now working with some restaurants in the West Loop to add some incentives in the next week or two. Nothing's finalized yet, but we're hoping for something like an dinner with up-and-coming chefs on a rooftop.
I know some people think of things like urban gardening and farming and the increasing interest in eating organically as fads. Do you think these trends will stick? Do we, as a society, have any other choice?
I ask myself that question all the time. I can't tell what the future will hope but I hope that people will continue to keep all this as a part of their lifestyle. Some part of me has thought that it may just be a fad, like when culinary gastronomy was so popular in the early 2000s. But I realized after thinking about it that perhaps the question shouldn't be to determine if it's a fad or not. If it's judged as something that is good, helpful and beneficial for the community then the question, for individuals that are a part of the community, shouldn't be the question of it will last, but how do we make it last?
The hope for creating this website is that it will evolve into a sustainable system, a group of people working together to sustain these community gardens and places that grow food in urban areas. We hope to allow people to empower themselves financially and socially by doing something that they love. I think if you empower people to do something that they really appreciate and believe in, then they'll certainly keep doing it.
As of Wednesday, the Every Last Morsel Kickstarter campaign has raised just more than $4,700 of their $10,000 fundraising goal -- with 15 days to go in the campaign. Click here to learn more about their efforts and learn how to help turn them into a reality.
Get in touch with us at chicago@huffingtonpost.com if you have a Chicago area-based Kickstarter or IndieGoGo project that you'd like to see featured in our "Can They Kick It?" series.
WATCH Every Last Morsel's Kickstarter campaign video: